On January 1, I stepped on the scale, saw 332, and cried. Then I dried my tears, and got to work.
Yesterday, February 1, I weighed 318, a 14 pound loss for the month. Even with a few difficult days, and a lot of things thrown at me (my husband in town, a canceled court date, my spring semester starting), I still managed to lose an average of over 3 pounds each week.
I'm trying not to fixate. I'm trying to focus on one day at a time. But I'm also very motivated right now by the idea that if I stick to this routine (which is do-able and not exhausting or depriving) and continue to lose consistently, I could make serious progress this year - I could be back at my lowest adult weight by my 30th birthday. It's keeping me focused - especially at night, when I want to snack for no reason, I think about how good it will feel to be back in my goal range, and it usually deters me.
My goals for January:
Hit my water goal (96 oz.) 20x. I'm SO proud of the fact that I met this goal every day in January. 31 days of drinking lots of water - at least 96 oz., and even more some days.
Stay "on plan" 20x. I met this goal, plus some - I was on plan 24 of 31 days. 2 of the 6 "off-plan" days I did too much snacking (but wouldn't call it a binge), 2 days I went out to lunch (once with my husband and once when I was exhausted and just wanted Subway), and 2 days I did binge. 2 binges out of 31 is a serious accomplishment, since most of November and December was spent in an carb overdose coma.
No daily weighing. This was where I failed pretty bad - I weighed every day except one day. But I *am* proud of the fact that I knew the numbers but didn't let them boss me around, didn't let them dictate my moods. When the scale maintained or even went up some days, I looked at the day before, and decided to make that day better - more water, more activity, etc.
Do something active 20x. I didn't make this goal - I logged 16 workouts. The toughest weeks for me were the week when I started back at work, and then last week, when I got busy with appointments and work whatnot. I'm proud of the workouts I logged, though - started small and worked my way up to being able to walk 5K again, and then I worked on shaving time off my 5K. There's been really great progress here, and I am looking forward to keeping it up.
Having my giant poster board calendar on the fridge helped, for sure. It is nice to look at a full month of ups and downs and see the bigger picture - an overall loss, lots of great walks, tons of water, and meals I enjoyed.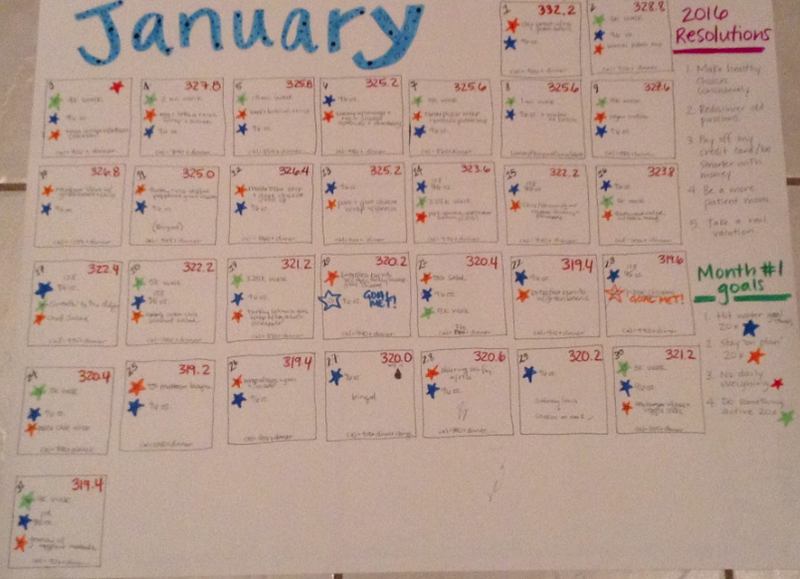 It's nice, too, to have a completely blank one made up and ready for February. A clean slate, of sorts. I hope to increase/modify my goals for each month, so here they are for February:
Hit 96 oz. water goal 20x/Hit 128 oz. water goal 9x. The overall goal is to get at least 96 oz. of water in every day - I made the goal in January with more days in the month, I can totally make this one again! It never ceases to amaze me how critical water is to my weight loss routine. Some days it's tough and I'm chugging my last few ounces in bed, but some days (especially when I am teaching/talking a lot), it's actually pretty easy.
Do something active 20x. I didn't reach this goal last month so I repeated it, hoping to make it this month. It's gonna be a bit of a challenge - with 29 days, this means every day that I'm not teaching, I have to be active - and I'll still need a few more days to meet the goal. It will be a good challenge for me, to try and work activity into my teaching days. I mostly want to just come home and crash, so this will be a good motivator to do something, anything - even just a 15 minute walk around the neighborhood with Noah.
Try 5 new recipes. This was something that motivated me a lot in the past - I tend to get into routines of finding something I like and then making it way too often. I was reading an old copy of Food Network magazine this past weekend and found a recipe for meat-less meatballs made with eggplant, so I got the ingredients and put them together.

They were a little bland at first, but the next day, they were much more flavorful, and I will definitely make them again (as meatballs, or as a veggie burger!). So I want to keep reading and keep looking around and try to find a few new recipes to try!
5-day no binge streak 5x. Ideally I'd like to be binge-free all month (I was very close to that in January!), but I like the idea of marking streaks, because in future months, I can keep measuring the streaks, increase length of time, etc. The idea for 5-day streaks was looking at the workweek and trying to stay fully on plan during the week - not saying that the weekend is a time to binge, but expressly trying to avoid the binges during the week when stress tends to be higher and the urge to binge tends to strike more.
It's a short month, but I know I can get a lot accomplished. Work is about to get hectic - I thought the independent study course I proposed was rejected since we're four weeks into the semester and it still wasn't on my roster, but yesterday it showed up. I have a shell of a course, but not too many activities prepared - I was focusing my energy on the classes I knew I'd have to teach, instead of spending a ton of time on something that wasn't going to be approved this semester. So today, I'm at the office, plugging away on materials. The good news is, I'm so over-the-top-organized with everything else, that I'm able to fully devote time to getting this material together without making sacrifices for my other courses. It's the first semester in a long time where I've been this organized, and it makes a world of difference, for sure.
I'm feeling really confident right now - even with the weird blip of emotions and whining about not feeling like a "real" adult at the end, I had a pretty great month. And I'm feeling much more optimistic and confident that my "real" adult life is happening and it's fantastic, even if it doesn't look like everyone else's. I'm getting divorced in my 20s, and there's no polite way to say that it totally sucks. It's not beautiful and it's not the life I wanted for myself or for my son. But even with the mess, we're thriving. We've got a lot to be grateful for, and things can only get better from here, right?
Right!
What about you?
How was your January? Holding strong on your resolutions? What are your February goals? Tried any great recipes lately that you'd like to share?