A few weeks ago, one of my former students reached out to me. She's an Exercise Science major, and last semester we'd talked a little in my office hours about my history with running. She had said she would be taking the Personal Training class the next semester, and that she'd love to work with me. I'd agreed, but didn't think I'd hear from her again. So I was so excited to get an email from her! First, that she'd remembered talking about it with me, and second, that I'd have this great opportunity to work with a personal trainer for free for six weeks.
The Exercise Science department asks for volunteers every semester, and I volunteered about a year and a half ago. It was a great program, but I was so stressed out at home and was binge eating so much that despite doing hundreds of squats, running and walking on inclined treadmills, and holding planks for several minutes at a time, I ended up gaining four pounds.
I want to do better this time.
I need to.
The class will start right after spring break, which is good. My family is coming to visit over the break, which I am looking forward to, but I am also a little anxious about - mostly because of food. My mom is very loving but also not terribly understanding about some of the frustrating situational specifics for my weight loss struggles. She has already told me I won't be cooking while she is there because my healthy cooking is "gross." She says it often, and as a joke, but it bothers me a lot.
I remember, the year when I lost the weight, she and my brother came to visit, and one day we went to the French market in Chicago. She took this picture of me: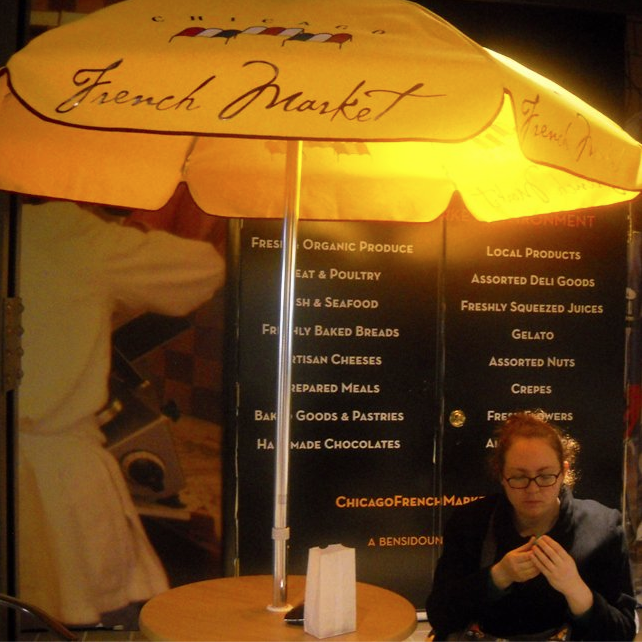 I was holding a macaron - this perfect, delicate French cookie - and mentally trying to assure myself that one little cookie wasn't going to cause me to regain the 135 pounds I had lost at that point.
For a while, I was good with having a small treat and not letting it throw me off. Now, it feels really fragile a lot of the time. When you struggle with disordered eating, a cookie is rarely just a cookie. Sometimes it's a drug - a sedative, something to overdose on so I'll fall asleep and be distracted from my bigger issues. And sometimes, it feels more like a single bullet in the barrel of a gun - never quite sure if I can be okay with "just one" or if it will end up triggering a relapse into my binge eating habits.
Which brings me to this upcoming visit, and how anxious I am already about the food situation. Knowing there will be meals out, knowing I might not be as active, knowing there will be treats ... I'm already a little overwhelmed. I'm trying to not think about it, trying to let them plan so I can just go with the flow and adapt my own needs, but it's tough.
The good news is, I suppose, I'm on my home turf. I know the restaurants, I know what "better" options there are. And there's always the option of not eating out, just making my own food at home. But that's never very well received. I tried that the first Christmas I went home ... I remember, they all ate dinner at a fast food place and I came home and made chickpea and pumpkin soup. I didn't mind what I was/wasn't eating, but my mom did. I think maybe she feels offended, because (now and always) for her, food is love, and it's how she feels she takes care of us best. And when you're working towards recovery with a "food is fuel" mindset, there can be big clashes of opinion.
My challenge is in compromising my needs and her wants, and my wants and her needs. Finding happy mediums. Finding balance. I know it can be done.
I know that even if I do perfectly well that week, I'll be ready once they're gone to get back into a healthy routine, so having the class to look forward to will help a lot. I've also got another goal for myself: the University is offering Parent and Toddler swimming classes, and I've got a few of my friends to sign up together in May. I bought a cute bathing suit at Torrid last year that is about 20 pounds away from fitting ... I want to make consistently good choices until then so I can hopefully wear my suit and enjoy doing something active with my son.