I'm down another 3 pounds this week - and oh, does it feel good! I ate well, I stayed hydrated, I was active most days - and there's movement in a good direction. It puts me in a new decade for weight, which is always exciting too.
Best of all, I'm proud of how consistent I have been. No days spent overcompensating for off days, nothing extreme. It's been fairly well balanced, which I feel is a terrific success.
Probably one of the best side effects of consistency is having a regulated appetite. Part of it may be that the size of my stomach (the organ itself) is shrinking back to normal as a result of not being stretched beyond capacity on a regular basis anymore. But also, I eat at fairly consistent intervals, so there are never any sharp hunger pangs. I'm hungry, but I am never starving.
When I binge, it's almost always at night, and then I wake up in the morning with a strong hungry feeling - crashing after such a high calorie (and usually high carb) volume of food. Now, I am hungry when I wake, but not extraordinarily so. And I eat just enough - to satisfaction but not to painful fullness.
This morning, as I got dressed for work, I put on a dress I got with a
ModCloth
gift certificate my sister Katie sent me for my birthday. When I got it, it fit, but it wasn't super flattering - my stomach protruded in a way that the black ribbon accents around the middle weren't visible, they were tucked between my chest and my belly. And today ...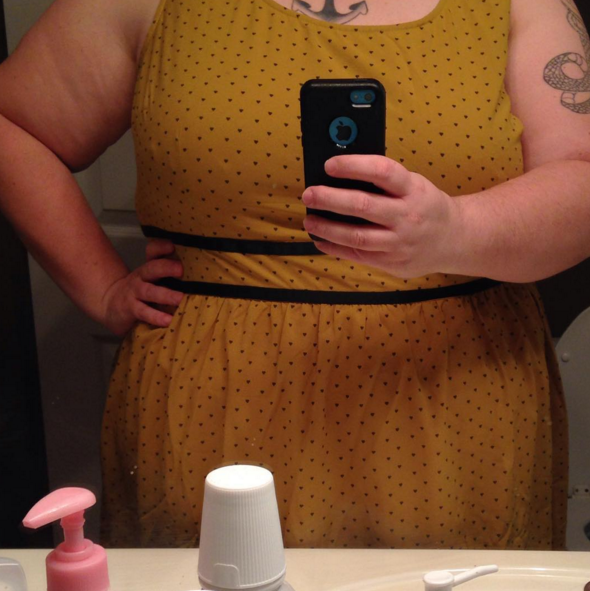 Incredible. And there's only 13 pounds between then and now. I'm excited to see how much better my clothes look and feel as I continue to make progress.
It feels good to reclaim milestones. On January 1, I was only 13 pounds shy of my 2010 highest weight ever - how depressing it was, to have worked so hard once and to have been so close to the top of the mountain, only to find myself back at the base a few years later. Now, it's been 3 weeks, and I'm able to reclaim the 25 pounds lost milestone. (26, actually!)
I'm a big fan of mantras and themes, and I think my word for 2016 is going to be reclaim.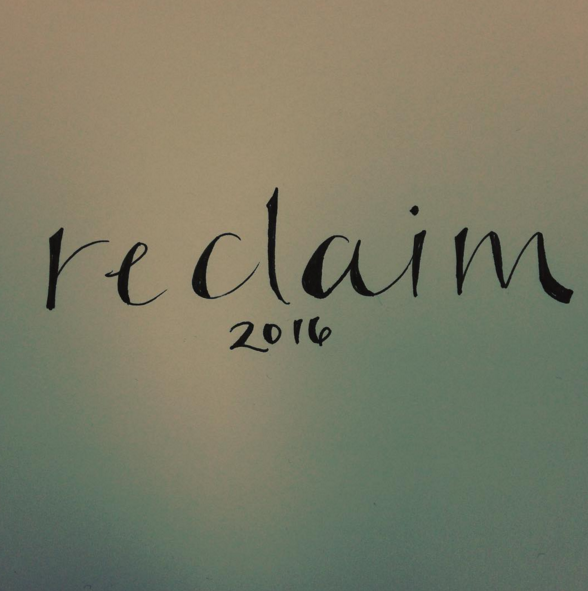 There is so much for me to take back this year. I want to reclaim the losses I was once so proud of, and I want to reclaim the healthy body (and healthy habits) I worked so hard for. This summer, I get to reclaim my peace of mind when the divorce is finalized - and I am so, so completely excited to reclaim my maiden name. Even when I was content to be married, I didn't want to change it - after such a tumultuous few years of huge identity changes, to lose my last name felt like the last straw, like there was nothing left of me that I recognized. I'm so ready to be me again - in actions, in appearance, in name.
Jill
commented that my voice sounds different, in the best way - that it sounds like my California voice. Here, offline, in my daily life, it feels a lot like my old life. Some of the details are different - I have Noah, for one thing, and the scenery has changed. But the motivation, the hope - they're back. The goal-driven tenacity, too. Without the lingering judgment of someone who wasn't here for the first round of struggle, I am free to work on myself in the ways I know work for me.
What about you?
What is your one word goal/theme for the year? What are your weekend plans?