I hope that anyone who got hit with snow this past weekend is safe! We got about three minutes of light flurry, not enough to stick but enough to see (and enough for Noah to press his face to the window and sing "Do You Want to Build a Snowman?")
We had rain on Friday and cold-enough-for-flurries Saturday, which meant that we were cooped up indoors a lot - for a 2 1/2 year old with a ton of energy and his exhausted mama, it was a rough couple of days. We woke up Sunday and did a pinky promise that "today will be better - Noah will be a better listener and Mama will be less frustrated." It was still chilly, but not impossibly cold, so I bundled him up and we went to the park so I could walk and he could run all over the playground.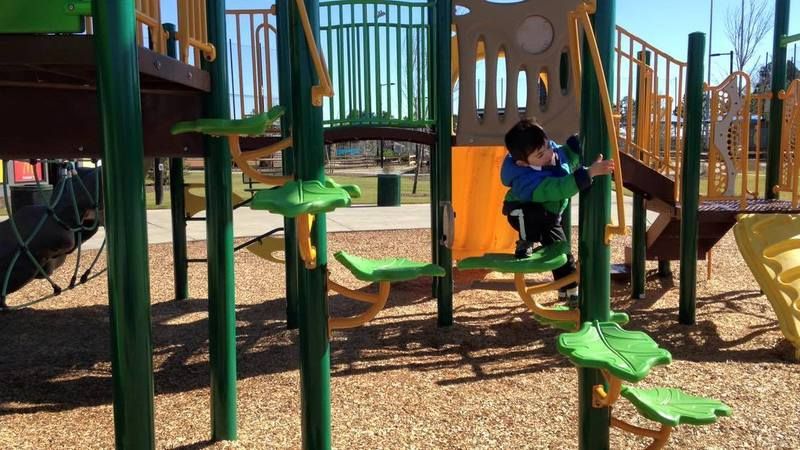 We both needed the fresh air and the change of scenery, I think.
I really struggled with my eating on Saturday. I was in a snack-y mood all day, and when Noah was acting up, it's hard to not take my frustration out on food. It's easy to take a bath or paint my nails or read when he's asleep and I'm bored or anxious and trying to stay out of the pantry. But in the afternoon, when he's awake and I can't leave him alone to go sit in the tub for half an hour ... my first instinct is to take out my frustration through chewing.
Even when I am focused on staying on plan, I struggle with my binge eating tendencies. Sometimes the urge is louder than others, and sometimes it is easily quieted and tucked away. On nights like Saturday, I repeat to myself:
just what's here, just what's here.
I eat more than usual, but I don't leave the house to buy food or order anything to be delivered. My logic is, the damage won't be as bad if I can contain it to just what's here in the house, because there's not really anything unhealthy in the house. Eating too much still isn't ideal, but it's better, I think, to have a few bags of 100 calorie snacks or a couple of popsicles than to order a pizza. Saturday night, I ate two Balance bars, and felt lousy - but the two bars have fewer calories than one slice of a pizza, and goodness knows I wouldn't have stopped at one slice.
I went to bed feeling upset but not defeated, which I think is a strong sign that I'm back to doing things My Right Way. It wasn't a great day, but I let it end that night. Sunday, we woke up, had a healthy breakfast, and went to the park for a 3K walk and then playground time. On plan the rest of the day, and more activity at night when we went to Quidditch practice. (Noah ran three laps around the pitch - unsurprisingly, he fell asleep very soon after we got home!) I ate 100% on plan, and this morning, the tiny regain was gone, plus some.
It's huge progress for me. I spent so much of last semester in a carb fog, just one binge after another for months. I felt like a horrible mother as I loaded Noah up into the car to go shopping for a binge. I would eat myself sick, and cry myself to sleep at night, angry that I'm really the only parent he has and I didn't feel strong enough to be a good role model for him.
I feel stronger now. To be able to stick to
just what's here
is big for me. It's not perfection, but on my particular path to recovery, it's pretty darn close. And to spend the next day eating well and being active - I'm being a better mom, too.