I'm down another two pounds this week! I really committed to staying on track this week - logged everything, stayed hydrated, gave the workouts my all. And everything is coming together.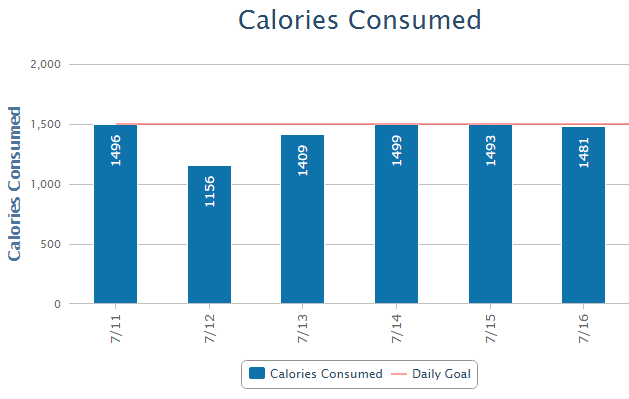 I go to the gym every day except Saturday and Sunday, when the gym is closed. Last Saturday, we woke up early and drove to a park with a 1 km running path - we only walked around it twice before Noah started to get crabby, but still, it's more exercise than just sitting on the couch! I did Week 1 of Couch to 5K and some time on the stationary bike on Monday and Wednesday (and I'll go once I post this!), and Tuesday/Thursday I was in the mood for the elliptical.
I'm proud of being consistent with routines since getting back from Connecticut, especially logging on MyFitnessPal.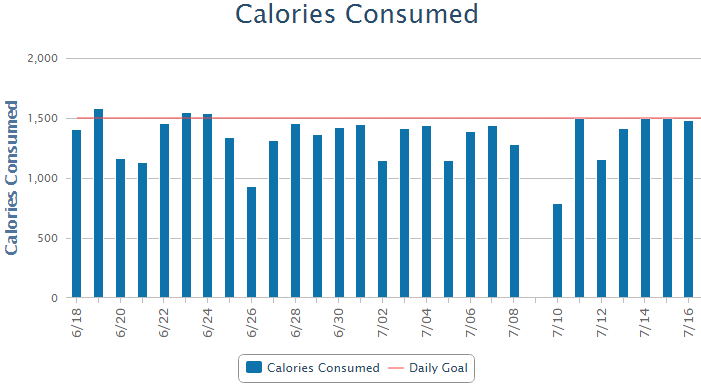 I've tried to keep it as close to 1500 calories as possible - some days I wasn't feeling well, or just wasn't hungry, so it was a bit lower, and some days it was slightly above. It all balanced out, though, and I'm liking the visual of progress from when we got back from the trip.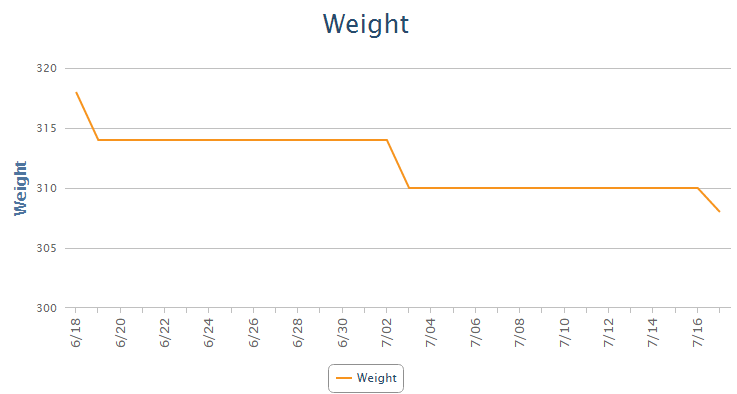 I'm still up 3 pounds from my pre-trip weight - I need to remind myself of this next time we visit there. As stressed as I get, as anxious as it makes me ... it took two weeks to gain the weight and 5+ weeks to take it off. Not worth it!
With last week's weigh-in as a maintain, I don't know if my goal of getting under 300 is going to happen - it's 9 pounds to 299, and there are only two more weigh-ins this month. But I'm still proud of the progress I'm making - the scale is moving in the right direction, and I am doing right by my body. I'm not going to fixate or obsess about deadlines - as long as I get healthy, that's all that matters.
And - I feel great right now. It's remarkable how quickly my body responds to being treated well. I still have a very long way to go, but I can already feel a difference - less bloated, stronger legs, looser belly. My clothes fit better already - straight out of the dryer, I can put on one of my workout tees, no need for stretching it.
My mind feels clearer, too. I sleep better. I feel less anxious. I still have worries, concerns, stresses - but I'm dealing with them through journaling, through exercise, through prayer. I'm not eating my feelings, and that, to me, is the greatest progress.
What about you?
What is your weekly workout schedule? How do you stay active outside of the gym?