I've tried to keep this blog a pretty neutral place, as far as certain issues are concerned. I want to write about my weight loss, and I want my community here to be able to relate to my journey regardless of his or her faith, political beliefs, gender, sexual orientation, etc.
I don't plan on changing that.
This is, first and foremost, the story of my journey to health.
But I wanted to share a story, something that happened a few weeks ago, that I found to be pretty significant, not only in my journey to health, but in my faith as well.
A few Saturdays ago, I spent the evening binge eating. I don't remember what I ate, and I remember even less why I did it. It's funny how that works: in the moment, it feels right, it feels comfortable, but only because it's become a reflex. I am overwhelmed with the need for the feeling, the immediate rush of something, anything other than dealing with my present circumstances. And I'm left with a sore mouth, bloated stomach, and a mind racing with self-directed insults and hate. The results of the binge eating (the weight as well as the guilt) last a lot longer than the reasons for doing it in the first place.
I laid down alone in my bed, and cried myself to sleep. I prayed through my tears:
what will it take for me to have self-control again? Will I ever not be like this again?
It felt strange, like talking to myself. I'm new to prayer, and to church, and to all of this. I was raised in a non-religious household, with very religious relatives. I had friends in high school that I went to youth group meetings and Sunday morning services with, but never quite felt at home there. I had no interest in it until college, when I was on my own and starting to think deeper about my life, thinking beyond the surface levels. And even then, it was mostly wondering and not a lot of action.
When we moved to South Carolina in 2013, it started to feel inevitable that this would be something I would explore. We're not quite in the Deep South, but it's still drastically different from Chicago, Connecticut, and California where I've lived before. I wondered about my faith, but didn't pursue anything - after all, my husband identified very strongly as Jewish. But I reached a breaking point a few months ago, and decided that once he was gone, once there were hundreds of miles between us, then I would be safe to explore churches and see if I could find a community for myself.
In the meantime, I spent my evenings doing what I usually do: if I'm not binge eating and watching TV, I'm working on craft projects, or reading, or wandering around Pinterest, or playing Words With Friends. I fell in love with Scrabble when I was a kid, watching my grandmother and great aunt play on a rotating board at their kitchen table. It's comforting to me.
The game recently added a feature: now, not only could you pair yourself with random people, but you could narrow the scope of where these people come from to your geographic area. I turned the feature on but didn't actively search for anyone.
Then, one day, an invitation to play - a few games back and forth, and some small talk,
good game, oh no! all vowels!
We talked about work (we're both teachers), we talked about how our respective days went. And one day, my new friend invited me to church. I said I'd think about it, I said maybe someday, and brushed it off.
Two weeks later, I met him there.
He showed me around their newly opened facility, and he introduced me to a few of his friends. We sat together through the service, then shook hands as we parted ways.
I didn't know what to make of him, or of the service. It was nice to meet a friend who wasn't interested in taking advantage of my vulnerability, especially right now. I don't know that I've ever met anyone more respectful (possibly because I haven't met too many other native Southerners). And the service ... it spoke to me, but quietly. I still wasn't sure.
So I kept coming back. And sometimes I'd see my friend there, and a few times we sat together. But mostly, I'd sit by myself, and I'd listen, and I'd cry. I thought, if nothing else, it was a safe place for me to express my emotions. (Interesting, then, that I feel safer in a room surrounded by hundreds of people than I do in an apartment with the man I married.)
A few weeks ago, I realized that I wasn't going for him, I was going for myself. I liked it. I enjoyed the messages, the fellowship.
The church preaches on similar topics for four weeks or so - the themes change with each topic. When I started going, the series was called "I Love the 90s," and the theme of the services centered around progress and change. For the past few weeks, it's been a bit more scandalous: "Sex: It Doesn't Have to be Grey," talking about marriage, sex, and intimacy. It's really been a very difficult series for me to hear, as it has forced me to think about my marriage, the various mistakes I've made, and what I want most for myself (and for my son) as I look to the future.
And so, a few Sundays ago, in the wake of the previous night's binge, I laid in bed and wondered if I should motivate to go to church that day. I felt like a failure, swollen with excess and feeling defeated. It's hard enough to discuss relationships and intimacy on a normal day, but especially that day, when I was feeling entirely ugly inside and out, it was the last thing I wanted to hear.
But I made myself get up and go. It was like the gym - I knew it would be tough to get there, but I'd enjoy being there, and I'd feel refreshed and recharged afterward.
The subtopic for the day was focusing on seeing sex as a blessing, rather than a burden - everyone has a different sexual past, and for some folks, that can carry feelings that contradict our goals. For me, the thought of a sexual relationship right now makes me burst into heavy sobs, because most days, I feel entirely broken. My husband, through his words as well as his actions, has hurt me so deeply, and I have never felt uglier or more unlovable than I do now. I need to work on healing my heart and finding peace with myself and my situations before I allow anyone else in.
To start the service, the pastor, Perry Noble, had behind him on a screen ... a giant picture of glazed donuts.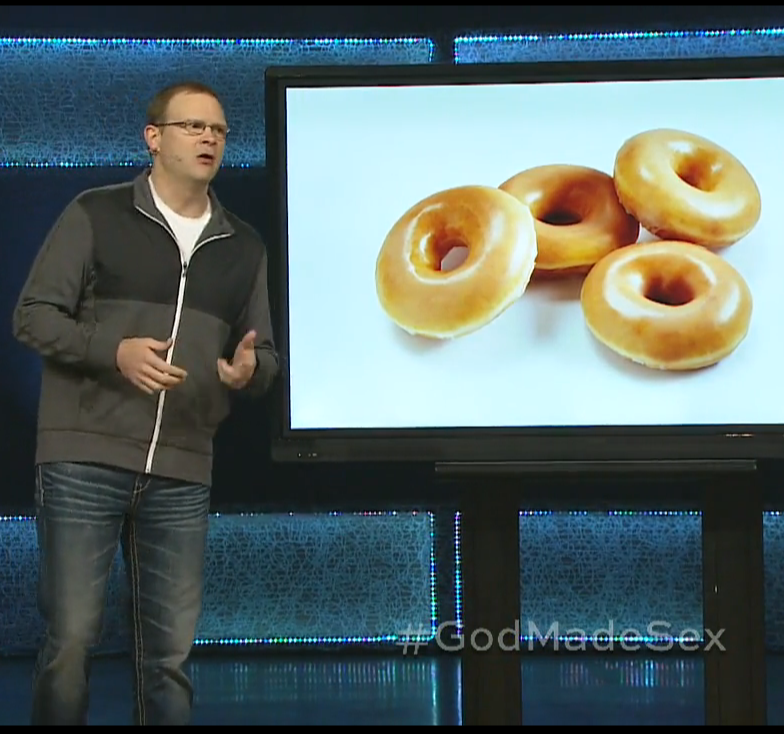 And he started to talk about a bachelor party he'd gone to where they'd all eaten themselves sick, but then drove past a Krispy Kreme and saw the light on for freshly made donuts, and the men headed in.
And Perry asked,
what's the most Krispy Kreme donuts you've eaten in a sitting? Two?
And hands raised.
Five?
A few hands stayed up.
For me ... it's seven.
And the crowd laughed, and he got serious.
Anyone here ever eat more than a dozen?
A few hands stayed up, the crowd went wild at the thought.
And I was sobbing.
Because I don't know how to eat one donut. I used to. I have in the past. But right now, as I struggle with so many emotions, so many stresses, so many feelings ... it's easier to avoid donuts altogether than try to allow smaller/normal amounts in moderation.
Perry went on to tie this into his message on sex, calling the donut overdose "the best worst feeling" - we know it is bad for us, we know it isn't going to feel good later, but in the moment, it seems like a good choice. We want sweet, we want hot, we want fluffy - we don't think about the stomachache.
(If anyone is interested,
here is a video of the service
- there is music first, then some church announcements, so the message starts about 26 minutes in.)
One of the the final takeaways of his service: how we live today is greater and more important than how we lived in the past. Our destiny is greater than our history - what has yet to come is greater than what has happened. Maybe it touched me more that day because I was nursing a stomachache of my own, but that morning, I felt very closely held and directly spoken to. I listened closely, took notes during the service, and decided not only that this church is a good place for me, but that I don't want to hurt myself with food anymore. I am beautiful, and I am lovable. I am worthy of intimacy, and I deserve to be cherished.
The service may have been about sex, but the message, to me, was greater, was so widely applicable in my life. I left the church that morning, and practically floated out of the building. I felt so light and unburdened, so hopeful and so ready for my next steps.