I could not be happier with how much progress I have made since starting therapy.
Not only is my weight down, but:
I have made my water goal 26 days in a row
I have not binged (overeating with the intention of self-harm) in nearly three weeks
I have made progress with Couch to 5K (on week 5 now!)
I have gone to the gym consistently
I have tracked all my food (offline) consistently
It's a journey, for sure, and there is still work to be done. I am still stressed, I am still anxious about a lot of things. But I am learning how to process my feelings and react in ways that don't involve food/self-harm, and that's terrific progress.
Something we have talked about in most sessions is my feelings right before my period - that was one reason why I really felt compelled to go see a therapist right now. Ever since my son was born, I have had PMS - I never had it before, so I assumed that what I felt (and the degree to which I felt things) was normal. But some days, I couldn't get myself out of bed - no energy, just tired beyond tired. I cried and cried, entertained very dark and depressed thoughts. I wasn't actively suicidal - but I spent a lot of time wondering if everyone and everything would be better if I wasn't around. And I would eat - beyond eat. I would spend the first few weeks of the month doing well and staying on-plan, lose a few pounds, then that week would come and I would binge it all back plus more.
It had to stop.
We've discussed a possible diagnosis of
PMDD
, which is a severe form of PMS. And we've worked on talking through issues, discussing events from my past and present that make me worried, stressed, anxious. She remarked last Friday how, in our first meeting, I started crying in the first ten seconds and barely stopped for the entire hour - and gradually, in each meeting, it's become less and less, to the point where this past Friday, I was like an entirely new person. Healthy, optimistic, positive - and one moment of choking up a bit, but no tears. I'm still feeling the feelings, but I'm not feeling worn out or defeated by them.
My weigh-ins since seeing her have been good:
Week 1:
313
Week 2:
308
Week 3:
307
Week 4:
307
Last week was a maintain, which, again, is a huge victory for me - because that was the week before my period, the week when I usually fall into a rut and I binge until I'm sick, run out of food, or both. I prepared for it by having an extra snack in the afternoon or after dinner - a week of maintenance is much easier to move forward from than a week of excess and a large regain.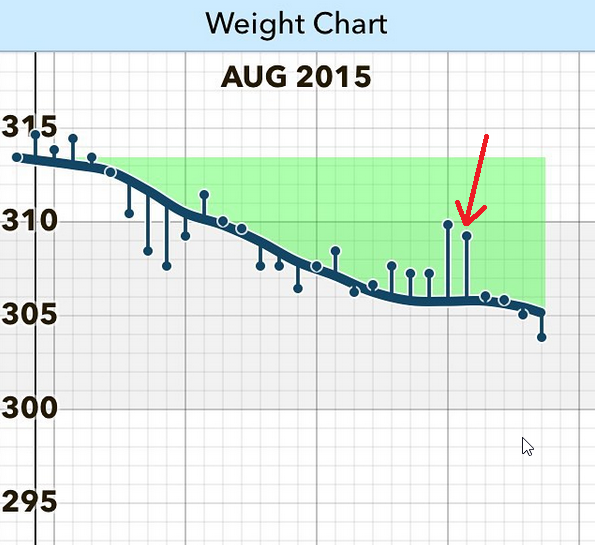 And this week,
Week 5, I weighed in at 303
. I am SO CLOSE to being out of the threes again! It spiked up the day my period showed up, but immediately dropped back down and kept falling as I ate well, stayed active, and stayed hydrated all week.
I'm especially proud of staying in control and not binge eating this week because yesterday, for the first time in nearly four months, I saw my ex-husband. He flew here for a week to visit his son, and we've had a couple of arguments leading up to his arrival, so I wasn't exactly looking forward to this week. Not to mention, on top of the anxiety of seeing him - him being here meant that for the first time in Noah's entire life, I am spending a few nights away from my son. He stayed at the hotel with his father last night, and it was ... odd. After I met his father at the daycare, handed over his portable crib and changes of clothes, and kissed my baby goodbye, I headed to the gym, then home. And it wasn't too odd last night, because Noah usually goes to bed between 7:30-8:30, so evenings are mostly quiet and alone. But this morning ... waking up to my alarm instead of cries of "Mama! Mama! Good morning Mama!" coming from down the hall ... it was strange. A quiet I haven't experienced since ... since California, really.
I'll have therapy this afternoon, then pick up my little buddy for an evening together, and in the morning, he'll get picked up by Dad and stay with him all day/overnight. I have Saturday - almost the whole day - to myself. And I have no idea what to do. It's been so long since I've been on my own, so long since I've been able to go/do whatever without having to wonder if it was okay for a toddler, if they have high chairs, etc. And when I *was*, I certainly wasn't in South Carolina. So I'm trying to put together a plan - somewhere to go, something to do. To be active, to enjoy my time by myself, to maybe socialize a bit?
All I have on the schedule so far is a massage. I waited until I was -150 lbs last time I had one, and right now, after the last few months I've had, and the next few months I'm anticipating ... I'm really looking forward to treating myself, regardless of my current weight. I may also go out to dinner, somewhere that's tough to go to with a toddler (either because of where it is, or what they serve) - I'm thinking maybe Vietnamese, though fish tacos also sound good right now. We'll see!
What about you?
How was your week? What's your favorite way to "treat yo' self"?