I finally got my appetite back a few days ago, and it was hard to avoid eating back three days of skipped meals. I had a big snack (banana with almond butter) and that helped me stay in control.
Our anniversary was a few days ago, and it was a really interesting day. I made a Chicago-themed dinner for Matt and Noah, and for myself...
Delicious. Since I couldn't have it with butter, I had the lobster meat with a little homemade mayo - I make it with lots of garlic and dill, so it tasted wonderfully decadent. I also had a few shrimp. I know there's a ton of sodium in shrimp and lobster, but I figured, it's one day, and on other days it's much lower than when I wasn't doing the Whole 30.
Matt got me flowers - three dozen roses.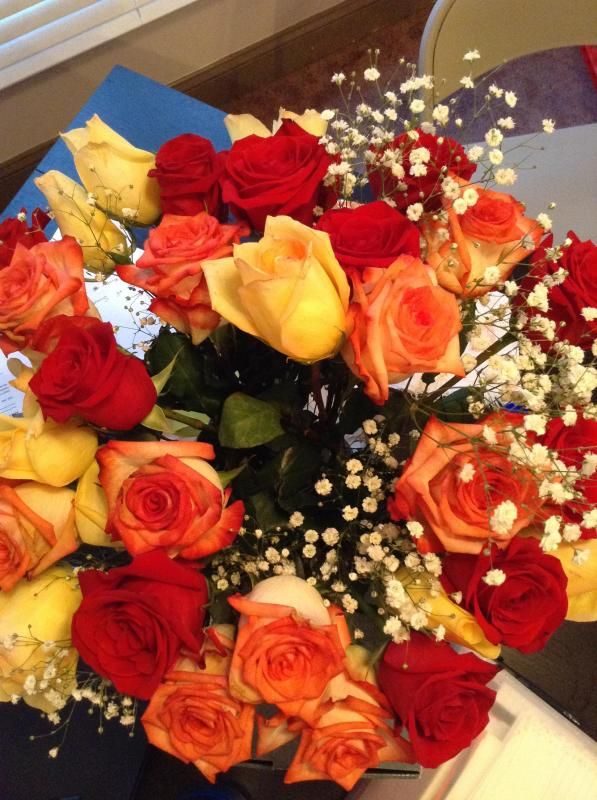 In our last move, someone accidentally threw out my two dried bouquets - red roses from our engagement, yellow roses from our wedding. So he got me two new bunches, plus a dozen light pink ones with dark pink edges for our first anniversary.
For him, I got a glass jar, which I filled with ideas for dates.
The first anniversary is the paper anniversary, so this seemed appropriate.
We also had a very long, emotional talk about our relationship and what we both want to happen in our second year of marriage.
I've talked a lot about how my weight loss wasn't successful in my first year in South Carolina because I didn't make it a priority, I was so busy adjusting to my new job, our new state, a new baby. Just like we didn't make our self-care a priority, we also didn't make our relationship much of a priority. In the whole first year of our marriage, we went out on two dates.
We agreed to try and find a therapist we can both speak with together, and we agreed to try and take care of ourselves as a couple. We've been better lately about eating better and going to the gym regularly - we need to nurture our relationship the same way.