Before I get into today's details, a fun fact, of sorts: this is my 600th post on here. I started writing here in August 2010, and wrote every single day until I lost 150 pounds. I've moved several times, fell in love, started a family, and seen my weight go in every direction. Thanks, everyone, for reading along. It really means so much to me.
Today I made the first thing that even *I* really didn't like. For lunch, I had found a Pinterest recipe for tilapia patties where you chop up the raw fish, add chopped spinach and an egg, and make it into patty shapes and cook them in a skillet on the stovetop. It was just a complete disaster - looked absolutely nothing like their gorgeous picture. I had been skeptical - with no breadcrumbs (or even almond or coconut flour to try and hold it together), I wasn't sure how mine would end up looking like theirs. I think I may have been hoodwinked.
I didn't even bother to take a picture, it was that bad. I tried tasting them, to see if it was at least salvageable. Not terrible, but definitely not anything I would try again. Just bad, bad, bad.
Matt made his own piece of plain, normal, unpattied tilapia, and roasted asparagus. I was really proud of him, he made it all himself. Slowly but surely, he is learning.
My breakfast, though, had been amazing. Noah woke up super early and was already in a sort of funky mood, so I wanted to make a good hearty breakfast that would stick with me for a while.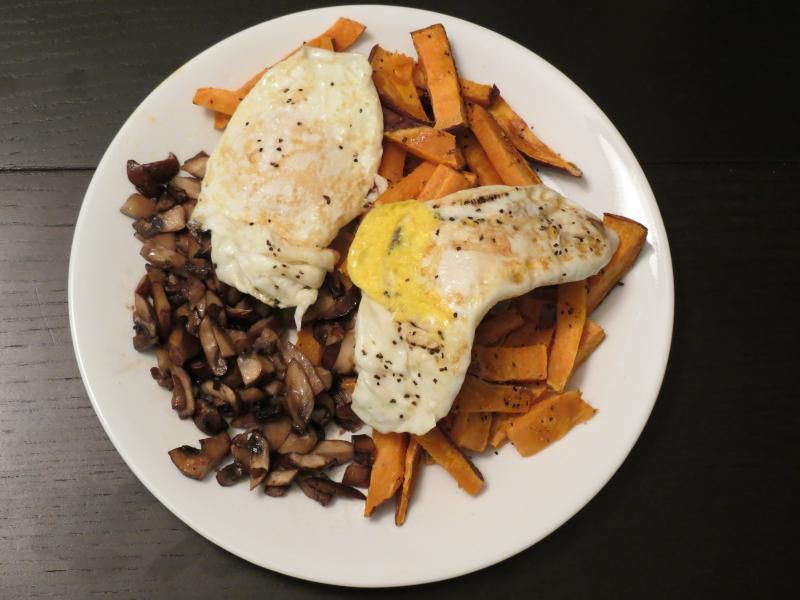 And it definitely worked - I didn't even start to feel the least bit hungry for almost 8 hours. I sautéed some crimini mushrooms I had left from making egg muffins earlier in the week. I also chopped up another sweet potato and baked it up. Topped it all with two eggs over easy. It was SO good.
A common complaint I see about the Whole 30 is people getting bored of eggs. I could never get sick of them! I enjoy them absolutely every way possible.
For dinner, I put a whole chicken in the crockpot around noon, gently squeezed two lemons over it, and then put the lemons in the cavity. I sprinkled the top with black pepper and oregano to give it a sort of Greek seasoning. I put big stems of broccoli all around it, and let it cook for a few hours.
We spent the day cleaning and organizing the apartment. Matt did most of the work, mopping all the floors and reorganizing the walkway from the kitchen to the bathroom (it's like a small hallway with a nook for our washer and dryer). I finished organizing my closet and packed up Noah's 0-6 month clothes (I can't believe he's going to be 9 months old in a week and a half!). It wasn't the most exciting, but it was overdue, and after all the traveling we've done in the last few months, it was nice to just stay home.
While Noah took a nap, I headed to the fitness center. It's almost always empty, but for some reason, there were four or five people there today! (When there are only five machines, that's a lot!) The elliptical and the stationary bike were both occupied, so I hopped on the treadmill for a bit. I figured I would walk until one of the other machines freed up. I walked for about .35 miles and then the woman on the bike left, so I figured I would keep walking until .40 miles, then run the last tenth of a mile.
It felt ... interesting to run again. My shoes definitely don't fit anymore - I'll blog about that tomorrow, there's a story there. So it was a little tough. But it didn't feel impossible. Just 13 more miles to a half marathon!
After that, I got on the bike and rode for 25 minutes. My legs were starting to hurt, so I didn't push it too hard today. I have been having issues with my sciatic nerve since before Christmas, and I hoped it would work itself out like usual, but it's still bothering me all too often. I'll probably need to see someone about it sooner rather than later.
The chicken was done shortly after, and I plated it up. The broccoli was SO GOOD! I almost always love broccoli, but Matt is skeptical, and we both gobbled this down. The lemon flavor made it really good.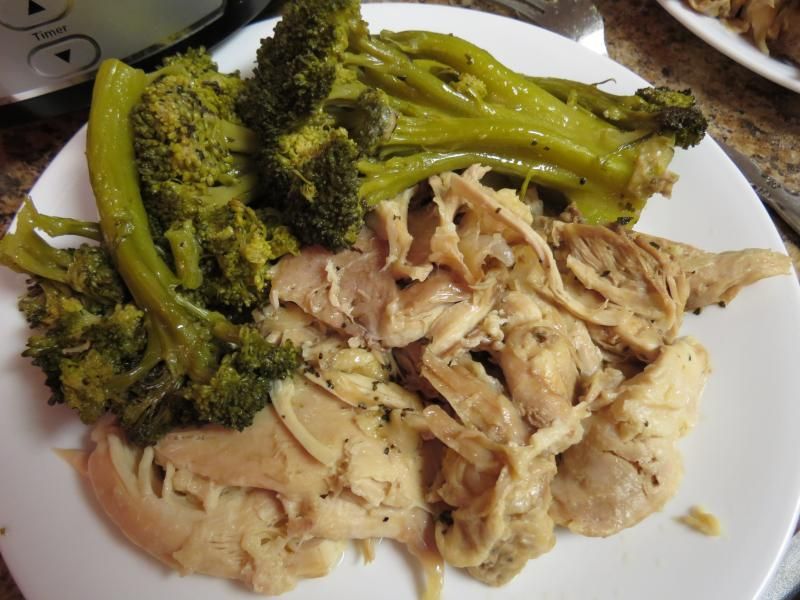 The recipe for the chicken is from a cookbook that came with the crockpot. It makes such a good chicken, but it always falls apart into pieces and it's really hard to cut. Also, I didn't add any liquid at all, but by the time it was done, there was a ton of liquid in there. It's natural juices, I know. But the chicken falls apart into it and it's just so hard to serve up.
I am feeling really confident about this Whole 30, but I know Matt is still concerned about Day 31. I'll blog later about our post-Whole 30 plans, but short version, I think I'd like to keep this up as long as possible.
What about you?
Does anyone else ever make a whole chicken in the crockpot? Any advice on keeping it together?