I've made it a week into the Whole 30 - so far, so good. I had an intense headache around day 3-4 that I've never experienced before in my attempts - it made me feel queasy and all-around awful. Since then, though, I haven't felt sick at all.
My breakfasts and lunches are ready for the week: breakfasts are two spinach egg muffins with a homemade sausage patty (ground turkey mixed with sage, a little salt and pepper, and chopped Granny Smith apple), lunches are pieces of pork tenderloin with a slice of sweet potato and spinach. Similar to last week, but different enough that I won't go crazy.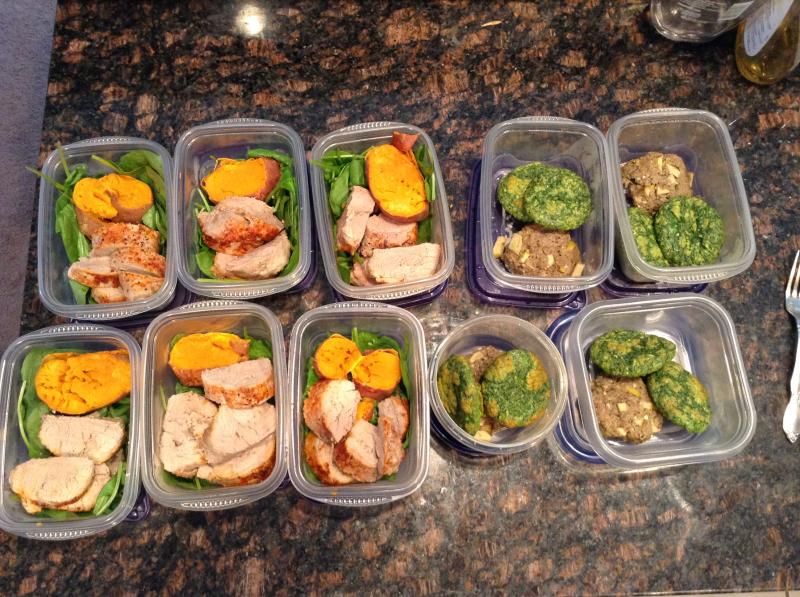 The excitement of the first few days is already fading, though, and now the reality of "okay, three more weeks of this" is setting in. I don't mind the food - I read a lot of people's experiences with Whole 30 where they get fed up with eggs after the first few days. Honestly, I could eat eggs for every meal and not get bored. I think my bigger issue is that after the first few days, the "do this, don't do that" isn't right at the front of my mind - it has become routine, I can get back to my regular thoughts - and now, my normal worries take back their place in my thoughts. I am once again faced with my anxieties and now, I don't have food to soothe myself with.
This is what makes Whole 30 hard for me. When anxieties and stresses hit, I need to find alternatives to snacking. I need to recognize what makes me crave and what triggers my binges and deal with them. Face my stuff, instead of stuff my face.
The past few days I have been fighting with my husband on and off, and therefore fighting the urge to break off the Whole 30 and binge. I believe in myself, I believe that I am stronger than the cravings. I want results more than I want to drown my sorrows in junk food. I want to feel good about my choices.
I am thinking about making
a binge jar
- something I created years ago, a jar full of ideas for things to do instead of eat when I get anxious. I have a few go-to activities - reading blogs on Feedly, looking at the ridiculous Humor page on Pinterest, Words With Friends, a handwritten journal that I keep locked in my desk at work so no one else can read it. But sometimes these aren't enough.
Making exercise a priority is helping. Knowing how easy it is to eat 500 calories and how hard it is to burn them off is definitely a motivator for keeping myself on plan.
I made my fitness goal this week, by the way. Plus a few extra calories! Here's to hoping this week's workouts are also good.