In my absence, I've been busy, per usual. My Spring semester ended finally, and what a relief it was to close the book on it. That was probably the hardest semester I've had since I started teaching, in terms of work load, difficult students, and administrative whatnot. Yesterday was the first day of my Fall semester, and I am hopeful that this year, even though not everything will be easier, it should all go at least a bit smoother now that I am no longer new and have a year under my belt.
We had a hectic summer - my plan to "take it easy" was turned on its head not long after my break started. The biggest thing that happened was that my husband, son, and I drove up to Connecticut to meet my new baby niece, but also, to get my teenage brother and bring him down to South Carolina for a few weeks. My mom had a stroke last summer and still struggles with her recovery, so this was not only a way to help her out, but a chance to see my brother and for him to have a fun summer with his sister, brother-in-law, and nephew. Unfortunately, both my husband and I used my brother's visit as an excuse to not only overeat, but to make poor food choices, both at home and in restaurants.
There were a lot of good moments, though. We took my brother all over our area, and even did a weekend trip to Charleston. One day we were heading out to go to a nature preserve, and my brother, who seems oblivious most times to temperatures, was wearing a long-sleeved shirt. I told him he needed to change, that it's South Carolina low-country in mid-July, super hot and humid. He said he didn't have any short-sleeved shirts that were clean, so this is what he ended up wearing: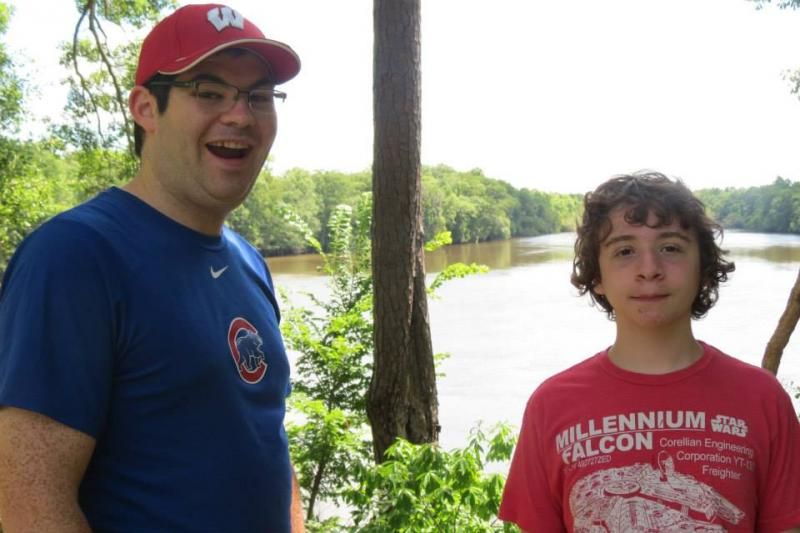 Now, consider this picture from a few years ago: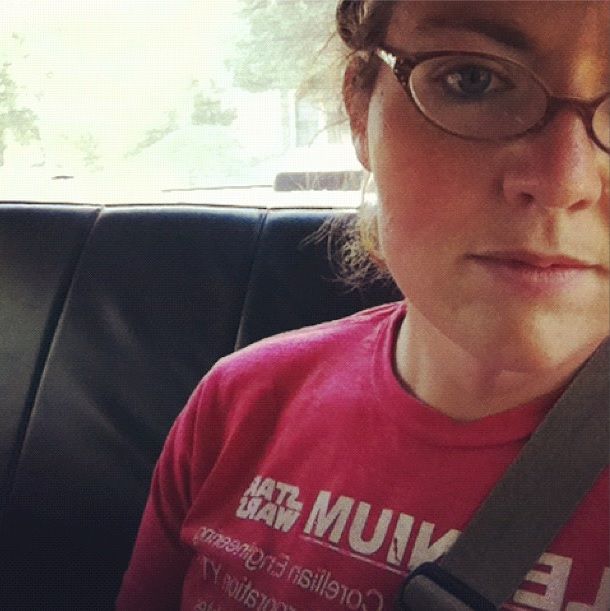 It's me, wearing that shirt as I leave California for the last time, heading to San Francisco to catch my one-way flight back to Chicago.
I handed the shirt to my brother, then cried. I scribbled a quick note to myself as we drove to the nature preserve:
... my brother needed a shirt to wear and he borrowed one of mine from when I was thin. I cried. I remember wearing it. I remember how it felt. I remember being at my smallest size and thinking I was a giant cow. I remember beating myself up emotionally for a whole year for seeing numbers like 196, 198.
Today, nearly 100 pounds heavier, I wish I was the size I was back when I thought I was so fat.
It was a really shocking experience for me, to see something like this. The year when I lost the weight, and the year after, were a very difficult time for me, especially in terms of self-perception. I lost the first 100 pounds in six months, then couldn't understand why I couldn't recognize the girl in the mirror. When I moved to California, I maintained my weight (at the most plus or minus 7 pounds) for a year. Instead of giving myself permission to maintain and let my mind catch up, I fought myself mentally for the entire year.
I was so fixated on numbers the first time around.
This blogger lost X pounds and she's a size Y.
I was so obsessed with getting to where everyone else was that I didn't stop to recognize and accept that I hadn't started at the same place as those other girls, so it isn't entirely reasonable for me to expect to end at the same spot.
I don't know if I will ever be 135 pounds -and honestly, I don't know if I want to be. I do know, though, that the nights I spent crying because I weighed 188 pounds and that I was still considered obese on the BMI scale until I weighed 185 ... that was just silly. I'm not punishing myself for these thoughts anymore - I've already done enough of that - but I want to recognize this obsession and hopefully prevent it from happening again.
I am hoping that things will be different this time. My goal is to take time as often as I can to practice self-care in ways that do not involve food or exercise - doing things like getting a haircut, wearing nice clothes, painting my nails, etc. I want to love my body and be grateful that the work I put in manifests itself in physical changes. I want to get to a place where I am ready to maintain, and I want that place to be based on how I look and feel, not how anyone else thinks I look or what anyone else is doing with his or her own life and his or her own situation.