A memoir is different from an autobiography, in that it captures a specific point of time in someone's life, rather than the life as a whole. With my weight history and all its ups and downs, I am not quite sure what my story would be. The reality of weight loss, especially as someone with a very high starting weight and with a history of various eating disorders, is that even when I am in my goal weight range, this is something I will have to work at for the rest of my life. Earlier this year, I saved
a CNN article
that nailed it right on the head:
You know what's worst of all? The treatment for chronic overeating is to think about every food choice you make for the rest of your life.
At various points in my journey, I've been asked if I would write a book, at that moment or in the future. At various points in my journey, I have considered it, with varying degrees of enthusiasm. I am constantly blown away by the number of people who reach out to me and say
I went back and read your blog from the beginning, like a book.
My heart is so full of love and joy when I hear about people who are inspired by my story - and I love hearing from people who have been on similar paths or have had similar experiences, people who reach out to me and remind me,
you are not alone
.
Right now, though, I can't say for sure. I would like to think that mine is a story that people would like to read more about, but at this stage in my life (and at this point in my progress), it doesn't quite feel right.
I mention this because yesterday, I got a follow-up about the fitness leadership program, and I had to fill out a medical form with my weight history. I summed up 3-4 years of struggling, of successes, and of tears in less than a page.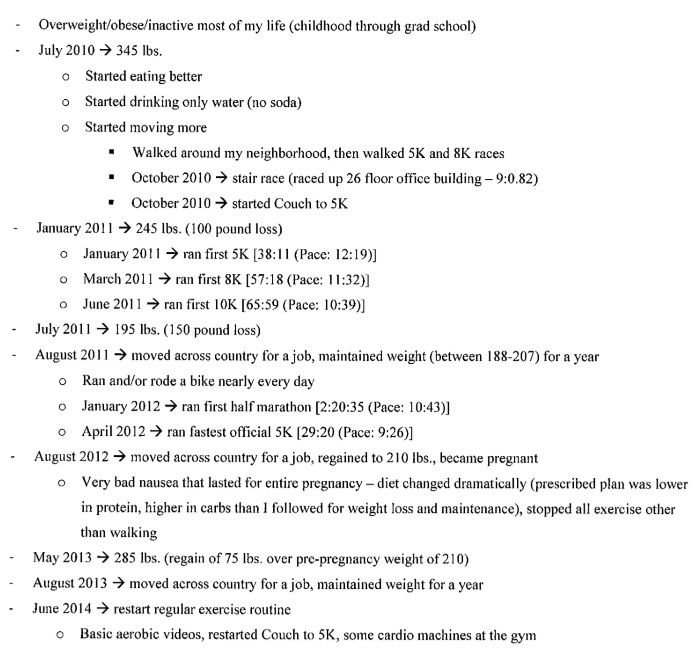 It's more detail than they wanted, I'm sure. But it's my story, and it's important to me.
Over the years, I have found a lot of parallels between my struggles and the stories of people with addictions, particularly in the ways we try to recover. In many programs, an alcoholic will still refer to his or herself as an alcoholic, even after he or she stops drinking - that struggle is part of their identity, and there's a big risk in forgetting that past. Saying
I was an alcoholic, but I am fine now, I can handle one or two drinks...
might be okay for some people, but for others, it is a slippery slope down a dangerous path.
Even once the weight loss part of my journey is over, I will be a person in maintenance - which is the same road, I will just be driving a different car. So I don't ever want to forget that I was once 345 pounds. When you do that, you start to get careless.
Well, I used to be super obese, but I am smaller now, I can binge once or twice and get right back on track.
I know this because I was there, and that was me. I was smaller, but I was still trying to hide behind my body. I thought I had cured myself, I thought I had moved past using my weight as a barrier between myself and my truths. But the truths were still there, despite the smaller clothes and the faster per-mile running pace.
I don't know if me writing a book would help or even interest anyone else, but I think maybe, perhaps, someday, possibly, I
will
write one, if only just for me to preserve these moments, to recall these experiences, and to help myself to never forget this part of my identity.