I finally found a few minutes to post an update here. I don't even know if these are free minutes, but I am overlooking the pile of work on my desk to spend a few moments blogging. I am loving teaching this French culture class, but it is a ton of work. I've taught three-hour-long classes before, but they were intensive grammar courses taught over a few weeks in the summer. The good thing is that it's such fascinating material that the work doesn't feel challenging, just time consuming.
The big problem with the course and with my prep work for it is that I don't have any free time. I barely have time to do what I need to do, let alone what I want. So going to the gym has fallen by the wayside. Next week we have two days with no classes, plus two days where I give exams, and then a day off the week after that - I hope to use that time to get ahead on my lesson planning so I can free up an hour or so on Mondays, Wednesdays, and Fridays and get at least a little workout in.
I feel lousy when I don't work out. Part of that is the snowball effect: I don't have free time to work out because I am overwhelmed at work, and that leads to poor food choices - excess snacking, choosing quick and easy dinners over healthy but more time consuming meals.
I had a really good talk with Matt the other night, about what it's going to take for me to get back on track. I keep analyzing what I did the first time I lost the weight, searching and scrutinizing, trying to find clues to get myself back on the right track, trying to figure out how to be successful again. It's finally really clicking with me that it wasn't what I ate, or how hard or how often I worked out. Well, yes it was. That was incredibly important. But the biggest factor in my being able to lose 150 pounds was the fact that
I was ready
.
In summer 2010, the school where I received my graduate degree offered me a full-time job for the fall. I would stay living where I had been for the past two years. The faculty and staff would be the ones I had previously worked with. I already knew what to expect from the university's students. The courses I would be teaching were ones that I had already taught before - so not only was I familiar with the material, but I already had teaching materials created. The only thing new about the job was my title, changing from Teaching Assistant to Lecturer.
When work wasn't a source of stress, when I was able to find more free time here and there ... I was able to move myself and my health off the back burner. I could finally focus on myself instead of devoting so much energy to creating materials or figuring out how to be the best at my job.
When I moved to California, I struggled with weight loss, fluctuating up and down within ten pounds for the better part of a year. It was so hard to be in a new place, at a new job, in new relationships, and also find time to be entirely healthy.
Then I moved back to Chicago, and even though I had lived there before, it was an entirely new experience. No full-time job. No stability. And on top of it all, a baby on the way.
Finally, good news. I had a full-time job again. But it was nearly a thousand miles away, and I had a newborn. Then we got married. Then my boss quit, one of my classes was canceled, and I found my schedule turned upside down again.
When I was talking about this all to Matt the other day, it finally made sense to me. I haven't been able to commit myself to losing weight again like I did in 2010-11 because I haven't really committed to anything. Everything has been in transition. Everything has been dynamic, changing so often that I can't get my mind or body settled on what needs to happen, let alone what I would like to have happen.
Providing that my contract is renewed for the Fall semester (and at the moment, I have no reason to doubt that it will be), this will be the first time in years that there is some consistency in my life. We will still be living in this town. The faculty and staff will be the ones I worked with this year. I will already know what to expect from the university's students. And the courses I will be teaching are ones that I have taught before and, again, for which I already have teaching materials and lecture notes created.
I am setting myself up for a mental breakdown if I keep pressuring myself about weight loss this semester. With everything on my figurative plate, I just can't commit to giving 100% the way I would like to. I've been reading blogs and I'm feeling inspired, even if my actions don't always reflect that. I will continue to try the best that I can, with maintenance as a goal. And come summer, then fall, I will be ready to give my all.
I just, I find myself so depressed these days, thinking that I am a failure because I can't be everything, I can't do everything, I can't achieve everything. I wouldn't ask my friends or family to be this unreasonable, so I don't know why I demand it of myself.
I've had this thought in my mind, an idea that
Kara
posted on her blog a few days ago. She said:
If I ever reach old age, I want to be able to know that I didn't spend my entire life being miserable, going from diet to diet.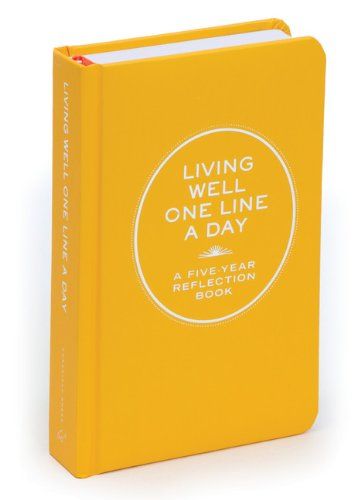 What honesty! I want this to be a long-term goal of mine. I so desperately want to someday focus on my life as it is, and not be so completely consumed by my negative attitude about my weight. I don't want to waste my years, or even my days and my hours, with negativity.
I got a little journal the other day, and so far, I really enjoy it. It's called
Living Well, One Line a Day: A 5-Year Reflection Book
. Each page is dedicated to a day of the year, and has five small spaces (maybe four or five lines each) with a box at the beginning for filling in the year. I've been writing down my weight for the day, as well as what is on my mind at the time.
What I would like to see that as time goes by, my weight will decrease (how good it will be to be able to say "look where I was last year!"), but also, my outlook will improve. I want to see myself become more positive, more stable, more capable of handling changes with grace. Within the next five years, I presume we will move again (I like the university where I am for now, but am not certain that I will be staying here long-term). I want to fully embrace the stability while I have it, I want to take the fullest advantage of it, so that when we relocate, I don't go completely off the wall like I did with my past few moves.
So, today, I would like to give a copy of this journal to a reader. I will announce a winner after the 1st. To enter, please use the Rafflecopter tool - entries are earned with a comment on this blog post (or if you "Like" a small loss on Facebook - new or old Likes, it's all good!). For the comment, let me know:
what's on your five year plan? What are your long term healthy living goals?
a Rafflecopter giveaway
Good luck!