We had a pretty low-key weekend. We did our taxes, made our weekly menu, and went grocery shopping. Matt went to the gym, and I worked on a massive pile of grading that I accrued after giving exams in all my classes last week.
Our goal for this week's menu was to make all new recipes. We've been falling into the pattern of making the same things over and over, and while that isn't bad, I think mixing things up will definitely help with my sudden strong onslaught of cravings.
Yesterday morning for breakfast, I made a
sweet potato hash with baked eggs
.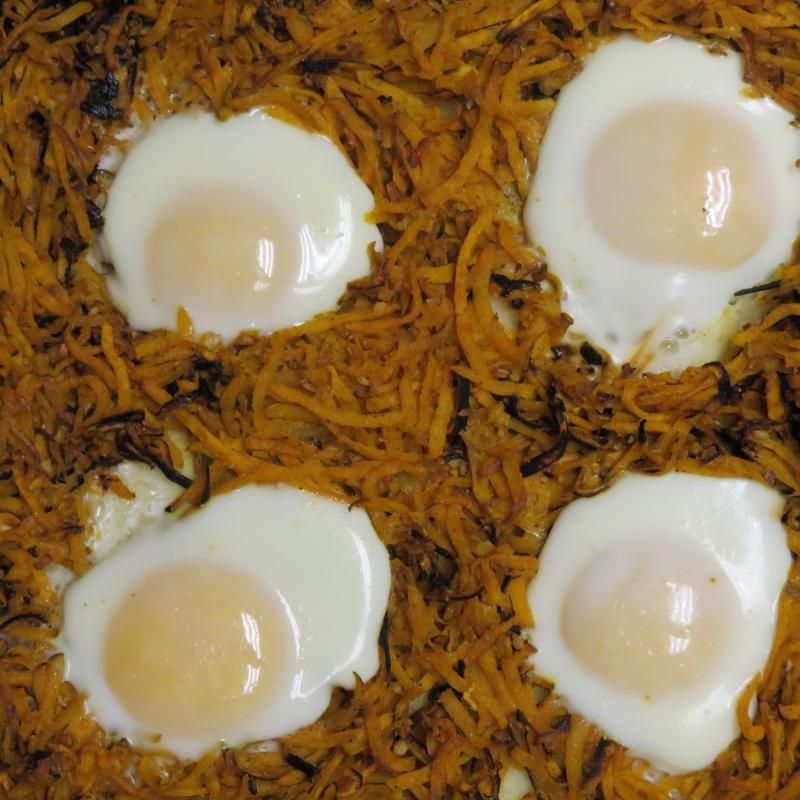 I cooked the eggs perfectly, not too hard but not really runny. Matt had been grumbling about being sick of eggs, so I tried this because it was different - he only recently started eating eggs at all, so he's only tried them scrambled. He loved this, though - I didn't have any onions in the house, so I got some to make this again this weekend. I also didn't have any beets, so I sliced up a green apple and used that instead. I'm sure we can experiment with different veggies and see how it goes. This is definitely a keeper recipe!
Today I had to go into work early again, but at least I didn't have to stay late as well. I still came home tired, though, and didn't want to work out. I made myself go, though, because I was starting to get really antsy and frustrated with cravings. The workout didn't cure it, but it distracted me for 50 minutes, and then I came home and snuggled Noah some more, then made dinner.
I improvised using a recipe I found on Pinterest - trout with mushrooms and garlic. I minced the mushrooms instead of just chopping, simply to cook them up faster. I added garlic and olive oil and cooked it up for a few minutes, just until it was warmed up, then spread the mixture over the pieces of fish. I baked them for 18 minutes at 375º.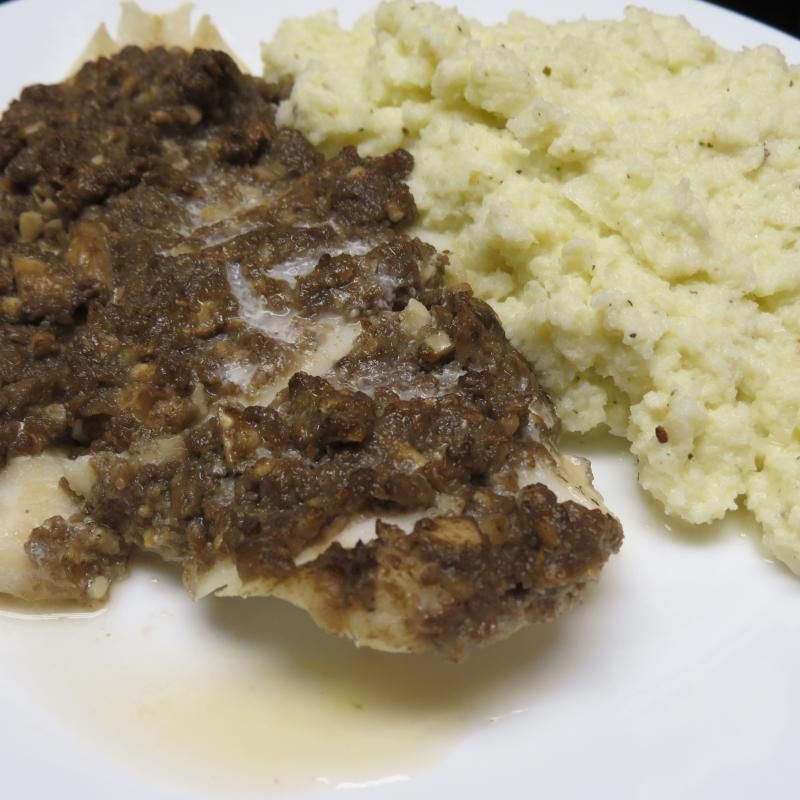 The mushroom mixture was completely delicious. I served it with mashed cauliflower, which I made with cauliflower and a spoonful of homemade mayo for fat, flavor, and creaminess. It always comes out really well.
I'm drinking water and watching a movie with Matt, one he hasn't seen before but which I am planning to screen at the university next week for anyone interested. Then it's off to bed. Early work days tomorrow and Thursday, and an early morning Wednesday for Noah's 9 month checkup. Some weeks are just like this.
It's good to stay busy, especially when I am craving sugary junk. Someone baked and left goodies in the office kitchen today, but I wasn't tempted. I told Matt, it's not even a craving for sugar so much as for one specific item that I saw when we were grocery shopping a few weeks ago and that I haven't stopped obsessing over. We have plenty of Larabars in the house, those are practically candy, right? But that's not what I want. As long as I don't bring this particular item into the house, I'm safe. I will stay on-plan.