For breakfast this morning, I had made egg muffins with the other half of the avocado Noah ate for dinner last night. I don't know what it was, because egg and avocado together are usually a great combination, but these didn't taste as well as I had hoped they would.
For lunch, Matt had a salad with tuna - we found a brand that sells soy-free canned tuna. The cans cost four times as much as the usual ones we buy, so it's definitely a "sometimes" food. But I think he enjoyed the change from his usual lunch of the previous night's leftovers. I had the leftover piece of chicken, and to go with it, I roasted Brussels sprouts with a little salt, some black pepper, and leftover bacon fat from the last time I made bacon.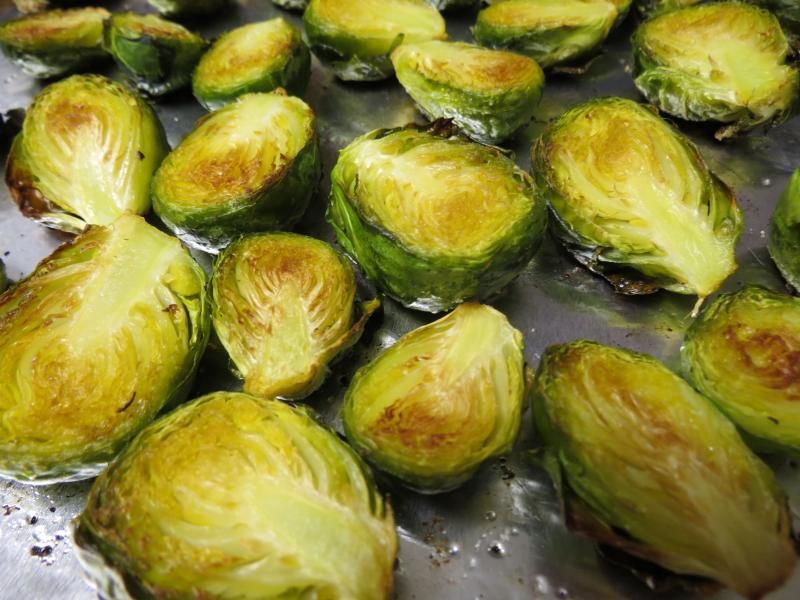 I haven't made these in ages, and I forgot how much I completely love them roasted. Matt asked if I would rather have them or a piece of my favorite candy and honestly, right now, I would say the sprouts.
Noah is teething again, and so he was wishy-washy all day. He took two naps, and had a low-grade fever in the afternoon. Once he fell asleep for his second nap, I headed to the gym and did 60 minutes on the stationery bike. My goal for this week, besides Week 2 of Couch to 5K, is to get back on the elliptical. The bike is a fun workout, but I know that the elliptical is best for me for calorie burning (besides running).
When I got home, I threw dinner together - lemon pepper chicken again, with apple slices and the rest of the Brussels sprouts from lunch. We make that once a week, it's really quick and delicious. We try to make at least one new recipe a week so things don't get too repetitive, but at the same time, it's nice to have quick and easy healthy fall backs.
Noah cuddled up right after dinner and snuggled himself to sleep. Poor little guy! He already has one tooth, plus he started really crawling this past week - it's amazing how big he has grown ... and how fast time has been flying! He will be 9 months old on Thursday.
Tonight, I'm putting another pork shoulder in the crock pot. Another week and a half or so of lunches! Not sure how I will spice this one. Maybe the same as the last one, with ginger and pineapple. We'll see how inspired I feel.