The university where I work canceled school today - actually, they made the call yesterday afternoon, and when they announced it, it was almost 60º outside. We're expecting snow, and since it only really snows every few years, I guess they want to play it safe. It's late evening now, and so far, it has only rained today - and they've already made the call to cancel school tomorrow.
From the teacher's side of things, this is tough - it's not like high school, they won't just add days at the end of the year to make up for the days off. The kids are still responsible for the material we would have discussed today and tomorrow. I'll do a quick review of it before we start up again Thursday (providing that they let us go back then!), but we have to keep going if we're going to cover everything before our pre-scheduled exam. It's crazy. Luckily, the information they'll need to cover at home isn't anything profoundly difficult - if they managed learning numbers 0-100 last semester, I think they can handle teaching themselves numbers 101 and higher.
The only reason why I was glad there was no school today was because Noah was up late last night - he woke up around 10:30 and screamed if I tried to put him down. I tried letting him "cry it out," but after 30 minutes of non-stop screaming at 2 a.m., I gave in, and got him out. A second cup of water and a snack, then a snuggle, and that finally did the trick. He fell asleep a little after 3 a.m., and I passed out shortly after. To have to wake up 4 hours later and go to work? That would have been rough.
I was nervous about today. I do well with my eating plan during the week because I have work and that's a good distraction. When I am home, though, I tend to snack too much, even when I am not hungry. I made egg muffins for breakfast (mushroom and olive for me, spinach and basil for Matt), then picked up the house a little before having some more of the pulled pork with pineapple for lunch (this is day ... what, 7 in a row? still not sick of it, it's so good!).
Some of our friends who also work at the university came over, and we hosted a board game party all afternoon. We played Buzzword, Apples to Apples, and Trivial Pursuit for hours. It was great fun, and it kept our minds off of food. I made some baked apple chips for everyone, which were good but still need perfecting - this were a bit too toasty, though no one complained and they all disappeared. Once I perfect the recipe, I will share it here.
Before everyone arrived, I put dinner in the crockpot - tomato olive chicken again. Last time I did it on the stovetop, but I think it was even better in the crockpot. I diced half an onion and tossed it into the crockpot with some basil and parsley. I added half a jar of chopped kalamata olives and some no salt added diced tomatoes, then mixed it all up. I added a few chicken thighs, then cooked it on low for 5 1/2 hours (I usually do high for 4 hours, but knew we were having company and so I just timed it differently, to finish once they were about ready to leave). It turned out great!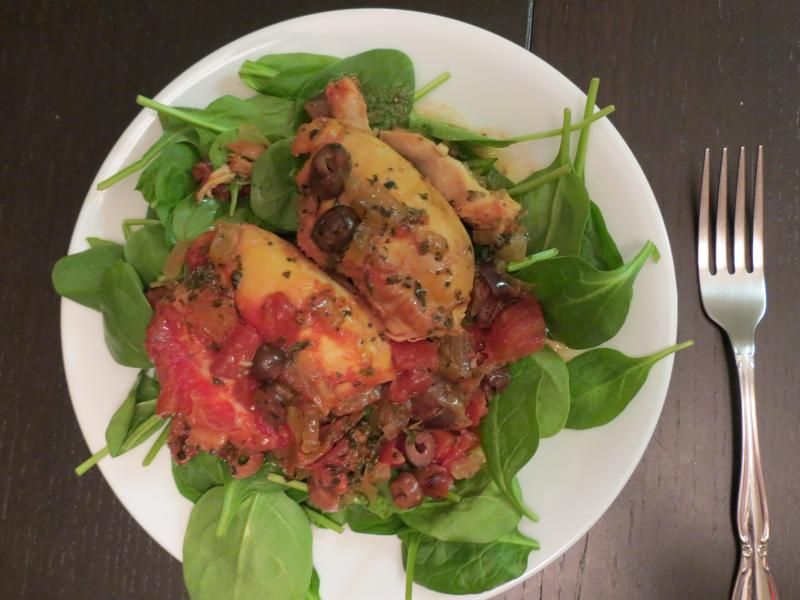 I served it over a bed of fresh baby spinach. So good! I love chicken thighs in the crockpot, they always come out so moist and flavorful.
I hope I can post again tomorrow. The weather is supposedly going to be worse than it has been here in a very long time, so the likelihood of us losing power is pretty high. If not, I'll catch up later, and promise I will be staying on plan and staying out of the kitchen between meals.
What about you?
How is the weather where you are? What are some ideas for not snacking excessively when you're stuck at home due to weather?