Just a quick post tonight, my first day of work was a short one but I'm super tired.
I went in first thing in the morning to get my missing class worked out: the head of the department said I'd either teach a summer class, or an 8-week course during the second half of the Spring semester. Either way, it looks like for a few months at least, I have a slightly lighter course load. That's a little something to be grateful for!
Breakfast was the leftovers from yesterday's batch of egg muffins. Delicious, but I forgot that someone ruined our office microwave last semester (awful popcorn fire) and they haven't replaced it yet. So everything I eat at work needs to be good cold. I don't mind cold eggs so much (I like hard-boiled eggs, why would scrambled be much different?).
I spent the rest of the day doing administrative stuff and prep work for today's classes. I was amazed at how completely not hungry I was - finally, a half hour before my classes started, I decided I needed to eat or else I'd get hungry mid-teaching. I had made chicken fajitas (sans tortillas) in the crockpot - a couple of chicken breasts, some bell peppers, half an onion, diced tomato, garlic, and cumin. It made four or five lunches for Matt and me, not too bad for minimal prep work!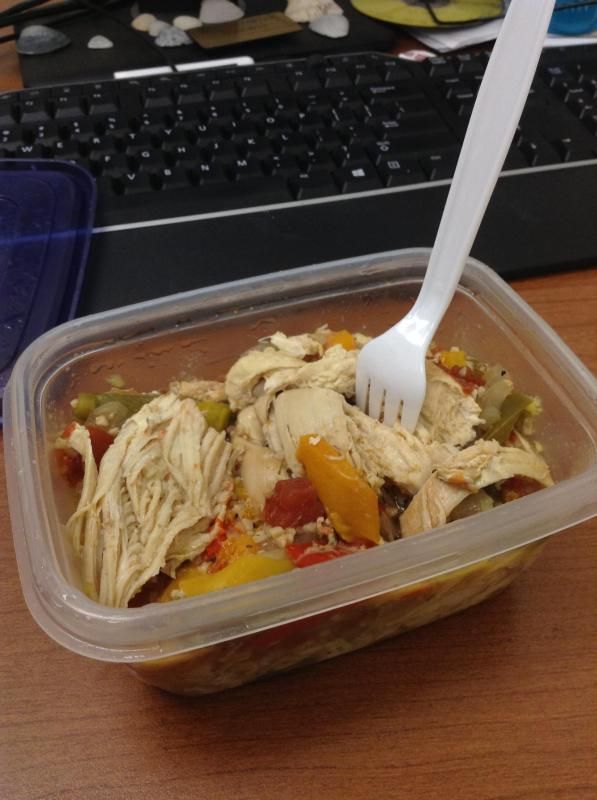 Teaching went well, I think. The first day is always interesting but it looks like I have a good group of kids for my accelerated class. That will make the new material easier for me (I know the material, just haven't taught it here yet, using this particular textbook).
I brought an apple to work for snack but didn't even get to it. I ate it at home, though, before going to the gym. Two days in a row! Today was 35 minutes on the stationery bike, pedaling faster than yesterday. My goal for tomorrow is to get back on the elliptical. There's a story on why I haven't yet, maybe I'll tell that tomorrow.
Dinner was ropa vieja - a Cuban dish made with beef, bell peppers, onion, garlic, and other spices. If it sounds like the chicken fajita filling, that's no coincidence. I did the prep for this while I made the fajita stuff last night, then out everything in a bag and had Matt throw it in the slow cooker between 9 and 10 a.m. to be done by 5:30 or 6.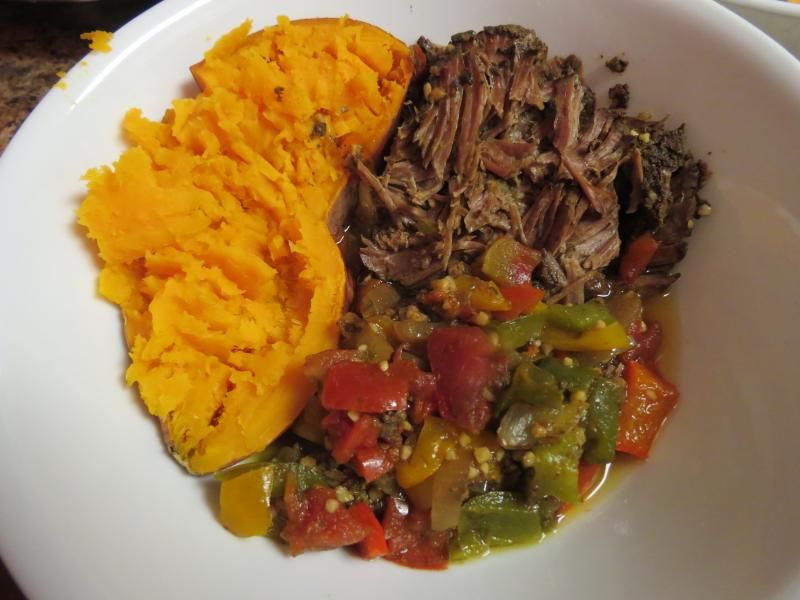 The recipe I made it from
also had a recipe for cauliflower rice, but I decided to just make a sweet potato instead - half for Matt, quarter for me, quarter for Noah. We were just feeling sweet potatoes, I guess.
That's it for now. I'm sure I thought of other things to write about during the day, but my body just needs an early-to-bed evening.