I have been using an e-reader app called Oyster for a few weeks now. It's okay - they tout it as "the Netflix of books," which I guess is to say that the selection currently available is only so-so but in a few years, once they start to acquire more rights to better stuff, it will be a decent app. I canceled my membership before the free trial was over, but I still have a week or so to read the books I picked out before my access is denied. I'm mostly done with a really interesting book about bees. The rest of my library on there right now is paleo cookbooks.
Breakfast today was from one of them. It was a breakfast "burrito," except instead of a tortilla, you cook an egg white so that it is tortilla-like and wrappable.
So, basically, an omelette with a less fancy name.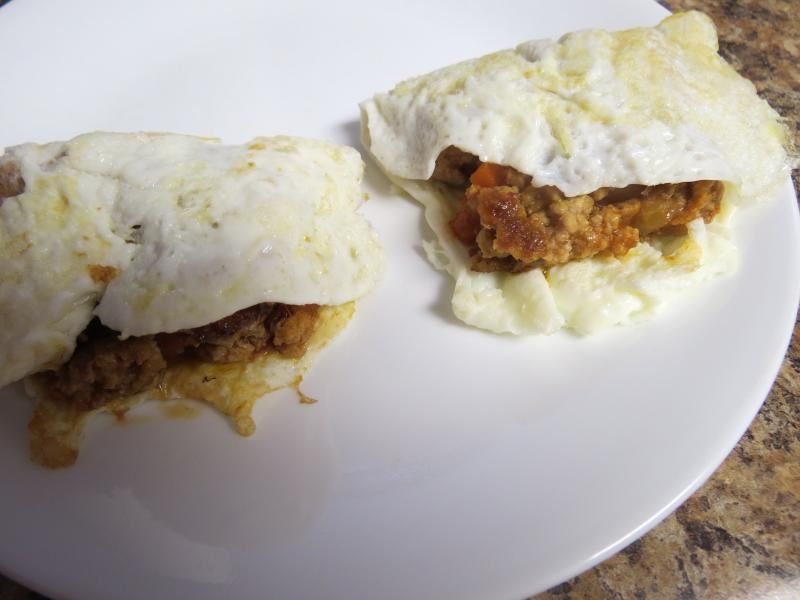 It needs some tweaking, but it's definitely something I'd attempt again. Next time, I need to use a better pan. Matt's egg whites turned out okay - his are pictured above, but mine were screwed up so badly that I couldn't even pretend to burrito them, I just had a pile of egg whites and some filling. The filling was really good - some ground turkey cooked up with leftover onions, peppers, and tomato sauce from last week's fajitas.
We went to the grocery store in the morning and shopped for the week. We're getting better about reducing our bill - after the first two weeks, it's been considerably less. Needing to get things like olive oil and stocking our spice rack helped make for a few high grocery bills. We've also been getting better about realizing how much meat we need to buy, and about sticking to the list with produce - a few weeks ago, we bought some produce that looked good but since it hadn't been in the menu, we forgot about it, and it went bad. Reducing wasted food (and therefore wasted money) has been successful.
For lunch, we had leftover chicken and broccoli from last night. I wish there had been more of the broccoli, I liked it almost better than the meat, and could've made a whole meal of just that. There was still some chicken left over after lunch, so I bagged it up and froze it. I've been trying to do that - put aside portions of meals here and there. Matt mostly has the previous night's leftovers for lunch, so I think having a stash will help mix it up a bit once in a while.
Right after lunch, I made some coleslaw to go with dinner - I wanted to make it in advance so the flavors could soak in a bit. I used broccoli slaw, and instead of a creamy dressing, I puréed avocado and then tossed it all together with a little lime and garlic.
The lime was to keep the avocado from browning, and it worked, but when we ate it with dinner, the taste was really strong. Next time I will add half as much.
Dinner was simple today, just the slaw with some chicken breasts I filleted and sprinkled with black pepper.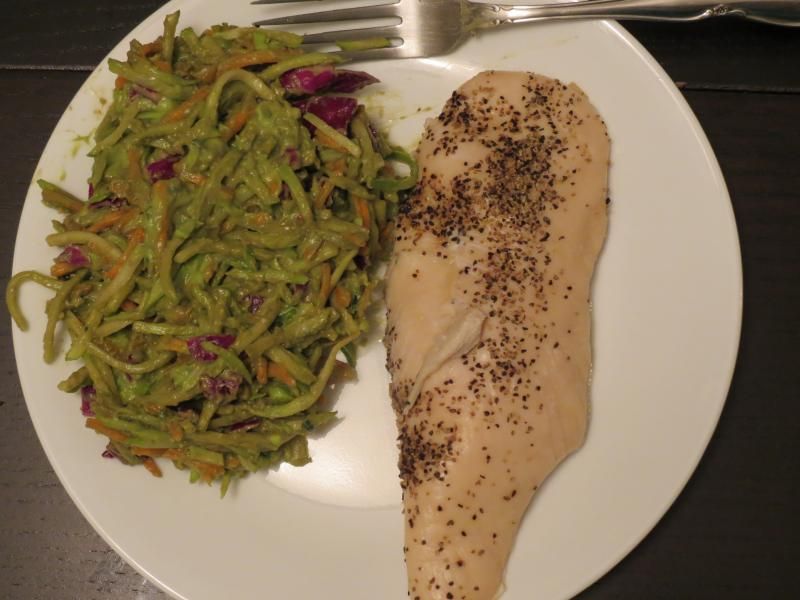 The slaw didn't brown at all - the difference in pictures is just the lighting, I swear. Matt wasn't crazy about the slaw at first - he isn't a huge fan of avocado, so I keep trying it different ways to see if he'll start to like it.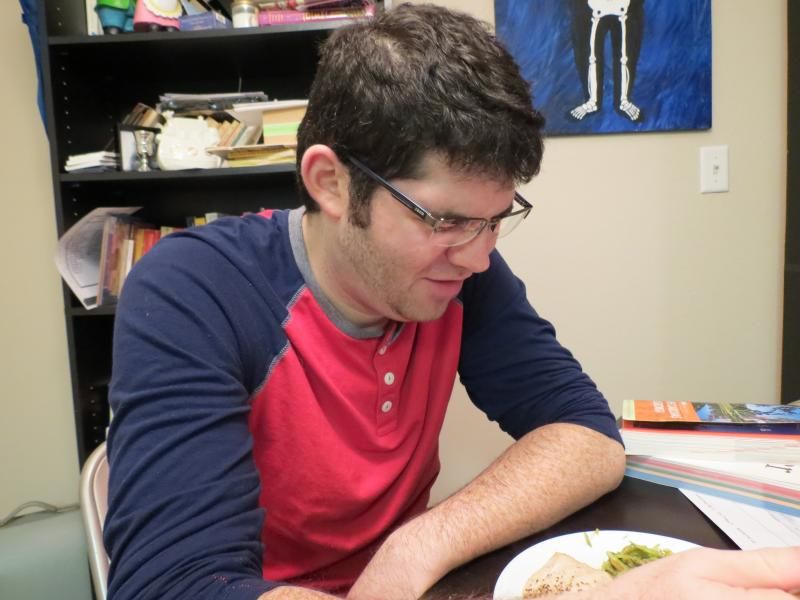 But I honestly think that wincing was a reaction to the tartness of the lime more than the texture of the avocado. After a few more bites, he said that it wasn't "that bad," and he finished what I'd put on his plate. Good, because there's more for his lunch tomorrow!
I didn't make it to the gym today. I was going to go in the evening, but ended up chatting with my cousin for quite a while. I don't feel guilty at all, though - talking to her makes me feel emotionally healthy, and that absolutely counts.
In the afternoon, Noah helped me work on a project - by which I mean, he held pieces of construction paper before I cut them up and labeled them. It's a countdown of every pound I have left to lose until I am no longer obese.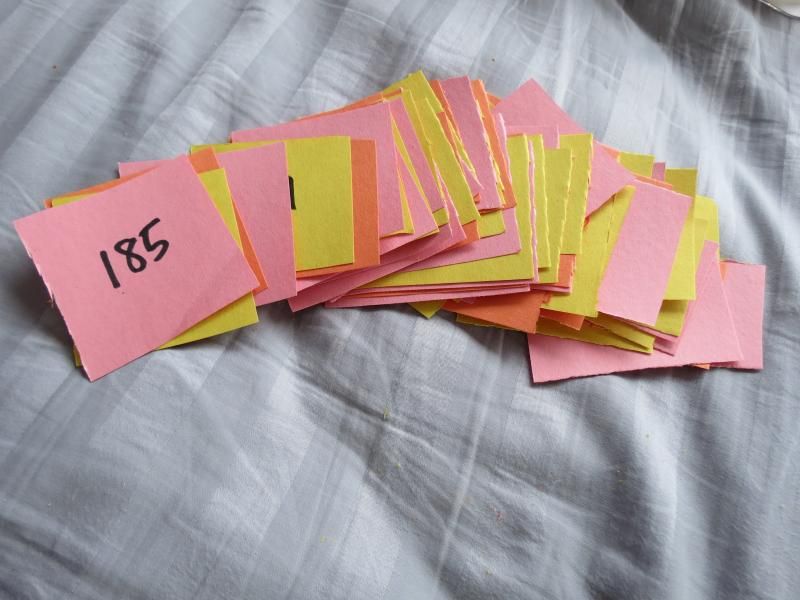 It kills me how big the pile is. How close I used to be. How much of it I am re-losing for the second, third, fourth, hundredth time. I know it's useless to dwell on it, but still, this was a tough exercise emotionally, even if it will be therapeutic as I destroy each piece of paper when I lose that pound.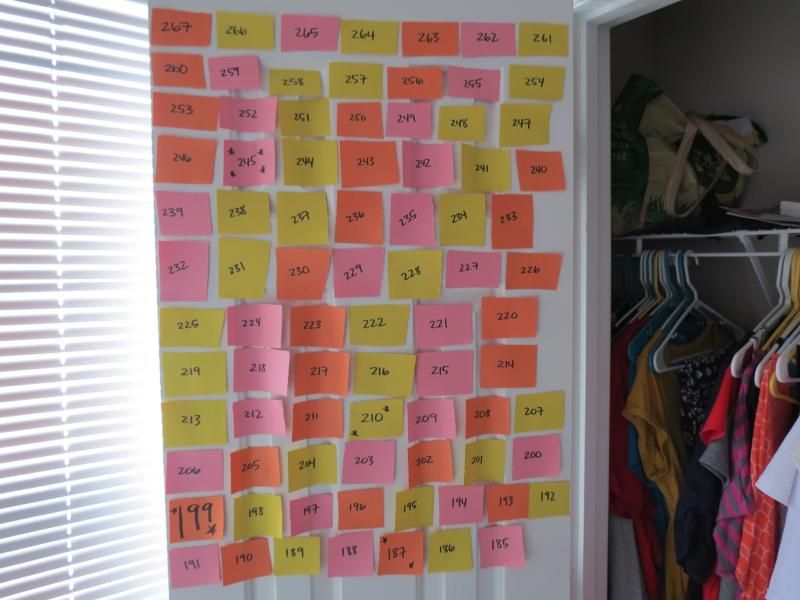 I taped them to my closet door, and put stars next to some of the numbers - 245 (my 100 pound loss), 210 (the weight I was the day I found out I was pregnant), 199 (finally back in onederland), and 188 (my lowest adult weight).
I made one for Matt too, which I taped into his closet.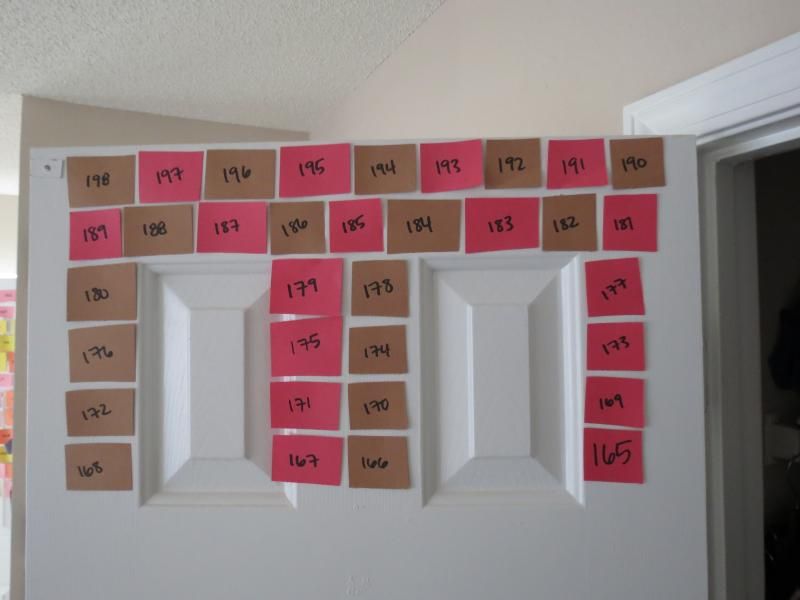 I love having his support, though I hate how I felt when I saw the doors like this.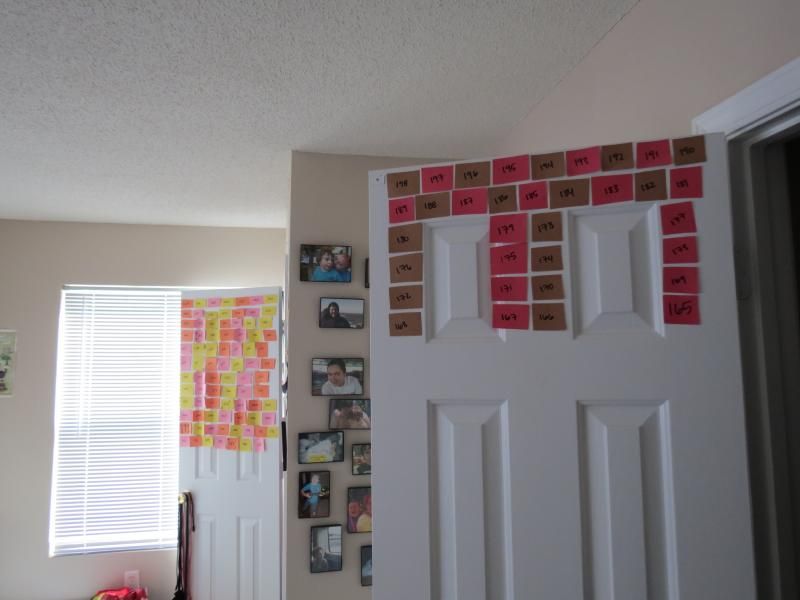 Jealous, that he is closer to his goal. Self conscious, that I weigh so much more than my husband. Upset, that I let myself go so badly that I have to work this all off again. And worried, nervous, anxious, already thinking about what happens when I run out of papers to tear off, what happens when I need to maintain again.
I have a long way ahead of me, and this visual is tough to see right now. But I know that as the pieces disappear, I will start to feel healthier and happier, and while I work them off, I will be developing a plan for once they're gone. When the time comes, I will be ready.