Just a quick post tonight, since I have to be up early tomorrow for my faculty meetings ... well, I guess I am up early every day because of, you know, the baby ... but at least the past few weeks I've been able to rest a bit. Tomorrow it's back to the old grind.
For breakfast, I wanted to try something new-ish. I love eggs poached in tomato sauce, but Matt, again, is a new and unadventurous egg eater, so I tried making them in my silicone baking cups. I put a bit of last night's tomato sauce in the bottom, then cracked an egg on top and baked it. I also made some regular egg muffins, scrambled with asparagus, for Matt.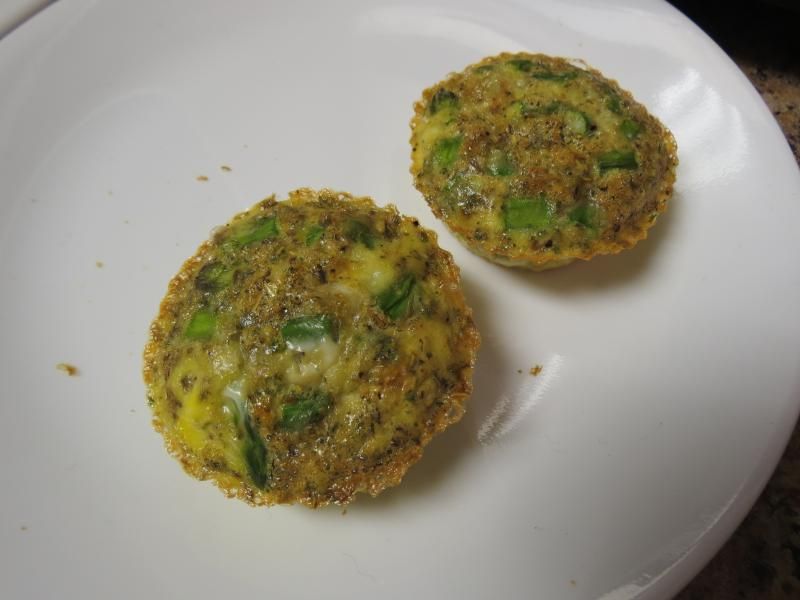 They were delicious, very good flavor. I overcooked mine and the yolks were basically hard, but still, the sauce and the egg together ... you wouldn't think it's a good combination, but it totally is.
Lunch was leftovers from last night's dinner - we had leftover spaghetti squash, but no meatballs, since I had only thrown a few together quickly. So a few hours after lunch, we found ourselves a bit hungry, and dinner was in the crockpot and a few hours away from being finished. I decided to toast some nuts with assorted spices. Matt had gone to the store last night to pick up a few things we needed around the house, and he ventured into the grocery section with the nuts, looking for a snack. He picked up cashews and asked if those were okay, and I said yes, but only if they were raw or dry-roasted. They were roasted in peanut oil, however, and so they were a pass. Needless to say, my already-feeling-deprived husband wasn't pleased.
(I'm not feeling deprived at all, by the way. I feel really, really good so far, not starving, no cravings, no headaches or exhaustion.)
So, I had him get some plain nuts and told him we would toast them ourselves. I took a few servings of raw almonds, walnuts, and pecans, and put them in a skillet. I kept them moving constantly over medium-high heat until they seemed done (very scientific, I know ... they smelled nutty but not quite burned).
Then I added a tablespoon of mixed spices (garlic powder, onion powder, various peppers) and a teaspoon of olive oil, and tossed it all together. Then I poured it out onto a cookie sheet lined with parchment paper to cool down a bit, and there you have it - snacks!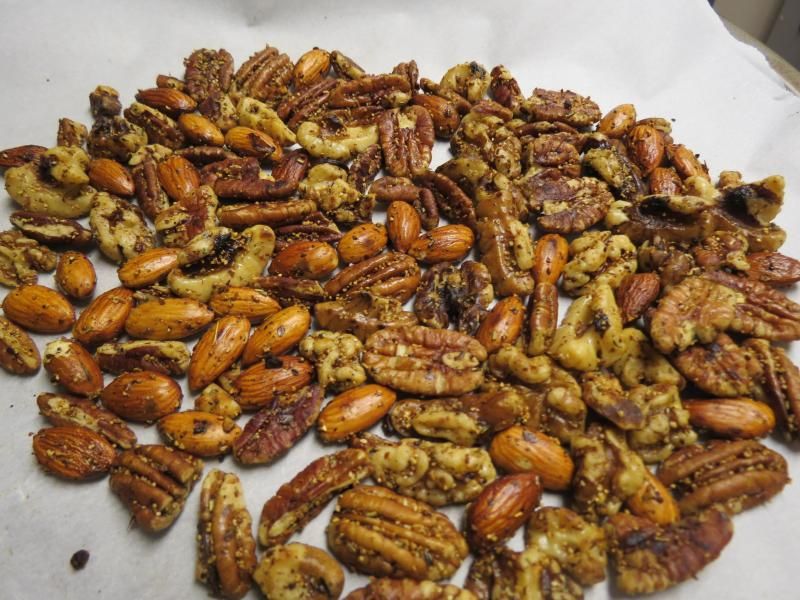 The spices were a nice touch, and it kept Matt happy for a little bit while we went to run some errands.
When we got home a few hours later, it was dinner time. I made another recipe I had found on Pinterest:
chicken with brussels sprouts
. Simple, but delicious. There's no link on the Pin, but the recipe is given - based on the picture, though, I did things a bit different. I mixed the mustard with the water and oil, then tossed the sprouts in the mixture to make sure it was all evenly seasoned. Also, I subbed chicken thighs for chicken breasts because that's what I felt like when I popped it in the crock pot this morning.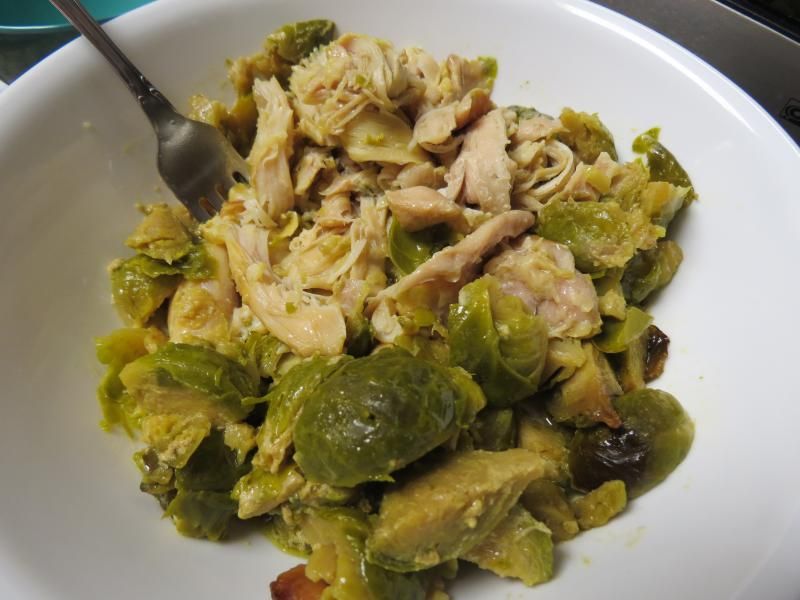 I liked it a lot, but Matt wasn't crazy about the brussels sprouts - I have yet to win him over on those, I think roasting them will do the trick. In the meantime, he ate his chicken, passed me his brussels sprouts, and had some berries instead. I put the second serving of sprouts away to have with my breakfast. Definitely looking forward to that - it was seriously really good!
And with that, I am off to bed. I am a bit nervous about tomorrow, especially after receiving a ton of emails tonight after nearly a month of silence. Small problems with scheduling and whatnot for the Spring classes. It will all be resolved, no need for me to lose sleep over it.