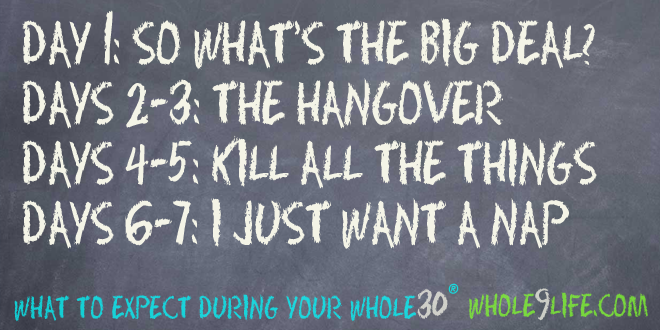 Today I felt a little worried, because I haven't really been "suffering" as much as my pre-Whole 30 reading made me think I would. I seriously ate nothing but junk over Christmas break - shouldn't I be feeling worse when I strip my eating down to just meat, veggies, a little fruit, and some nuts?
I thought about it, though, and I think it's because I am still on vacation (I have faculty meetings on Friday, and classes start Monday). Once I am back to work, I am sure it will become much harder - the temptations there are crazy, I've never worked anywhere with so many treats in the office kitchen at all times! That, plus our upcoming weekend in Minnesota (party for Matt's grandmother, who is turning 95), will be the true challenges.
For breakfast today, I made little egg muffins - basically crustless, non-dairy quiches.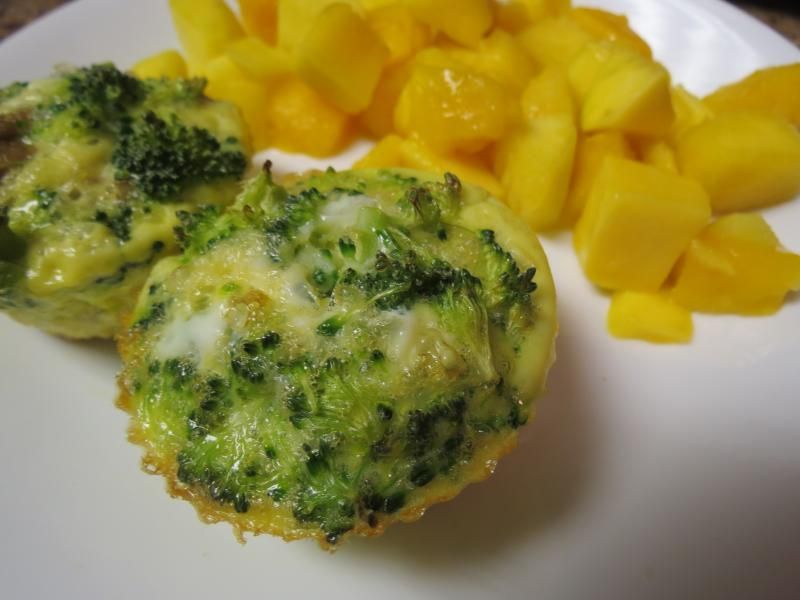 I scrambled 6 eggs and mixed in some raw broccoli and cooked ground turkey, then scooped it all into 8 small silicone muffin cups and baked it for 20 minutes at 375ºF. Those, and some mango chunks, made for a great breakfast.
Lunch was leftovers from last night's dinner and let me say, it was definitely a dish that got better after sitting overnight. The acidity from the tomato was less pronounced and the spices and apricot flavors really came out. This is something I would make and divide up for lunches when I am back to work.
My snacks so far have been all fruit, or an occasional 100-calorie pack of almonds - just referring to the label on the box they came in, we're not counting calories on the Whole 30 (or weighing ourselves, which I will get to in a minute). I have been keeping snacks to a minimum, only having one when I am truly hungry. After all the non-stop snacking I did in Connecticut, it's good to feel actually hungry again.
For dinner, I roasted a spaghetti squash and made a homemade tomato sauce - diced tomatoes, chopped zucchini and yellow squash, mushrooms, and the rest of the olives from the other night. I also added garlic and basil. I let it cook a bit, then blended it well with my stick blender. I topped it all with some hastily thrown together turkey meatballs, since I could tell Matt was nervous at the idea of a meatless meal. I usually make meatballs with spices, an egg, and breadcrumbs ... these were literally just meat. Not bad, but next time, I'll probably just brown the ground turkey and toss it on top.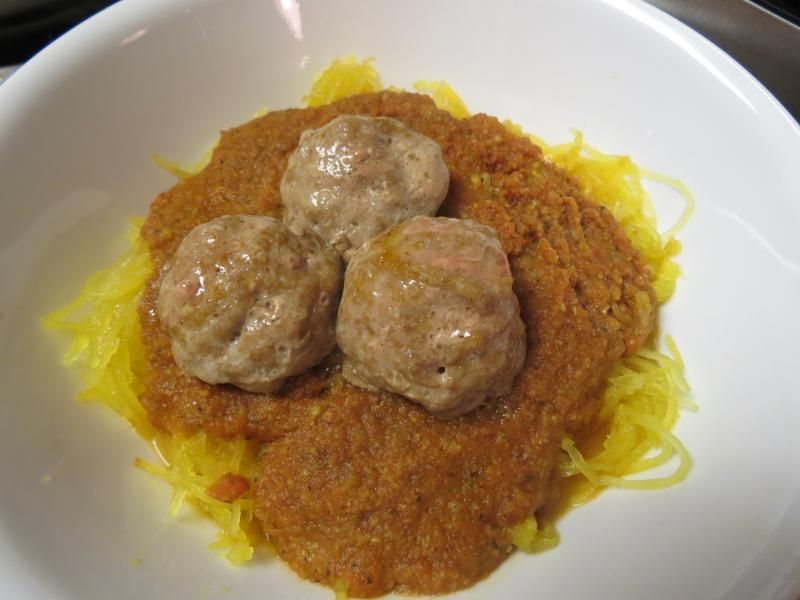 Better than it looks, I promise.
So, yeah, it's going pretty well so far. One aspect of the Whole 30, as I mentioned before, is that they encourage not weighing yourself during the thirty days. The focus should be on eating well and taking care of your body, rather than fixating on a number. And I completely understand the value of that, yet I still struggle. This has been something I've had problems getting my mind around for years. I don't trust myself. I don't trust my body to function the way it ought to given certain conditions. If I eat right, I'll lose weight. Why do I need to step on a scale every day to validate this?