I'm down two pounds this week, to 258. It's still up a bit from two weeks ago, but I'm focusing on the positives. This has been a completely crazy week, and it's going to get crazier before it gets more sane.
We got so much accomplished this week: got my official offer, accepted it, found an apartment, found a few potential tenants to take over our Chicago apartment, rented the moving truck, bought plane tickets for the family members coming to help us with the trek (my sister Lisa and Matt's mom), packed up most of our stuff.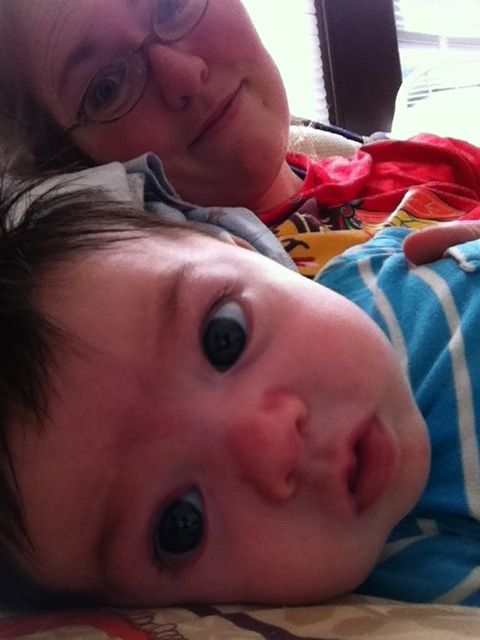 He's not much help with the packing, but he's still good company. He actually decided to start teething this week, which has been an added stressor. My usually easygoing smiley baby is drooly, runny nosed, crying, and chewing on his fingers constantly. It's been better the past day or two, the teeth look like they've broken the skin, but it was an exhausting three or four days.
The next week is going to be even crazier - making sure one of our apartment applicants is approved for his or her own lease, the end of the packing, moving the big stuff, airport pickups, one last deep clean of the apartment, and saying goodbyes.
Leaving Chicago is bittersweet.
My love for the city was a good part of why I left California. I missed the skyline, the trains, the culture. I missed my friends, and I especially missed Matt.
But.
Visiting Chicago and living there are two different beasts. Maybe it was because I was pregnant, or maybe it was because I didn't have a teaching job, but my Chicago experience wasn't the one it had been when I was teaching full time. There wasn't time or money or energy for all the things we wanted to do. That, and - the city felt, for lack of a better word, "stale." The friends who had urged me to move back were on a different schedule - time spent together was less and less, until it was none, and they moved out of town without saying goodbye. It hurt - a lot - and for a while, I was angry.
I left California for this
.
What helped me move on was recognizing all the right reasons I left California: to be with Matt, to get away from an unhealthy environment, to leave a school where I didn't feel supported as a faculty member.
All these issues are resolved with the move to South Carolina.
Matt is going with me, and we're bringing our beautiful son. With him by my side, I know I'll be able to work through even my toughest weight loss challenges - getting back to my pre-pregnancy weight, running again, staying focused and not overdoing it with either permitting or restricting of foods. And after talking with the faculty members on my interview team, as well as the Dean of the College of Humanities who offered me my position, I'm incredibly enthusiastic about the school. The college is very supportive of languages and has a goal of program growth, which is exactly what California failed to provide.
The next week, while filled with goodbyes, will also have some off-plan meals. We have a few places we want to go out to eat before leaving the city -
Hot Doug's
, for one, plus a farewell dinner at our favorite Moroccan place with our two best friends. They're the couple we were closest to while here, especially during the pregnancy - leaving that kind of support is going to be a big challenge. We have a lot of really good friends who are still here, and it's hard to leave them as we head south. Still, it's what we need to do right now - for my career, and for Matt's, and for our family.
There won't be a weigh-in post next Friday, as we will be on the road. However, I hope to post again Monday or Tuesday before leaving, and again as soon as we are settled in our new place. Thank you everyone for your well wishes and support, it means a lot to us as we work through this big transition!