I typically post weigh-ins on Fridays but this weekend has been go-go-go non-stop, so this is the first chance I'm finding to share this week's results.
After last week's frustrating gain, I cracked down and worked hard this week, and it worked - I weighed in at 249!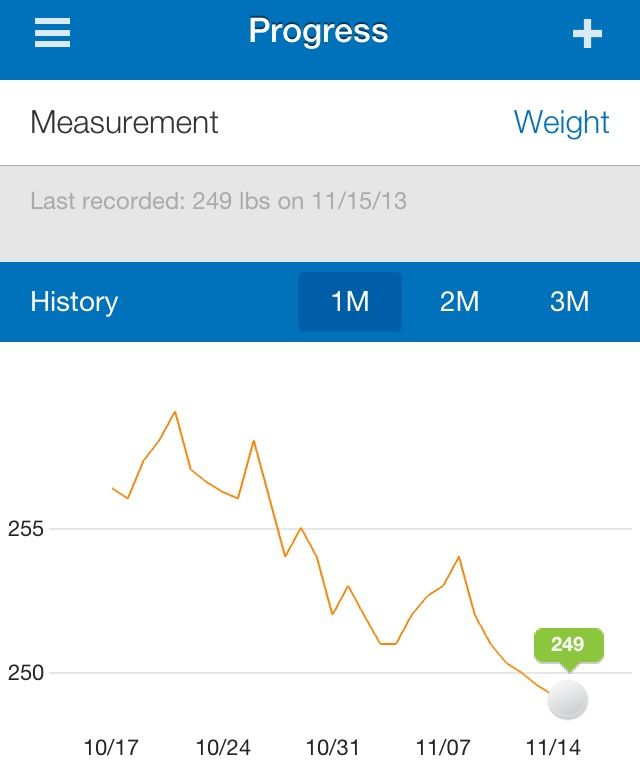 That's a 5 pound loss for the week, and a new decade to work through. I'm excited to be this close to 245 (my 100 pound weight loss milestone), but also, 247 - at that point, I will have lost half the weight I gained while pregnant, but also, my BMI will be back under 40 - meaning, I will be "just" obese. The
last time
this happened, I was just as excited:
This morning there will be a little extra bounce in my step, because my weekly weigh-in has been a good one. Last week I was at 250 even, so any loss would get me into the 240s and put me up against my old foe, The Four in the Tens Place. This morning, I am at 246. These four pounds make my total loss 99 pounds, and bring my BMI to 39.7 ... which means I am no longer the super obese person I was in July. And I'm not even the morbidly obese person I've been whittling myself down to. Today, I am simply obese, and all things considered, that is a wonderful thing to be.
One thing that helped a lot this week was avoiding peanut butter. It's been a quick spoonful for a snack (though, interestingly enough, no longer a binge trigger since I got pregnant), but it's so many calories for just a little amount. In some cases, abstinence works better for me than moderation, so for now, I'm going to keep trying to stay away from it.
I can feel a little difference in my body composition since I started working out, even though it has only been about two or three weeks. The leg muscles I built up with thousands of miles of cycling in California are feeling strong again! And slowly, but surely, my self confidence is building up. I no longer make a retching sound when Matt takes pictures of me - it's now "hmm, that one isn't horrible." They're baby steps in the right direction.
The weekend so far has been so-so with food choices - on Friday we had a faculty retreat at work and even though I had half a sandwich with a little broccoli salad and a cookie for lunch, I still felt bloated with sodium. The scale was up a little bit the next day (though still in the 249 range), which I expected. Saturday, I knew we would be going out to dinner - Matt's aunt and uncle were driving down to Florida for the winter so we drove a few hours to a convenient town where we could meet up. I had a protein heavy late breakfast/early lunch, then made the best choices I could at dinner (a barbecue place). I made sure to go to the gym before we hit the road, so that hopefully helped a little.
I'm drafting this post Saturday night to post Sunday morning, so I am not sure what the scale will read tomorrow, but I'm not worried. I made the best choices I could, I didn't binge, and the rest of the week will be full of good choices, so in the end, it will all end up okay.
Wednesday is my birthday, and I am not planning on doing anything special food-wise. We had discussed going out to dinner but after this weekend, plus the anticipated meals out on our way to/while we are in Florida, I think it's smarter to just stay in. More than birthday cake, more than a heavy restaurant dinner ... I want to be able to wear my old clothes. I want to reach the milestones. I want to feel like my healthiest self.
What about you?
How was your week? What are your Thanksgiving plans?