It's been quite a week around here, for sure.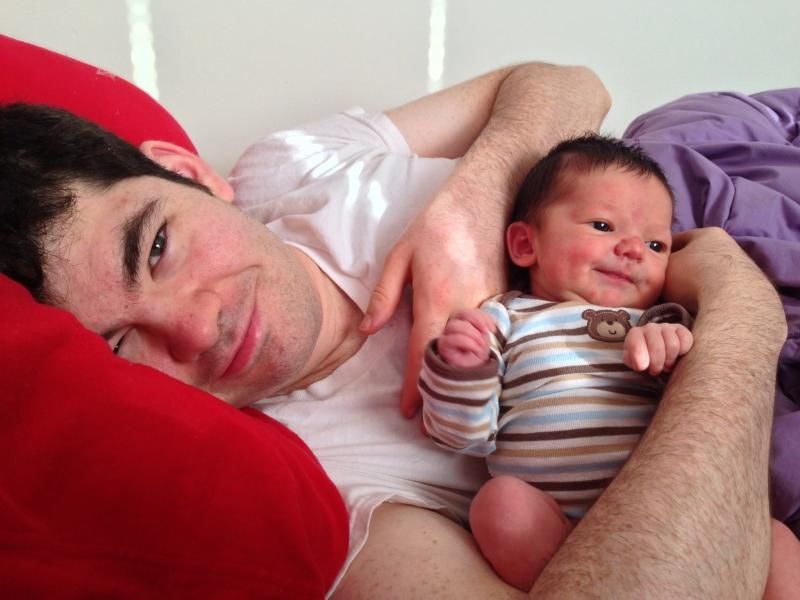 It sounds silly, but being in the hospital was the most relaxing part of it all. As soon as we got home, it was a parade of family members, not to mention Noah's bris this past Monday, so it has been incredibly hectic. Matt will be gone this weekend, on a short road trip with his family to see one of his brothers graduate from college, and we decided it would be best for Noah and me to stay in Chicago. As much as I will miss having Matt's help, I'm also really looking forward to the reprieve. I think Noah is too - when everything is new, seeing so many new faces and places in such a short time must be overwhelming. This weekend is about Mama and Nono, about snuggles and naps, and about reading some of the books on his little shelf.
The good thing, though, is that Noah is an incredible baby. Even with how hectic it all has been, he's been so good. He's not fussy at all. He loves looking at everything, just sitting in our arms or on our chests or on his Boppy pillow and just taking everything in. He eats well, and sleeps even better - we rarely have to get up more than once in the middle of the night with him. He'll be out by 11, wake up and eat around 3 or 3:30, be back in bed between 3:45 and 4, and gets up again around 7 or 7:30. We're so lucky.
The extra week or so in the ol' oven must have had something to do with it.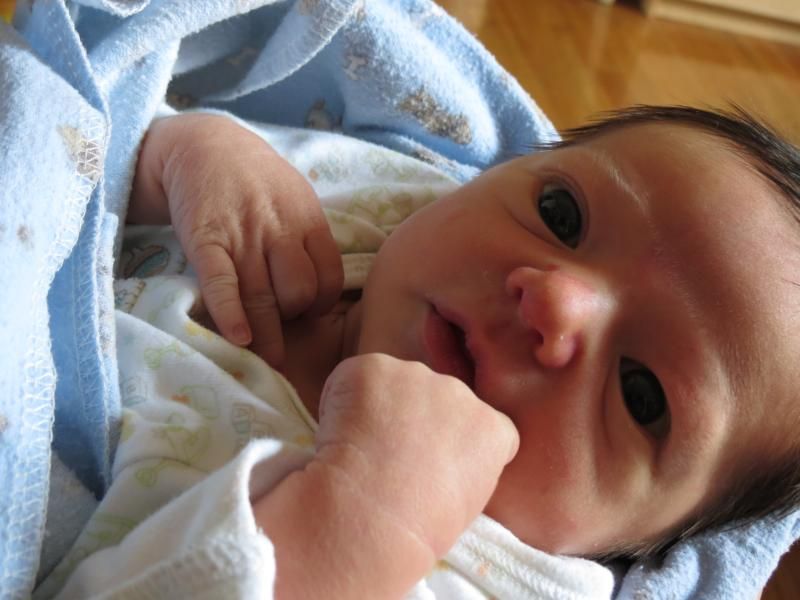 I was due on April 27, and a few weeks before my due date, my midwife checked my progress - I was already 3 cm dilated. When I came for my checkup the following week, she said she was honestly surprised I hadn't delivered yet. And then she said the same thing the week after that.
Two days before my due date, my mom flew in from Connecticut - she wanted to be there when he was born, and I was so glad he didn't show up early. Right away, we got to all the old wives' tales methods for getting me into labor, but nothing worked. We walked for miles and miles. We ate the spiciest foods in several different cuisines. We even tried castor oil (which I absolutely would not recommend - so uncomfortable! I spent the whole day on the toilet and not a single contraction!).
Finally, we saw my midwife again, and she asked if I would like to be induced. I really did not want Pitocin, but at the same time, I knew the contractions were three per day at best and if I waited, they would induce anyway at 42 weeks, and there would be a higher risk of a C-section, which I wanted even less than Pitocin. So, we scheduled an induction for Sunday, May 5, first thing in the morning. The hospital typically doesn't schedule them for Sundays, but my midwife knew she would be the midwife on call that day, and since I wanted her to be there when I delivered, it felt like insurance. (At the clinic I visit, you can see whichever midwife you prefer, but typically, when you go to deliver, it will be with whichever midwife is at the hospital that day.)
We called the hospital ahead of time to make sure I would be able to be in the birthing suite with the laboring tub, since I put in my birth plan that I would rather use natural methods for pain management than an epidural or other pain medications. They gave us a time to come in, and as soon as they did, I was hooked up to an IV for Pitocin and penicillin (I had tested positive for Group B strep and this was not optional). For hydration, I chose to drink water instead of have an additional IV.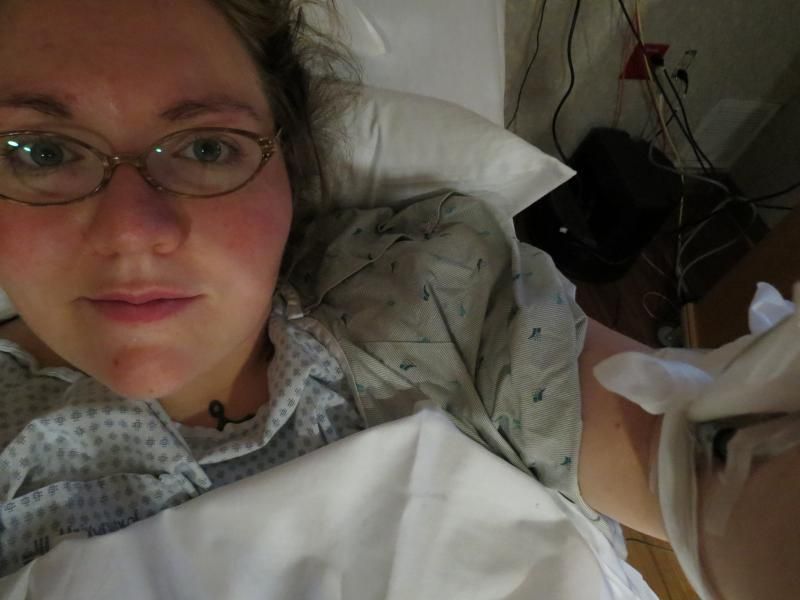 They started the Pitocin at 2 mL per hour and came in every hour to check on me. When nothing happened, they'd up the dosage 1-2 mL per hour. The maximum dosage is 40 mL per hour; we got to 20 mL about 10 hours later before things started really happening.
From the time active labor started to the second he was in my arms, it was about 11 hours. My midwife's shift ended (again, she was entirely shocked I didn't deliver before the end of her 12 hours there!) and she asked the midwife on call to let her know when I was at 9 cm so she could come back and be there to deliver Noah. She ended up arriving barely two minutes after he was born! I wasn't upset, though - the midwife and nurses I ended up delivering with were all wonderful. And my mom and Matt were incredible. Matt got in the tub with me and rubbed my back when it started to hurt badly; he also ended up with bruises on his hands from me squeezing the heck out of them. My mom coached me so well that I ended up not even calling for the doula. I was fully dilated at 6:55 a.m. on May 6 - and 12 pushes later, Noah Daniel was born. Other than a little stork bite on his forehead and nose from being born face-up instead of face-down, he's perfectly healthy and in excellent shape. It took him a couple of days to figure out eating so he lost a lot of weight before we left the hospital, but he caught on soon enough, and by a week after he was born, he had regained all but one ounce to get back to his birth weight.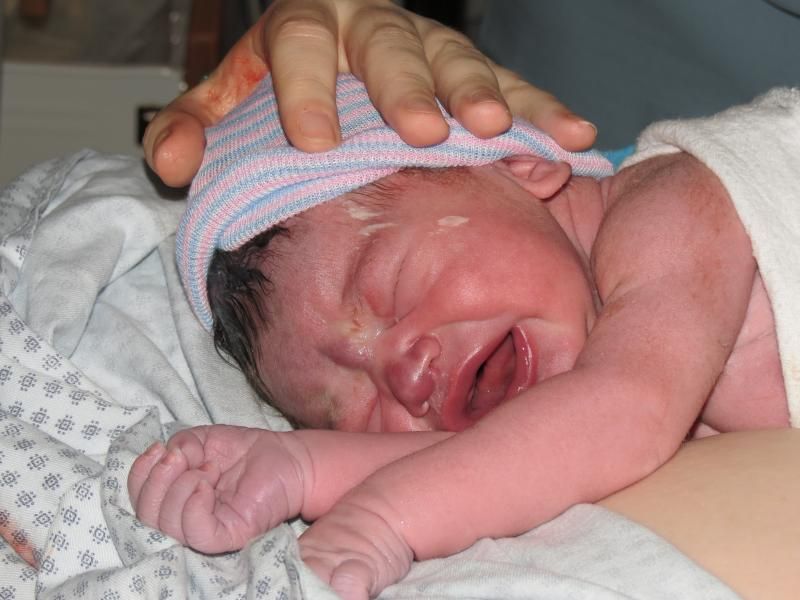 Despite needing Pitocin to get things started, I had an otherwise unmedicated birth experience, which was exactly what I wanted. I'd seen a few documentaries about childbirth, and besides not wanting the epidural for health reasons, I also had my own strong opinion about it, mainly related to my weight loss (and the weight regain I experienced during pregnancy). Honestly, it was just like running my first half marathon. Knowing where I had been and what I had put my body through, I wanted to do something positive and truly challenging, not to prove anything to anyone but myself. I got a baby instead of a finishers medal, but still, I'd be able to walk away knowing I'd earned something that no one could take away from me, no matter what happened in the future.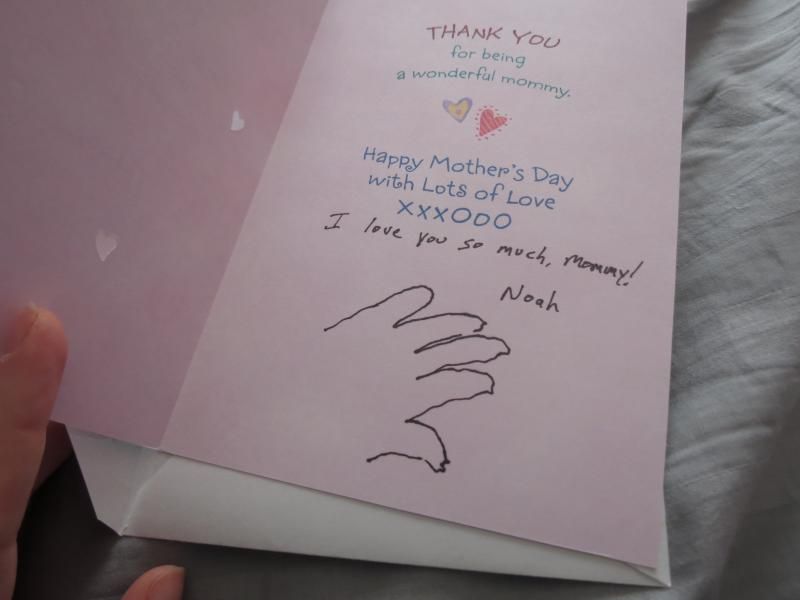 They say that women forget the pain of childbirth immediately when their baby is in their arms. I honestly didn't believe in "pregnancy amnesia" until it happened to me. I remember how I felt emotionally. I remember sitting in the bed and standing next to it, rocking my hips to alleviate the pain. I remember how hot I was, and how I was begging for it to be over by the end. But I truly don't remember the pain. I do recall, though, that I was surprised how the contractions hurt, but pushing him out didn't - I'd both heard and read that was the case, but I guess it's one of those things you have to see (or, feel) to believe.
It's strange to not be pregnant anymore. I weighed myself before being induced and again a week later, and I'd lost 22 pounds in a week - 7 1/2 of that was just Noah, and the rest was mostly water weight, I'm sure. But still, it's amazing how much easier it is to walk around without a baby rolling around inside you. I still have a good amount of weight to lose to get back to my prepregnancy weight (I'm going to resume regular blog weigh-ins in a few weeks once I'm given the okay to work out again, which shouldn't be longer than average since everything is going incredibly well so far). But it feels good to see the number decreasing. I'm not going to set any specific weight goal deadlines because things are certainly different this time around - I can't just run off to the gym whenever I want, there's more planning involved. But I have so much motivation to get back to my healthiest self, and then onward to my long term goal. I know that no matter how long it takes, being active and healthy for myself and for my little family is the most important thing of all.