Another Christmas has come and gone, and I'm trying to find the silver lining in not being able to be with my parents and siblings for the holiday. For now, it's realizing that my eating was definitely much better than it would've been at home. We had a little celebration with my cousins and went out with friends on Christmas Eve, but it wasn't the dozen kinds of desserts and hors d'oeuvres and big dinners that my parents usually have. Christmas dinner was my
homemade chicken parmagiana
- baked, not fried, with a serving of whole wheat pasta and spinach. Far from traditional, but appropriate for us and our needs right now.
I'm glad I've been able to keep my holiday eating under control, because I've been feeling pretty down about my body lately. Luckily, I think the folks at BabyCenter, one of my favorite go-to websites for pregnancy updates and advice, sent out an appropriately timed article called "
How to Feel Good About Your Pregnant Body
." I thought I'd share the highlights here, since a lot of the advice is the same as I've encountered on my weight loss journey (and some I think don't apply in both cases!).
Stay active
Oh yes, can't argue this one enough! One of the best feelings in the world is the end of a workout you almost skipped. Knowing you put aside what you want now for what you want most? Awesome. This always made me feel more body-confident - getting out there, heart pumping, knowing I was investing in myself and my body ... nothing made me feel happier.
Don't underestimate the power of makeup / Embrace your inner fashionista
Combining two here cuz I think they belong together! Just because you're a size X and want to be a size Y doesn't mean you shouldn't take the absolute best care of yourself. Invest in a few nice outfits, even if you don't plan on staying your current size for very long. I wore size 26 jeans for months, until friends commented on how they looked. By that time, I fit in size 18 jeans! Even now, I'm embracing this. I've been wearing a lot of Matt's old clothes, trying to save money since I don't want to be this size forever. But the thing is, pregnancy takes a long time - Nugget isn't due for another four months! So for my birthday, Hanukkah, and Christmas, I got a lot of girly clothes in my current size. It is incredible how an outfit that fits well and that you think you look good in can change your attitude.
Avoid hair-raising hairstyle changes
This one I don't necessarily agree with for both cases. While I know a bad haircut at the moment might make me cry (entirely possible, since I cry at almost everything nowadays), I think anyone who isn't a hormonal mess could make the best of a new 'do! Before I started losing weight, I would change my hairstyle (color, usually) to mix things up. It was one thing I had control over, something I could easily change.
Don't neglect your skin / Splurge on a spa treatment
Another great pair. These go along with makeup and clothes - don't wait for someday to take great care of the body you're in. It's the same body now as it will be then, just a different size. Getting a massage was something I dreaded for ages (oh no, a stranger touching my back and arms and legs!), but after having a couple, I know there was nothing to fear! Now, it's something I want to incorporate as often as I can - sites like Groupon and LivingSocial help make them super affordable. I have a voucher for a massage that I need to use soon, I need to call and make an appointment with a masseuse who specializes in prenatal massage.
Talk yourself into a good mood
The BabyCenter article said it best: "Beauty is a state of grace, not a certain look, size, or weight." Look at yourself - truly look, and not just at the physical. Realize you're much more than just the number on the label of your pants or the reading on the scale. I'm not at my goal weight right now, but this body carries my son, so it is nothing less than beautiful, wonderful, perfect.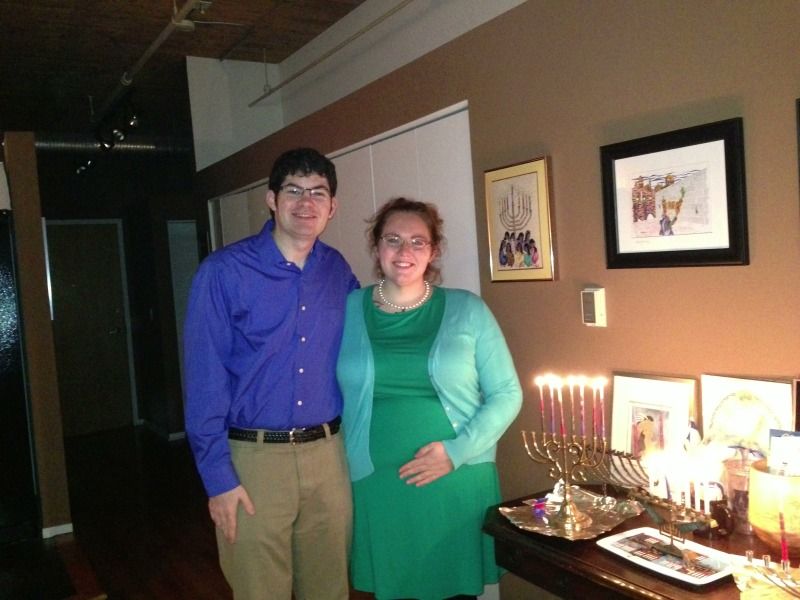 What about you?
What do you do to feel good about your body?