I knew there would be reactions to my last post, but I never would have guessed how many, or how loving and supportive. Between the comments, the
Facebook
messages, the e-mails ... I'm feeling incredibly strong as I begin to figure out my new transition. I can't begin to thank you all enough - for the support now, and always. I've said it countless times before, but it never seems to be enough: I owe so much of my success with weight loss to the incredible community I've found here. This blog has been my safe space, my one little corner of the Internet where I could share my stories and find people who not only want to listen to them, but who understand the experiences first-hand and can share their own wisdom, anecdotes, and advice. It's certainly been a huge part of why I haven't entirely lost my mind in California, that's for sure.
Since making my decision to turn down the renewal of my current teaching position, I've been amazed at the feeling of serenity in my life. I don't cry eight or ten times a day. I've been sleeping better. The urge to binge is gone, and the scale is back down to my not-thrilled-but-comfortable-for-now maintenance range of 190-192. The immediate change in my physical and mental state was one of the first signs that this was indeed the right choice.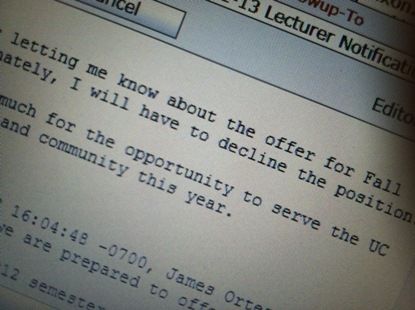 Within a day of making the decision, I received (a) my parents' blessing (b) news about an apartment and (c) contact from a former employer saying I could return to the company. So, things are on the right track. The job isn't teaching, but it's work, and I'm happy to have something to keep a roof over my head. Adjunct teaching positions are often contingent on course enrollment, so even though I have contacted a half dozen colleges and universities so far, I might not hear back until mid to late August. (I got three job offers in the few weeks following my arrival in California.) The apartment is where my friend Lorelei currently lives - she is moving in with her sister and a friend, so her roommates are looking to rent out their third bedroom. It's in a good location, very convenient, and I already know and get along well with her roommates, so I'm feeling fairly confident with that situation. And I had good conversations with both my parents about the reasons behind my choice, and they understood, which I am intensely grateful for. My mom is working it out with her work schedule to fly out here, rent a van, drive to Chicago, and then fly back to Connecticut; my dad said he's proud of me for choosing to do what's right for my health and sanity, and that's more important than being able to say that I'm a professor.
So, I'm breathing a lot easier than I was a week ago. But that doesn't mean my problems are completely gone, that everything is cured - or that anything is fixed at all. Even when I get back to Chicago, I won't be picking up exactly where I left off.
I'm moving back to the city I love, a familiar place, but in a lot of ways, it's going to be like I'm starting from scratch. I'm not living in the same apartment, or even the same neighborhood. Unless something opens up, I'm not working at the university where I spent two years as a grad student and one as a lecturer. I know a lot of people, friends and family alike, but I still am nervous about transitioning back into my role as a local friend versus a long distance one.
And, of course, there's the post-California damage control that needs to be taken care of. I may not have regained all the weight this year, but I've suffered some major emotional setbacks. My confidence is shot, my self-esteem is awful, my compulsive eating has returned with a vengeance. Not to mention the untreated emotional issues I had before I even left Chicago in the first place. There's a lot that needs to be sorted out with an unbiased neutral party, and I hope to get that taken care of right away. My mom reminded me that there have been so many major life changes in the past two years - losing almost half my body weight, moving across the country, huge changes with personal relationships - and since we have a history of mental illness in our family, it's best to take care of these things with professional help and not try to just tough it out.
I'm really looking forward to getting back to Chicago and establishing a new version of my old normal. Using public transportation again. Going back to the gym where I sweat off my first 150 pounds. Having better access to food, in terms of variety as well as price. Knowing people to run with, to cook with, to spend time with. Having people around in general - my existence in California has been very solitary, I miss the noise of the city. Even when you're alone there, it never feels lonely - at least not the way it does here. It will be nice to set up new routines in a familiar place, and I hope that being back in a place where I felt successful, with people who inspire and encourage and motivate me, will help me get back on my path to recovery and weight loss.
In the meantime, there are 65 days of life in central California I have to survive. 65 days between now and the day I turn in my keys and we hit the road. Just about two months. They will be busy, with the end of Spring semester and my intensive 6-week summer course, not to mention the packing of my belongings and selling the furniture and appliances I acquired here. But still challenging. I have to stay sane and focused and keep my eyes on the prize, so to speak. It's much easier already, knowing the clock is ticking on my time here.