I feel
amazing
.
Everything has been going really well the past few days - at least food and exercise-wise. Work and life stress have been tough, and tension was high earlier in the week. I'm really proud of my decision to go to bed early instead of eat my frustrations - a binge would've been counterproductive and just caused more stress. A good night's sleep was just what I needed!
And - I can tell I've lost weight. The tell-tale signs of being at or below my Chicago lowest weight are all here ... my loose skin on my stomach is extra loose (as are my jeans and all my shirts), my collarbones are popping out a bit more, and there's a bone or tendon or something in my forearm that sticks out more than usual.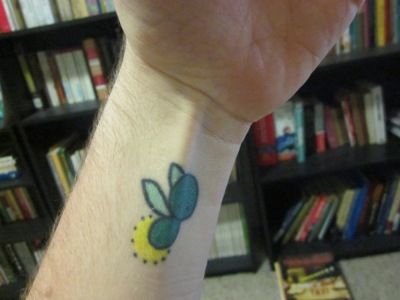 It freaked me out when I saw it in August, and it's still pretty strange today. This time, though, I'm deciding not to self-sabotage because it. Yes, it's weird. So are a lot of things about my smaller body that I've discovered along the way. These are just things to get used to.
Oddities and strangeness aside, I really do feel amazing, and not just physically. I'm smiling all the time and back to being my almost-excessively-cheerful self like I was in Chicago. It's so nice to be back to my normal.
This weekend, I'll be grading a mountain of exams, reading for a book club meeting on Monday night, and I have a race on Sunday morning. I'm pretty nervous about the race for some reason, even though it's just 10K. I'm biking to and from the race, which is I think where my nerves come in. Today I'll be doing a trial run of biking, then running, then biking to see if Sunday's plan is feasible. We shall see.
Somewhat related, if anyone missed
Katie's
announcement yesterday, I'm super excited to finally talk about something we've been planning for a little while:
we are going to be running a Ragnar Relay next January!
Our team is coming together still but essentially, it's a group of all people who've lost significant amounts of weight and became runners. I'm so excited, not only to participate in such a unique event (and in such an amazing place! Miami to Key West, Florida!), but to do so with such inspiring people! Katie is one of my favorite maintenance bloggers, and I'm pumped at the chance to run with her and with several other incredible success stories. I'll be posting more about the event and our team as it all comes together.
Thinking about the Relay team has also been a motivator for me lately. I'm not nearly close to being "at goal" yet, but the Relay isn't for another 330 days (not that I'm counting) ... so I've got my eyes on the prize, so to speak, thinking about how badly I want to be in my best physical condition by the time we all come together to run. Binges won't get me there. Neither will excuses. But hard work and focus will.
What about you?
What are your weekend plans? Are there any weightloss-related body changes that you've found to be odd or surprising? Have you ever done a Ragnar Relay or any other non-traditional race?