I'm going to get better about consistency with posting weigh-ins. My semester of maintenance is over, and I'm ready to move on and get back to what I know works best for me, a big part of which is the accountability I feel from blogging regularly. Will I get back to daily blogging like before? I don't know. I like the freedom of writing when *I* want. But I do want it to become more regular - at least my Fridays and Sundays. Fridays have always been weigh ins, Sundays are new recipes ... plus Mondays are challenge posts (when there is one going on), and you're subject to my various throughts and ramblings on the other days.
That said, this is a weigh-in post, and I'm down 3 pounds this week, to 198. I'm pleased, for a few reasons. One, because I said I'd be back in onederland and here I am. I may slip sometimes, but I haven't fallen just yet. This plateau hasn't gotten the best of me. And two, because I didn't overdo it with calories in *or* out this week - no excessive bike rides to counter bad eating.
Things that have helped me stay on track this week:
Drinking a gallon of water a day - not only does it flush you out, but it definitely helps curb overeating.


Not buying my trigger foods - huge NSV when I won over the bargaining voice in my head and didn't buy wraps at the store ... "to make sandwiches," the voice said. Ha! Yes, they're a great lunch. But I also know I have a hard time with eating just one wrap, so it's easier to avoid them entirely. Anything good on a sandwich is also good on top of a salad. Win, win.


Eating lots of delicious and healthy foods - using my food processor to make green smoothies (and my new favorite, using half the smoothie to make overnight oats!)...


...and roasting tons of vegetables (I'm entirely addicted to broccoli and brussels sprouts)




Keeping my goals in mind - long-term, I have about 40 pounds to lose in order to reach the higher end of my goal weight spectrum. With a loss of less than a pound a week, this means I could reach my goal weight this year. A little scary, but really awesome. And short-term ... well, I've got some big stuff coming up this weekend.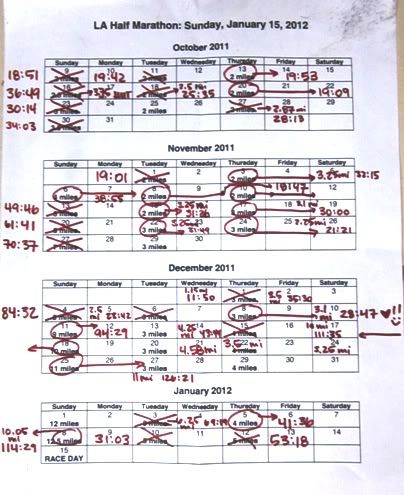 I can't believe I'm at the end of the training schedule. I can't believe this weekend is here. I can't believe that in a few days, I will be a half-marathoner. It's a crazy feeling. I've been rereading some of the half recaps and lessons learned that I've bookmarked over the years (one of my favorites is
Ann's
, seriously so helpful!), trying to get as mentally prepared as possible. I'll be heading to Los Angeles tomorrow morning, with plenty of time to think and do some offline writing.
What about you?
Have you ever ran a half-marathon? What suggestions or advice do you have for a first timer?
Also
, what are your favorite overnight oat mix-ins? I want to keep it different all the time so I don't get bored!