I've been an awful blogger. I promised write-ups and recaps, but have been fairly silent. I finally got my Google Reader under 300 to-read posts, but now it's back over 600. There's a semi-good reason, though.
I've been away.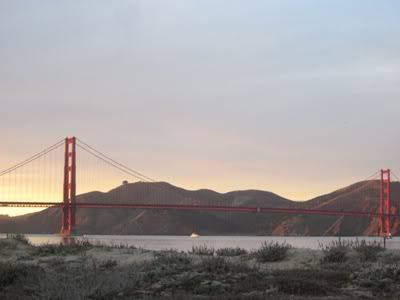 A fairly last-minute getaway to San Francisco. I'd never been, and when
Matt
told me he'd be there for a few days, I finally got the courage to buy a ticket and travel up there. Just an overnight, about 30 hours total in the city. But it was exactly what I needed to recharge after being in Chicago/Connecticut for a couple of weeks.
Before I get to the San Francisco trip, though, there are some things I need to come clean on.
My last weigh-in was a few weeks ago, and I was at 193 after a week or so of eating well, staying active, and being binge-free. It was just one pound above my lowest California weight, and I was feeling great ... until I wasn't. I got overwhelmed - with the end of the semester, with people and events in my personal life. And I did exactly what Geneen Roth says
not
to do:
When we are bowled over by grief and our response is to eat a pizza, we halt our ability to move through the grief as well as our confidence that it won't destroy us. If you don't allow a feeling to begin, you also don't let it end.
The pizza didn't make the pile of grading disappear. It didn't change the fact that my relationships are exceptionally confusing and complicated right now. It took care of the physical hunger, but emotionally, I was still starving, and the next morning I woke up seven pounds heavier and now feeling even more anxious and defeated.
I weighed in at 200 pounds the next day as well, the day that I left for Chicago, and my eating there was on-point. In Connecticut, though, it fell apart. I kept running - I ran over 22 miles in the week I was home - but it wasn't enough to undo all the junk I ate. I'm an intelligent person - not to mention someone who has lost over 150 pounds and maintained a good portion of that loss; I know better, so I ought to do better. Diabetes, obesity, heart problems ... these all run in my family. I have it coming at me whether I like it or not, so I need to be extra careful and take care of the things that I *can* control, like my diet and physical activity. But for some reason, when I am back east, my brain doesn't function logically. I forget all my intentions and plans, and eat mindlessly.
It doesn't make sense. I'm deeply depressed because I can see my father's health failing, so I binge eat and avoid going for runs (or even walks). The problem with this, of course, is that his health problems are a direct result of a lifetime of poor eating and inactivity. It's like seeing someone you love dying of lung cancer, and soothing your anxiety with a cigarette.
I could feel the weight creeping back on - not only did I feel physically uncomfortable, but my clothes felt different. My winter coat was a bit more snug, and my fresh-from-the-dryer jeans gave me a ridiculous muffin top. I wasn't sure how much weight I gained, but I assumed it was at least 15-20 pounds. I had been planning on weighing myself the morning after I returned to California, but that night, I had a weight-related nightmare. It was very realistic. I stepped on the scale, waited the few seconds for it to register, and then there it was:
404
. I'm not sure why that number or why it stuck out to me so much (unless maybe my subconscious is a
nerd
- highly likely), but I can understand my thought process.
It would be so easy to get back to 345 pounds. It would be easy to go past it, even, and see new highs. You hear these stories all the time - people lose dozens, even hundreds of pounds, only to regain it plus some. I don't want to be that kind of statistic. I never, ever, EVER want to be that sad, super obese girl again. I want to be healthy and in control. And that's why it feels so good, I think, to get home and get back into my routines. Because I have routines. Healthy ones. Good, nourishing food. Lots of water. Plenty of activity. A week of off-plan eating left me feeling uncomfortable and wanting to get back to the new old me.
And so, after a long bike ride, a gallon of water, and a day of eating clean, the 207 I saw on the scale was already down to 204 the next morning. Then Matt said he'd be nearby, and I quickly threw together a plan to head up there and be with him. Traveling back east isn't really a vacation, per se, so this was a good chance to relax, breathe, and enjoy one of the many parts of California I've never seen before.
In San Francisco, there was a lot of this:

And quite a bit of this as well:

And I came back down another 3 pounds, weighing in this morning at 201. I ate a lot of really delicious "sometimes foods" when we were away, but I didn't obsess over any of it. I didn't overeat or binge. And we walked a ton - including lots of hills. I was satisfied. This is the life I want in maintenance - to enjoy experiences without being consumed with thoughts about food.
It's interesting, though. This is the highest weight I've been in the past six months, but I've received tons of comments and remarks from friends on how great I look in the pictures. It has little to do with the scale, I think, and more to do with my stress level. I was incredibly relaxed, happy to be spending time in a fantastic city with someone I care about very deeply.
Conditions will not always be ideal. I can't always run away for a few days - that's just as bad as a binge. When you get home, when you sober up ... the problems are still there, needing to be addressed. So my main goal for right now, even more than any numeric goals, is to find out how to reconcile my stress eating with my prone-to-fits-of-anxiety lifestyle. Getting control over the urge to binge is harder than any workout, hands down, but it is entirely necessary if I am going to continue to make any progress towards my long-term goals. I just need to remember that when I take care of my binge eating problem, the pounds take care of themselves.
So, there you have it. 201. I'm back on this side of the wall, planning on reentering onederland very soon - and this time, with a one-way ticket. I've been talking a lot with my sisters about the family situations and coping with related stress, and I'll be writing some hopefully-very-cathartic blog posts soon to help clear my mind a little more about my trip back east.