I'm rather glad that I got yesterday off from work, rather than just work an evening shift, because my quick doctors appointment in the morning ended up lasting for hours, including a trip to the hospital emergency room.
I told Matt he didn't need to come to the clinic with me - it wasn't a big important appointment, and since he works nights, I'd rather let him sleep. So I headed there myself, and met with my midwife, Tracy.
First, a note: I went to the clinic two weeks or so ago for "OB orientation," a program for moms-to-be to find out about this clinic and the services they offer. It's run by the medical school at the university where I went to grad school, and I'll be delivering at the university hospital, which I feel good about - 1 out of every 6 doctors in Illinois is a graduate of their medical school. That said, though, I didn't like the orientation. I felt very talked-down-to, and it was sort of impersonal.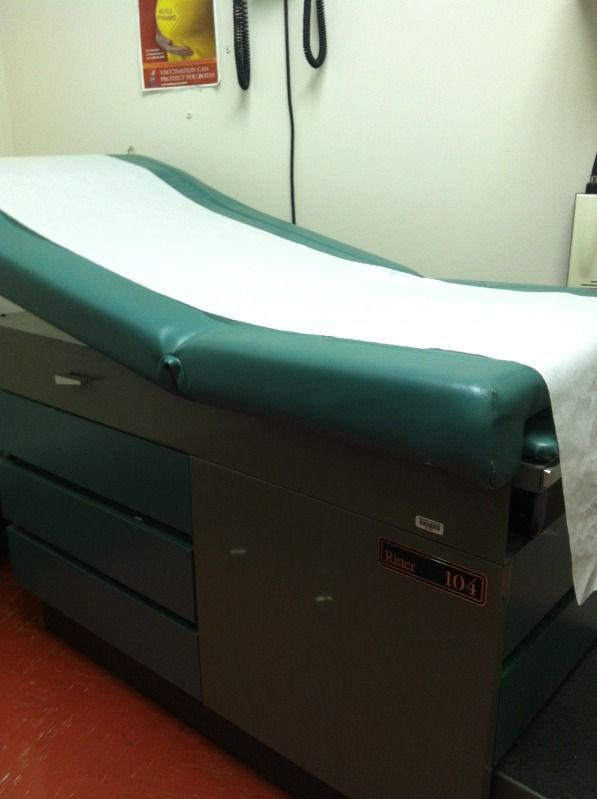 Meeting with Tracy, though, was incredible. She was fantastic, very comforting, and I feel great being in her care. She asked me a ton of questions, and I told her everything: about my weight loss, about California, about my history with Matt, about our families, about my current work situation, and about my morning sickness (gone) and my latest cravings (cottage cheese). She said my weight loss was fantastic, my blood pressure was great, my resting heart rate was low, and that even though I've already gained some weight, I have a great understanding of why it happened (no longer running 3-4 times a week and an increase of bland flavored carbs like crackers/pasta to settle my queasy stomach in the first trimester) and how to maintain and control the gain.
Then she had me lay down on the table and said,
Alright, are you ready to hear your baby's heartbeat?
I've been waiting for this for weeks. It's what got me through lousy days at work - knowing that in a few days, I'll be at my appointment, and I'll hear our baby.
She gets the Doppler going, feels around, and ... nothing. Moves to the left, nothing. The right, nothing. She picks up something faint, and then checks my pulse and confirms that she only hears *my* heart, not the baby's.
It's not necessarily bad, she said. But it's not always good. The next step: I get sent to the university hospital emergency room.
By the time I get there and am wheeled up to the OB/GYN emergency area, I'm sobbing so heavily that I can't explain why I'm there. They get me into a hospital gown and try their Doppler - still nothing. So while the technician consults a doctor on what to do, I'm left alone in a tiny room saying over and over, Please, please be okay, Baby. Mommy loves you. I'm sorry if I did something that hurt you. And I start obsessing over every little thing from the past few days - when I put my subway card in the wrong turnstile and pushed my stomach hard into a bar that didn't turn, when I had a sandwich at Jimmy John's (on lettuce instead of bread, and not toasted - deli meats are not recommended unless they're heated to kill germs)...
The next step was to be brought into the ultrasound room to check viability. I had an ultrasound scheduled this morning anyway to check for a few diseases and conditions, but this was a quick one just to verify (a) there was a heart and (b) it was beating. Another midwife popped into the room to talk before the doctor was ready, and said that she didn't want to give me any false hope, but also that she's seen cases where a hard-to-detect heartbeat wasn't a concern. Still, I worried.
The doctor put some goo on my stomach, then started up the ultrasound machine. Within a few seconds, she found it. I started to cry again, but this time, tears of joy. There it was. Our baby. Alive. Healthy looking. Heart beating perfectly.
The trouble with hearing the heartbeat had to do with the location of the placenta - the doctor said that this also means I will feel less fetal movement as the baby gets bigger, since instead of kicking me directly, it will be kicking something like a pillow between us. We're so, so lucky that it wasn't something very serious!
This morning, we had another ultrasound - an appointment this time, not in the hospital emergency room - and Matt was able to get off work early and come with me. We went into the room and an ultrasound tech student did the scan and got the baby's measurements. The little one would barely stop moving around so the woman could measure it! Definitely the child of two runners.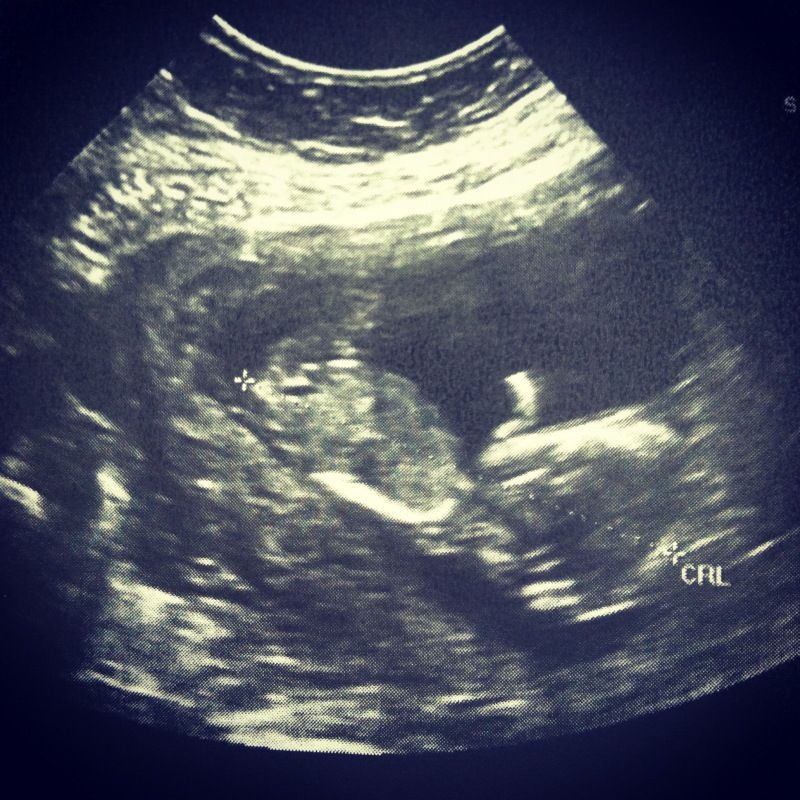 I haven't been able to stop looking at the pictures we were given - at first they gave us one of just the head and torso and it wasn't very clear, so I asked for a full-body one (the one above). That's the head at the bottom near the "CRL," with one arm up as if it's waving hello to us!
I'm so glad Matt came with me today - not only in case something went wrong (everything was perfect, except the baby's fidgetyness!), but so he could see the baby too. I think today is the day when it became "real" for him - seeing it move, seeing its brain and spine and arms and legs and teeny tiny everything. And this dialogue with the ultrasound tech:
Doctor, what's that moving right there?
That's the heart beating.
It was, as he put it, a "jaw drop moment." He's been so good to me, especially lately - rubbing my back and shoulders when I'm achy after work, putting up with me when I get super emotional and start crying for absolutely no good reason, being on the lookout for good deals on gently used baby things (he has already found us a stroller, tub, and high chair!), and not eating the ice cream I hid in the freezer.
My next appointment with the midwife is in two weeks - a diabetes screening test, since it runs in my family - but our next ultrasound isn't until early December. That's when we'll find out the sex of the baby - er, I'll find out. My plan is to find out alone and then incorporate it somehow into Matt's last-night-of-Hanukkah present. I'm trying to think of some interesting, creative way to reveal it - there are a lot of cakes and balloons on Pinterest, but I would like something more unique!
What about you? For your kids (now or future!), did/will you find out the sex? How did/will you share this with your partner? What were your cravings?