Because Matt works nights, if he has just one day off, he has to keep his schedule of sleeping days - the only good thing about being unemployed at the moment, I'll say, is being able to stay up all night with him on those nights to hang out and talk and enjoy being together. (Usually we go on a hot date to the laundromat at 2 a.m.)
When he has two or more days, though, he can be awake during the day since he'll have time to recuperate before going back to work. We usually try to do something fun - like our spur-of-the-moment trip to Madison in March or our 42+ mile bike ride in early July. This week, we were craving Chinese food, and decided to earn it ... by walking from our apartment on the Northwest side of Chicago to Chinatown, about 10 miles away, and then back.
It was really lovely - first, to get some exercise without feeling overly exerted (he's still not supposed to be overdoing it with physical activity since his surgery about six weeks ago); second, to enjoy some good food without worrying excessively about calories; and third, to enjoy each others company for a whole, sunny, beautiful day.
It was really great, walking and talking about a variety of topics. To get soft for a second, I really love talking to Matt. He's definitely more of a texter than a caller, so most of our conversations for my time in California were sent via text messages. Hours and hours of texting, getting excited to hear the text alarm ring, knowing it was him, missing him so fiercely. Now, I am so, so lucky to get to spend a good amount of time with him and have face-to-face talks whenever we please.
The scenery of the route was great, too. We walked through my old neighborhood, Pilsen, called "Little Mexico," and marveled at all the amazing art and graffiti everywhere.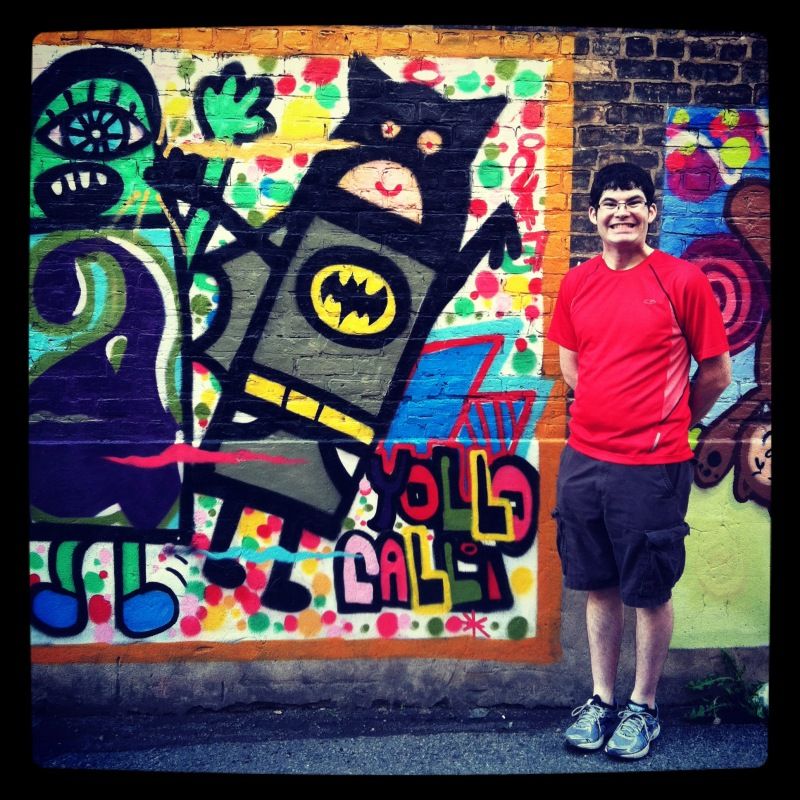 The kid really loves Batman. Too cute.
Finally, we got to Chinatown, and wandered through the main plaza looking for Mario Bros. toys for my brother (no such luck) and then looking for a place to eat. I saw a couple of dim sum places that looked interesting, but we finally decided on Joy Yee, a noodle shop we actually went to last summer on one of our first few dates. (He's a creature of habit, for sure.) Last time, I got an amazing Vietnamese banh mi sandwich - one of my all-time favorite sandwiches - but I have a few food restrictions right now, so that was out. I ended up getting pineapple fried rice with chicken and shrimp. Look at this amazing presentation!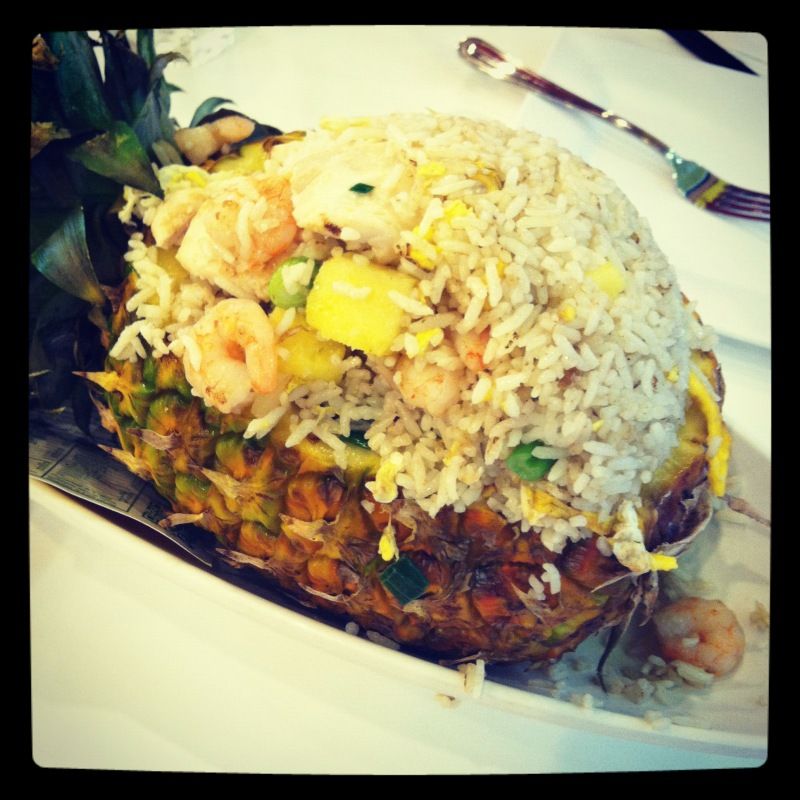 The rice wasn't very flavorful, unfortunately, but the fruit and meat/seafood were pretty good, and if you got a good bite with everything in it, it was great. After walking for hours, it really hit the spot.
We walked around a bit more, and went to Chinatown Square where all the Chinese Zodiac statues are.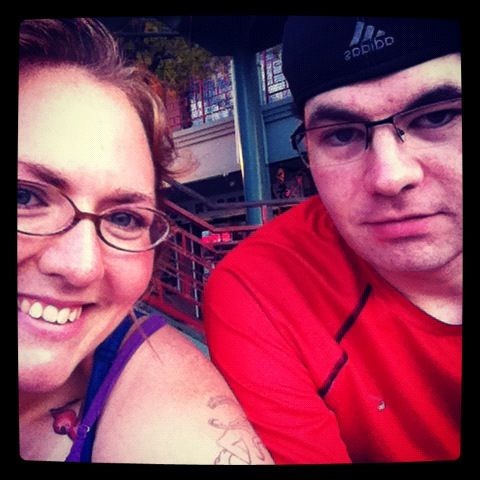 We also went to a bakery and I got him to try a moon cake (little cookie filled with sweet red bean paste) - he wasn't crazy about it, but I was proud of him for trying it! He is definitely getting more adventurous with his eating, which is fun - as much as I am also a creature of habit, I occasionally like to try new and exotic things, too.
The plaza we were in is off to one side of Chinatown - but the big, bustling "Main Street" is Wentworth Avenue, and we headed over that way just as the sun started to set.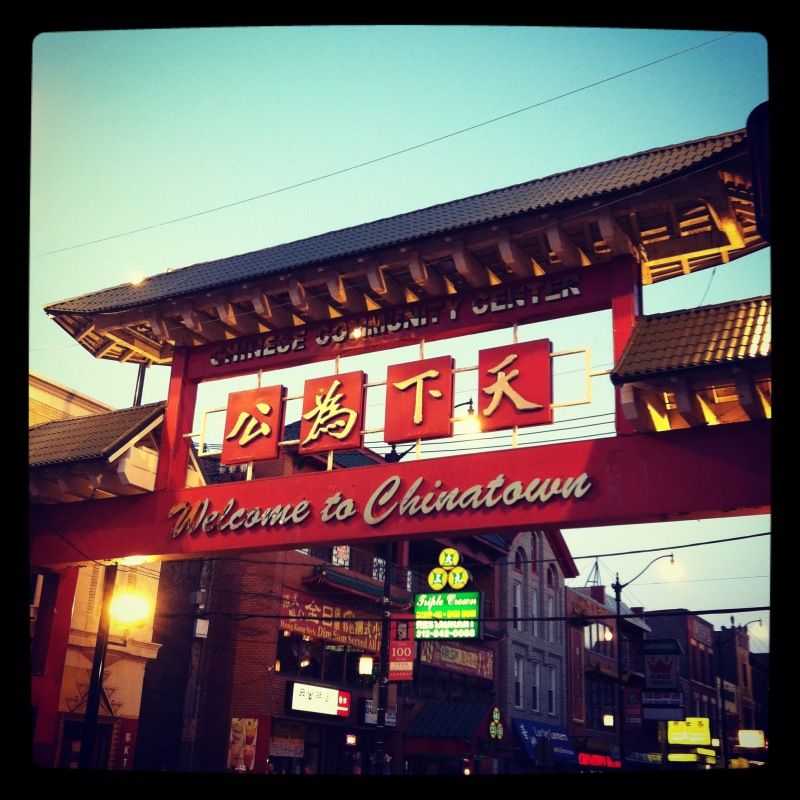 It felt so lovely, walking down the street, holding hands, and just enjoying the sights, sounds, and smells of one of Chicago's cultural neighborhoods.
We started to walk home, and got about halfway before I had to call it quits - I could feel a blister forming on the bottom of my foot around mile 10, and by the time we finished (almost 15 miles), walking was excruciating. Before heading home, though, we got to this amazing bridge on Kinzie Street that we stumbled on a week or so ago on our last spontaneous long walk (that one was only 7 or 8 miles, I think, along Milwaukee Avenue, one of Chicago's diagonal streets). It offers a great view of downtown - the skyscrapers, the river. Totally magical.
It was one of those days/nights that reminded me exactly why I fell in love with Chicago in the first place, and why I ached so strongly to get back. I gave up a lot in California, career-wise, and with some recent struggles, I've been thinking a lot about quantifying exactly how much I sacrificed. I didn't leave for money, though. The money meant absolutely nothing. I left for my sanity. Being here in Chicago, with friends and family and the boy I love - not going to bed in tears every night and waking up dreading every single day - that is worth all of this temporary job-related anxiety.
(P.S. Good thoughts for this Thursday - I have a job interview! It's part-time and in retail, but it's work, and anything is more than what I make right now. I'm feeling lucky to at least have heard back from one of the dozens of jobs I've applied to at this point.)