This week, I've been trying to be more positive. After my mini-meltdown on Monday and Tuesday, I decided to commit to a few small changes to get back on track - I know in the past, I've struggled with throwing myself completely back into a routine after slipping, so I decided to think small for now: increase water, get back into running, and eat mindfully. When I drink more water, it seems that eating better/less comes more naturally. I am now on a different running schedule, preparing for the half instead of the full marathon, but I am still lagging in the miles. I ran twice so far this week (and will be heading out for my third run in the morning with Lorelei!), with no distance goals but to just get back out there and get moving. I'm feeling much more confident thinking
I need to run 6 or so miles this weekend
than when I thought
I need to run 15 miles this weekend
(and consequently stayed in bed panicking instead). Progress with eating better is slow but steady - a good amount of the regain has already come off very quickly, as it tends to do once I stop overloading my system with processed junk. Now, to just maintain that focus and move forward.
Some other good things I'm a bit behind on sharing: getting back to making progress on my 101-in-1001 list! In the past few weeks, I've completed a couple things.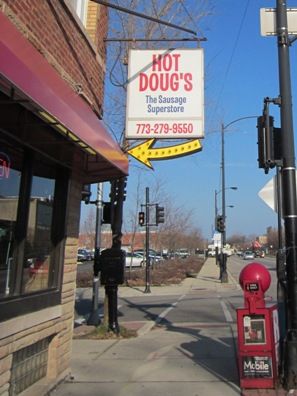 First,
#74 - try two new meats
. I'm a fairly adventurous cook when it comes to spices, fruits, veggies, grains - but meat (or animal protein, I guess you could say, because seafood is included!) is one area where I tend to be a bit cautious. I've seen a few interesting sounding meats in the butcher case at Whole Foods, but was unsure about preparing things myself, so I left it up to a local expert, and tried both elk and alligator at Hot Doug's, a small local restaurant that makes interesting and unique sausages.
I went for the first time back in December - Matt got a plain hot dog with nothing on it, and I got a duck sausage with foie gras and truffle aioli. We have different tastes, for sure. This time, he branched out a bit, and tried a chicken sausage with caramelized onions, tomatoes, and Dijon mustard. He also tried the alligator sausage with me - it was quite good. He didn't try the elk, though, because it had a bacon-garlic spread on it, and he keeps kosher.
Another item I accomplished was
#50 - get a massage
. Even though I've lost a good amount of weight, I still feel incredibly self-conscious about my body - sometimes even moreso. My skin on my stomach is loose and my arms are covered in stretch marks, permanent reminders of the way things once were. A massage seemed like a huge self-esteem boost - first, I'd have to take off my clothes so a total stranger could rub me down. Then there is the massage table, something I'd have to lay on (even now, as unreasonable as it may be, I still have a fear of breaking furniture). And finally, it would be an investment in my mental and physical well-being, something I have been struggling with for the past year or so.
A few months ago, I found a good deal for a massage on Groupon and bought it, figuring I'd use it after the Rock 'n' Roll half marathon in July. Because we ended up walking a good amount of the race, though, I wasn't in as much of a need as I thought I would be, so I decided to save it for after the marathon in October. Then, last week, it hit me that I was stressed out incredibly and it would do me well to relax a bit, so I made the appointment - after all the transitions of the past year, especially the past month and a half, I certainly needed it.
The shop was fantastic, very calming. My masseuse was terrific too, very professional and very understanding when I explained it was my first massage and that I'd lost a bit of weight. She could definitely feel tension in my back and shoulders!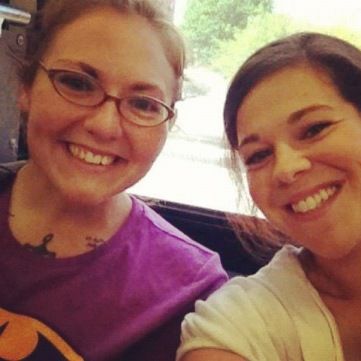 A third item worth mentioning is
#97 - meet one of my blog friends in real life
. I already crossed this one off last year when I met
Cynthia
, but I've since met several other blog writers/readers. Meet-ups are always incredibly fun. Cynthia (then pregnant, now with an absolutely adorable 4 month old baby girl) and her husband came to my apartment and I made crêpes. I also met
Marisol
while in California, and we did Bay to Breakers together.
A few weeks ago, I met up with Katie from
Runs for Cookies
(and from
my Ragnar team
!). She and her husband came to the city for a day, so we had lunch and explored a bit and talked a lot. It was wonderful - delicious vegan food, her first time at a frozen yogurt shop, and lots of really fantastic conversation. I've been reading Katie's blog for quite a while, and she is such an inspiration to me - I love how real she is. She shares when she struggles (something I try to do myself) - it shows the reality of weight loss/weight maintenance, that happily ever after is a heck of a lot of work, even though it's incredibly worth it. I'm not really one to play favorites or keep a blog roll or anything like that, but if you're looking for fantastic maintenance folks to follow, I can't recommend Katie,
Ellen
, and
Caroline
enough. The wisdom that they have to offer has been so valuable to me and so helpful on my journey. I'm beyond grateful.
And about a week or so after meeting Katie, I got an e-mail from a reader who doesn't have a blog, but has been reading mine for a little while and said she'd be in town for work and would I like to meet up? Oh, and by "work," she meant...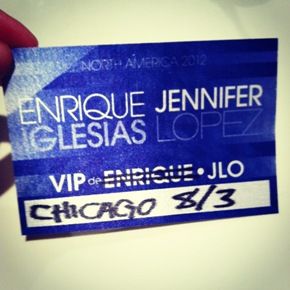 Super cool! Because of the nature of her work with the tour, I can't share pictures of her or even her name - I'll call her Jane - but trust me that it was unbelievably amazing. We met before the show, and Jane gave us a tour of the backstage area and introduced us to a few behind-the-scenes folks. The show was incredible - I wasn't sure what to expect since I don't really listen to pop music, but I recognized a few of the songs, and regardless, it was an amazing performance - especially Enrique, he put on a heck of a show. So much energy!
The best part of the night, though, was before and after the music, when I got to sit down with Jane and talk about running, weight loss, life. She enthusiastically showed me her new Fitbit (she logged a crazy amount of steps while working!), and asked about the Ragnar project and about meeting Katie. It was a really wonderful evening, and I'm so lucky to have these kind of incredible opportunities, all thanks to my little blog!
What about you?
Do you have a 101-in-1001/'day zero" list? What have you "crossed off" lately?