July started with illness, then extreme temperatures, then a second degree sunburn, then Matt's surgery. Needless to say, I'm very grateful that today is August 1 - an empty page on the calendar, a clean slate for starting over.
I've materialized the metaphor - I purchased a planner at Target yesterday in order to get back to logging my daily weigh-ins and keeping track of my food:
I may not have done terribly well while in California, but I logged *everything* - even the junk, even the gains. I like keeping a record so that I can notice trends - patterns in weight loss, times of the month when I tend to overeat, what I choose to overeat. Having this data will help me long-term, I know.
If I had to sum up this month in one word, it would be "inconsistent." My workouts, my eating, my attitude. I was active, but not enough, and not consistently. My eating was all over the place - started strong, but took a dive off the deep end for about ten days in the middle to end of the month. And a strong depressed feeling arrived, unsurprisingly, coinciding with the decrease in activity and increase in junk food.
It's interesting, because yesterday was July 31. Two years ago yesterday, I was wrapping up a very similar July - full of unhealthy food, inactivity, and self-loathing. And two years ago yesterday, I decided to do something about it. I started eating better, eating less, and moving more. And I lost 150 pounds in a year. One year later, I'm up four pounds from that milestone. Not great - I've seen lower, but I can still call it maintenance - but I'm still very proud of myself for taking the initiative two years ago and investing in myself.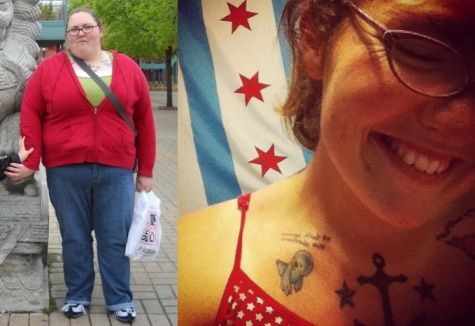 So, happy rebirthday to me. I celebrated by walking all over the city running a half dozen or so errands - and no junk, no binge eating. I couldn't be happier. And the celebrating continues: I'm back in Chicago, the place where I first made it all happen. I'm surrounded by great people and lots of ways to stay healthy and active. And I'm fueled by all I've seen, done, and experienced this past year - the good and the bad.
Goal for August, and forever: consistency.
I'm ready to make year three my comeback year.