For an intelligent person, I don't always make terribly smart decisions.
I could provide infinite examples, but recently, it was a long bike ride along Chicago's lakefront trail.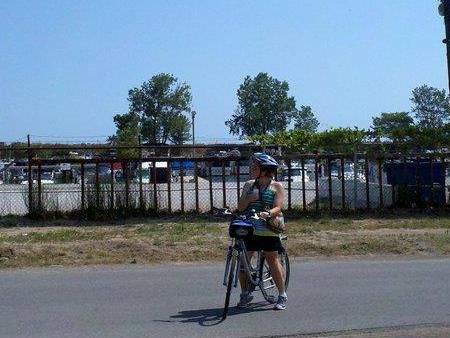 The bike ride itself was a great choice: we rented bikes at a park downtown and rode south to the Illinois-Indiana border.
There, we wondered:
could we ride the length of the city? Back north to where we started, then continue to the Chicago-Evanston border?
Still, not a bad decision. It was a long ride, over 42.5 miles, but we're fit and active people. A challenge, but within our reasonable limits.
The bad decision related to the 4+ hour ride was actually before we started, when we forgot the sunblock at home.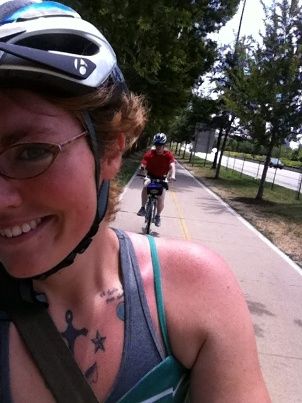 We had big plans for his few days off: use a few Groupons I'd bought a while back for various ethnic restaurants and activities like bowling and reserved time at a tennis court, be active, explore the city a bit.
Instead, we spent it all in bed, and not in a fun and enjoyable way. More of a "he's as red as a lobster and my back is covered in blisters and it hurts to even move" kind of way.
After a day or two, I tried to put a dress on and head to the grocery store since we were out of fresh produce, and the pain was excruciating. We ate the pulled barbecue chicken plain instead of tossing it up with broccoli slaw like I'd planned, and I decided to try again the next day.
Thursday morning, still no luck - trying to put on anything more restrictive than an oversized t-shirt with a shoulder and back covered in blisters was tear-inducing. I couldn't leave the apartment, because I couldn't even get dressed. Not awful, except that I was registered to run the Bastille Day 8K that night. It hurt to get the sports bra on, let alone run nearly five miles with it on.
Since I started running almost two years ago, I've believed so wholly in the mantra
dead last finish beats did not finish
did not finish beats did not start
It didn't matter how slow I ran, I was out there, running. But Thursday night, I didn't finish last. I didn't finish at all, because I didn't start. My first ever DNS.
I was crushed.
It wasn't about the lost cost of the race entry, or about missing my first race back as a Chicago resident. It was a feeling of overall frustration and disappointment in myself. I shrugged it off and tried my best to come off as okay with what was clearly the necessary decision, but still, I was hurting inside.
This morning, I woke up feeling better, though the blisters were still extremely present. At least I could get mostly dressed - modifications were needed with the bra, but I looked halfway decent, so I could get to the grocery store to restock our fridge. Tons of fresh produce, chicken breasts, Greek yogurt - everything good.
Except one thing that wasn't.
Another poor decision.
Knowing full well that overeating doesn't solve anything, I still chose to do it in reaction to my feelings of stress, anxiety, and disappointment. It felt the way it always does - comforting for a very short time, and then I feel just as empty and unsatisfied, and now guilty as well.
After the mini binge, it started to rain, so I tried to keep myself busy doing a few things around the house - cooking some chicken for a few nights' dinners, applying for a few more jobs, whatnot. I felt stir crazy, and knowing I needed a few things at Target, I headed out again once the rain had stopped.
I should have stayed home. Razors are not an emergency. Shaving my legs is not a huge, pressing issue - especially when I am exceptionally vulnerable and susceptible to a binge. But I went out.
I got through the end of my days in Merced without a binge. I got through my first days in Chicago, too, with cereal and peanut butter and several other problem foods kept in the house - not a single problem! Such a success! But today, something snapped, and I felt completely powerless to my addiction.
I'll spare the details. But oh, it was bad. Sickening, unhealthy amounts of food - of course, not healthy choices to begin with - and all consumed so quickly. I felt awful afterwards - for letting myself down, for failing my own Hundred Day Challenge, and for being so sneaky about it all ... I waited to go out again not only for the rain to subside, but until Matt had fallen asleep - and I didn't say anything about it when I recapped my day before he headed to work.
Moving to Chicago brought with it a lot of stress, both positive and negative.
Even positive stress, though, affects a person.
I told myself before leaving California that Chicago wouldn't be a cure-all for the issues that re-manifested themselves over the past year,
that moving would facilitate getting back on track, but there would still be a good amount of work to be done, and I would need to assume responsibility right away.
Still, I guess I was hoping for a miracle. That I'd get here, and that things would be easy - or at least easier than in California. That my runs would be perfect from the get-go, that the scale would finally start dropping, that I would turn to my friends and family instead of food when times got tough.
I wanted to get to Chicago and "hit the ground running," so to speak.
But it hasn't worked out that way.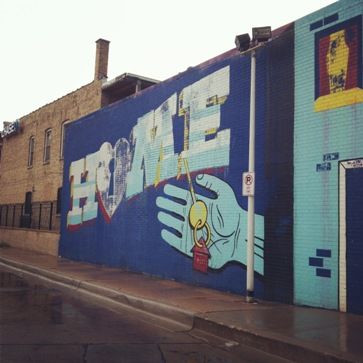 I've had a lot thrown at me the past two weeks, most of which I had not foreseen.
The ongoing job search
, hoping that something will work out soon - that I expected.
But t
he apartment debacle, and now sharing a room with Matt until the end of the month ... getting a cold, then fainting, and now the second-degree sunburn. It's been very taxing.
I have a lot on my emotional plate right now; the proper way to deal with it all is not to fill a physical plate. But when I feel overwhelmed, I can't think about anything but how good it feels to be high, if only temporarily. I still have so, so much work to do with regard to resolving my food issues. I'm finally in the right place physically - now, to work on the mental components.
To focus on positives: three and a half weeks binge free is the longest streak I've had since leaving Chicago last summer. It's something to be proud of, even if I'm upset and frustrated that tomorrow is yet another Day One.
I have a roof over my head and enough savings to last a while. I have an amazingly supportive partner and incredible friends, all in the same city as me now, to whom I should be able to turn and say I'm struggling, I'm hurting, I need help.
I have the tools and a wonderful support team. Now, to make sure I use them when I need to.
Step one, first thing tomorrow morning, I will make a new
binge jar
. Back in a city with lots to see and do instead of binge eat? It worked before, it will work again.
A very smart decision, indeed.