Hundred Day Challenge:
Day 1: 189
Day 10: 189
Day 20: 197
Welp.
I really, really hesitated about posting this. I'm embarrassed. I'm ashamed. And I'm disappointed, though not surprised ... go figure, binge eating and not exercising leads to gains. Huge ones. Especially when my binges are very sweet, followed by salty, and always highly processed - my body reacts hugely to these things after trying to eat lean protein, fruits, and veggies almost exclusively while also minimizing processed foods.
From 189 to 196 overnight, then 198 the next day, and stayed there for a while. Back down to 197 today, and trying not to beat myself up about it. Physically, I feel awful - my body feels extra big over my "comfortable" maintaining range of this past year, anything under 194. I feel cumbersome and broken, a situation not aided by the fact that most of my upper back and shoulders are still recovering from a second-degree sunburn. It looks as bad as it feels.
Problem:
my longest run since leaving California was 8.25 miles, and that was a day before the bike ride and the sunburn.
Problem:
I'm scheduled to run a half marathon on Sunday.
With the sunburn, I was unable to move or even get properly dressed for days. Then, I could put on a sports bra, as long as the straps weren't up. Only about two days ago was my back healed enough to put a bra an entirely, so I set out to try and run. Yesterday I did two slow-ish miles - good, but not great - and stopped. My legs could have kept going for hours - my body craves exercise - but I could feel the tender new skin on my back being irritated, and decided to turn back and walk home.
I'm taking the next few days to heal up - a run tomorrow, perhaps, but no more than 5 miles - and have been using lotion for extra dry skin to help with all the new skin on my back. It's working very well so far, and I'm hopeful about being able to finish Sunday's half. It won't be a PR by any means - my goal is simply to finish.
Lesson learned about underestimating the gravity of forgetting sunblock.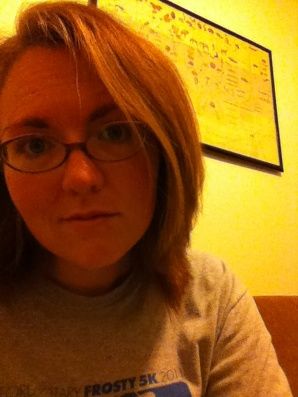 My goals for days #11-20 were pretty much all a bust: keep up the binge-free streak (clock reset several times), to get better about not weighing daily (I feel a need to closely monitor post-binges), and to reduce premade meals and avoid the temptation of the salad bar (better but not perfect yet). The goal I did best with was staying hydrated.
To improve morale, I got a haircut, plus lip and eyebrow waxing. It felt good to invest in myself a little, in my appearance. It was also meant to be a bit of a confidence booster: I have a very important job interview tomorrow morning, and I want to feel as good about myself as possible.
My goals for days #21-30, then, are such:
Keep up my current binge-free streak (today is Day 2 - Day 100 won't coincide with the marathon now, but I absolutely swear, there will be a Day 100 for me)
Finish the half marathon
Resume marathon training (running 3x/week, being active on non-running days, investigate gym options)
Do well at my job interview tomorrow
Stick to a budget (I've been way too relaxed with my spending. Need to tighten the purse strings. Have been researching ideas on Pinterest, especially about grocery/household spending.)
What about you?
How are you doing with your challenge goals? What are your goals for the next ten days? Any races or events this weekend?