Hundred Day Challenge:
Day 1: 189
Day 10: 189
Given the craziness of the past week or so, I'm pleased with my progress so far. I got off the plane a little more than a week ago with a bit of a tickle in my throat, and it turned into a full-blown cold - barking cough, runny nose, sore throat, fever. It took almost a full week to pass, and the first half of the week my energy felt almost entirely depleted.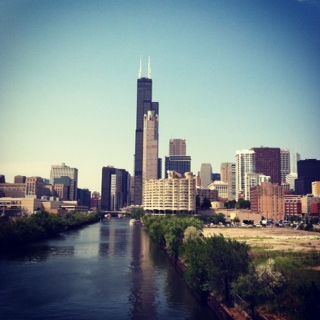 I've still been running regularly, three times a week as usual for my training schedule. After my failed 10 miler, I decided to slowly work my way back up - to not say "I will run 10 miles today" but rather, to say "I will run today" and then do what I can. A five or so mile run a few days ago, 8.25 miles yesterday. Between the sickness and the heat wave here in Chicago, I'm just glad I've been consistently running, even if my long run is a bit short of what I had scheduled. Absolutely no worries.
The heat has let up, thank goodness - yesterday's 8 or so miles were done early in the morning, perfect running temps ... about 20º cooler than it had been earlier in the week! Staying hydrated has been crucial - the worst day was a few days ago, when temps hit 105º. We laid low and hung out in the air conditioning all day, but decided to go out at night; the coolness of the AC had been deceptive and I wasn't nearly as well hydrated as I should have been. We went out on a double date to a jazz club - totally lovely, until I fainted. Luckily, the worst injuries were to my ego - a bit of soreness on my face, a little scratch under my eye, and bruised knees, but those aren't terrible.
Katie
from my Ragnar team had an experience fainting a few years ago that left her with a broken jaw!
The good thing about the heat wave, I suppose, was a huge NSV that came of it: I invested in some real, honest-to-goodness shorts. Not capris. Shorts. Three pairs, even (thank goodness for Old Navy and 4th of July sales!). And yes, I have a ridiculous tan line from running outdoors in California all winter. But oh! how liberating it was to walk around in a tank top and shorts and not care at all about thigh jiggle or loose arm skin! I totally love my legs - they're sort of incredible, and the few trouble spots on my thighs will certainly improve with continued weight loss. But I'm a bit sensitive about the arms - the loose skin isn't horrible (given how big my arms used to be, I'm really quite surprised they're not much more dangly), but the stretch marks are plentiful. Still, when the day comes when I'm ready for my skin surgery, the arms aren't on my to-chop list. It's not painful like the stomach skin, but rather, something I simply need to make peace with.
My eating has been okay - I'd give it a 7 out of 10. No binges in nearly three weeks, which I am very proud of (as anticipated, the move has been a source of both positive and negative stress, but I've kept my cool and haven't used food to self-injure). I'm getting used to a new home, though, and a new neighborhood, so many of my meals have been eaten out - pretty good choices, like sandwiches from Trader Joe's and salads from Whole Foods, but these are both (a) costly long-term and (b) not what I'd like to be eating regularly. I can make a great salad at home, I just need to have the ingredients on hand. We went grocery shopping yesterday and got lots of lovely produce, lean meat, Greek yogurt, and whole wheat pasta. I'm looking forward to cooking more at home starting this week - today's project is to scour a few of my favorite thrift stores for pots and pans (I brought a few from California and Matt has a few here, but we need things like a roasting pan and glass baking dish).
It's been a good first ten days. Living with Matt has had its lovely moments - he's been amazingly supportive, and a terrific sport about trying new things: avocado (didn't like it, not even as guacamole), cherries (liked), apricot (liked), hummus (liked, but made a face when he found out it was made with beans). And he learned that there's a difference between liquid and solid measuring cups (he thought he'd been eating 8 ounces of pasta - but was using a liquid measurer. By weight, it was less than half that, actually! No wonder he dropped a ton of weight the past few months - eating half the calories he thought he was!). But it has also had its fair share of challenges - it's so lovely to wake up with him so often after so much time apart, but at the same time, we went from not seeing each other for weeks or months to cohabitating, so there's been a little friction, albeit very minimal. Luckily, we work well together as a team, I think, and have been pretty good with communicating our thoughts and our needs. We've found ways to make it work while sharing a small space until his roommate moves out at the end of the month and I am finally able to set up shop in my own corner of the apartment (I care about him very deeply, but I also know myself very well, and I know I need a good amount of alone time and my own space where I can escape).
So, things are quite good. My goals for days #11-20 are to keep up the binge-free streak, to get better about not weighing daily (I intended to only weigh every 10 days, but when stress kicked in, I weighed - it's a habit that needs breaking, but at least it wasn't a binge), to reduce premade meals and avoid the temptation of the salad bar, and to stay hydrated.
What about you? How are you doing with your challenge goals? What are your goals for the next ten days? What NSVs are you celebrating this week?