I really hope you enjoyed getting to know Matt this week! I'm incredibly proud of him for being brave: for sharing his story, but also, for making the healthy changes in his life. It isn't easy, as we all know, but it's incredibly worth it.
One reason why I asked Matt to share his story this week is because today is somewhat remarkable for us. One year ago today, we were sitting in a diner, having our first date at breakfast after staying up all night chatting over text messages.

I was instantly smitten, and over the next few weeks, we spent a good amount of time together, hanging out and getting to know one another. It became clear at one point, though, that we weren't in the same place as far as what we wanted in the relationship, and we parted ways in the end of July. We both had to figure out what our individual needs were and how to obtain and support them before attempting to share our lives with someone else.
When Matt reached out to me in October, we were in better places mentally and emotionally, but different places physically: specifically, 2162 miles apart. He mentioned doing a race in early November, and I signed up for one the same weekend, looking for an excuse to get back to Chicago. It ended up being the same race, and as he mentioned, in a crowd of thousands of runners, we crossed the finish line together. As far as signs from the universe go, I think this message was pretty loud and clear.
We kept talking, and I visited him again both before and after going to Connecticut for Christmas. In January, he came out to California, and we spent an incredible couple of days exploring San Francisco; it was so lovely to be there, not only to be together, but to be there as healthy and active young people. That was not a trip that would have been feasible for either of us two years ago.
We briefly entertained the idea of his relocating out here, found a few positions at my university that would suit him, but ultimately we both realized it was a bandaid solution. We enjoy being together, and we would both have great well-paying jobs, but the bottom line was that this simply is not a place where we could thrive, mentally, physically, or socially.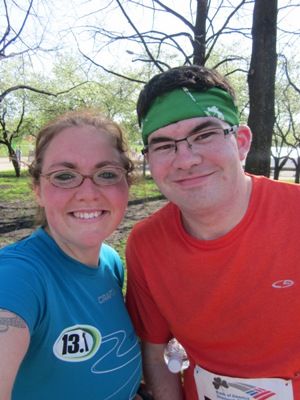 Visiting in March was the last trip before getting my fall offer from the university, and a lot of what happened then influenced my decision to decline the offer. Running a big race on city streets, which I have missed so intensely since moving to a small town. Spending time with Lorelei and
Claire
and my cousin Sarah, people I love and am lucky to have as part of my offline support system. And of course, seeing Matt, racing with him, taking a day trip to Madison to see where he went to undergrad and to meet some of his friends, including Steve, his inspirational frat brother. Crying as we parted ways felt difficult in December, tougher in January, and devastating by March. He is, of course, not my only reason for leaving California, or even my main reason, but his being in Chicago certainly made it onto my pro/con list.
By the time I leave California for good, it will have been over three months since we've seen each other. The distance has been both incredibly difficult and strangely easy, and transitioning into life in the same city again will certainly be an adjustment.
The difficulties of long distance relationships are obvious, namely the long periods of no physical contact. And I'm not speaking strictly about romantic physical contact, although that is, of course, a challenge of its own. But having a tough day and not being able to hug someone you love? Spending free time walking around without a hand to hold? It isn't easy.
And yet, there are a lot of things that have been simpler due to the separation. Seeing each other is always wonderful because our time is limited; we focus on positives and everything is always fun and lovely. But real life isn't like that, there are disagreements and bad days, and they can't be hidden in face-to-face contact the way they can be glossed over via text messaging and Skype conversations. In particular, eating habits are a strong concern with moving back. Since childhood, it's been engrained in my mind that food = love, and cooking a good meal for someone is one way that I can show him/her how much he/she means to me.
We've talked a little about how to prepare, how to remain focused when I get back. I've been pinning healthy recipes we can cook together, which is better for both our bodies and our wallets. Healthy date ideas are also accruing: Groupons for Chicago River kayaking and lakefront tennis court time have been purchased, races have been registered for, and fitness-based getaways have been discussed. We both have specific fitness goals, and we're looking forward to keeping each other accountable as we move towards them, forward and together.
I've been so grateful for having him in my life, he's been a terrific sounding board for all my nerves and anxieties this year in California, the stress of the transition, and any of a million day-to-day things I've had on my mind. This week, though, I think I've been particularly thankful, having read the
Fox News article
that's been spreading like wildfire around the blog community. Essentially, it claims that formerly overweight and obese women are still subject to certain pressures and stresses, even post-weight loss. And I entirely understand: I've written several times about dating pre- and post-loss, and how most of my issues before getting healthier are still present, and now there are even a few more. At my biggest, I was less self-conscious about my body; now, though, it's a bit of a different story. I may look almost average fully clothed, but my naked body tells the story of all its past forms.
Ellen's
description has always resonated so deeply with me, as she wrote that even though she may be at a healthy weight, she will never not fit in her body like a glove.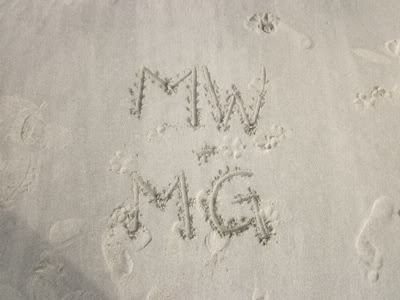 Still, I love my body. I dragged it through hell, and it survived. The stretch marks and loose skin are not ideal, but they're mine to work with. They ought not to be seen as a display of how I once struggled or failed, but instead, how far I have come, what I have achieved, how much success I have experienced. I wouldn't want to be with a partner who saw my body as anything less than lovely and inspiring, who couldn't see beauty beyond the state of my skin.
Matt never knew me at 345 pounds, or even in the 300s at all. In fact, he's spent less than 7 days in the company of me in the 200s. This is the only physical version of me that he's known, and it's riddled with signs of wear and tear. He knows about how I used to be. I knows how I used to struggle, and that I still do. And still he loves, he still cares. He challenges me to do my best, supports my recovery, and encourages my goals.
I am so, so blessed.