Early last week, I sent a text message. It wasn't too late, but the recipient was a few time zones away and likely in bed for the night, another day of full-time work in the morning. Still, I needed to reach out:
This is insanely last minute and I hope I'm not waking you but what's your weekend looking like? Let's fly you to San Francisco and we can hang out and explore for a day or two.
In the morning, an initial rejection - it was, after all, Fathers Day weekend. But a few hours later, an update. Reconsidering. Discussion on both ends for how to make it work.
It was exceptionally spontaneous, highly uncharacteristic of both of us. But that afternoon, a flight was booked leaving Chicago and a train was booked leaving California's central valley. Just a couple of days later, I found myself in San Francisco with none other than my absolute favorite, Claire.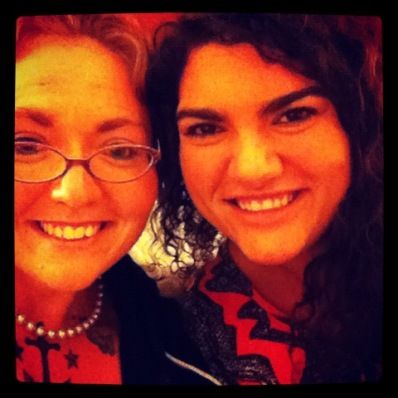 It didn't make a lot of sense: a good bit of money for only a few days, especially considering we both have big expenses coming up soon ... not to mention I'd be back in Chicago two weeks later and the cost of reuniting will then be only a few dollars bus or train fare.
But believe me when I say it was absolutely, entirely worth it. Exactly what we needed.
A late arrival Friday night, a good night's sleep, and then an early Saturday morning 8 mile run from the Ferry building to the north end of the Golden Gate Bridge.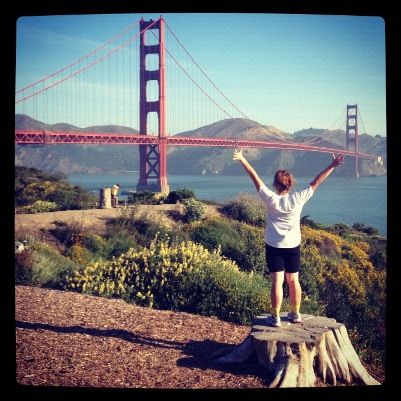 It felt so good to run again - to run in a city, to run with a partner, to run in a comfortable temperature. My marathon training has suffered incredibly the past few weeks, partly due to a stressed out feeling that I haven't been able to shake, partly due to very hot days, but mostly due to excuses. This run was tough, no doubt about it - hills, distance, pace - but it left me feeling fantastic at the end.
Along the run (and all weekend long), we talked. And talked. And talked. I told her about the jobs I haven't heard back from, the family stress that's worn me out, some of my fears about returning to Chicago. We laughed at silly stories and teared up over painful ones. With Claire, there is always this brilliant sense of mutual understanding, and it was wonderful to finally feel unburdened, lighter without the thoughts crowding my mind.
We spent the rest of the weekend walking everywhere, exploring various neighborhoods of San Francisco, taking lots of pictures, sharing appetizers and an occasional dessert. We both marveled at how the urge to binge fades when we immerse ourselves in pure joy - feeling loved, feeling supported ... that fills the empty space we keep trying to fill with food.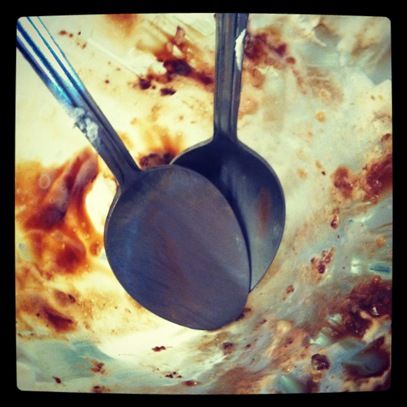 Since moving to California, I've found myself with a lot of quiet, free time - an emptiness I've filled far too often with food and tears. The tears are good; the binges are not. This weekend, with Claire, I found myself thinking about things other than food. And I felt hungry for the first time in ages, something I've missed. When every day is a day one, it's easy to forget what it feels like to be hungry - truly physically hungry, in need of fuel and energy ... not emotionally hungry and in need of love, comfort, support, whatever else.
When we parted ways Monday afternoon, it was an incredibly easy goodbye - technically, we were able to say "I'll see you next week," and oh! how amazing it felt to realize it was true. No tears, just a giant hug and a see-ya-later, entirely perfect after our amazing adventurous weekend.
In preparing for my departure from California, I find myself a bit torn over what to think and feel. I know that as soon as I step off the plane at Midway next Friday, it will feel different. Right now, though, it's still very much an open wound. I'm frustrated with my lack of weight loss progress, but more disappointed with my relapse into binge eating. I'm still very heartbroken and trying to decide if and how to say goodbye to the person who shaped so much of my California experience. I find myself crying, devastated that I sacrificed ten months of my life.
And then I catch myself, and realize how foolish of an assumption it is to think that my time out here was wasted. I learned that a high salary isn't the only thing that matters when considering a job offer. I kept in touch with the people who matter most to me, and let go of a few relationships that didn't fit with my life and my goals for health and happiness. I've learned a lot about what I need to do in order to feel healthy and satisfied - physically and emotionally.
I had a lot of tough days in California, but I've also had my fair share of fantastic ones: riding a bike for the first time since I was a kid, paddling in a kayak for the first time at Shasta Lake, holding hands with Matt and riding a double-decker tour bus around San Francisco, crossing the finish line at my first half marathon in Los Angeles, looking down from the top of the Hayes Street hill with Marisol during Bay to Breakers, and now, my oh-darling-let's-be-adventurers spontaneous weekend getaway with Claire. When I look back on my ten months on the West Coast, the memories of the struggles will mellow and fade.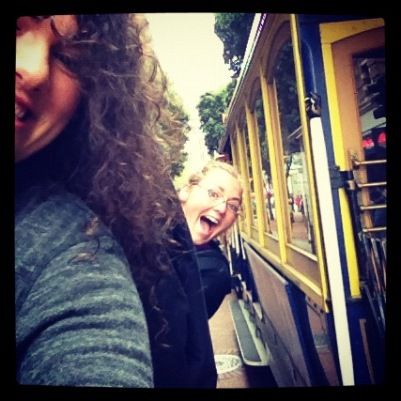 This will be what I remember.