Part of my plans with getting back to Chicago are blog-based; namely, I want to get back to where I was pre-California. Posting daily, with weigh-ins on Fridays, a new recipe every week, etc. I owe so much of my initial success to blogging, to the accountability I found by posting here, and I know that it will be crucial with getting back to successfully losing weight. I have really big plans for the next few months, and can't wait to share them as they get sorted out!
For now, a recipe, because I haven't shared one in forever: a delicious baked egg and vegetable dish.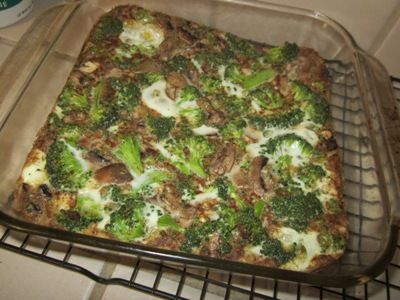 I've been seeing eggs in so many forms on different blogs and Pinterest: crust-less quiches, frittatas, the little Paleo egg cups made in muffin tins. I looked at a ton of recipes, then sort of threw my own mix together. It worked, and I've since made this a few times a week. Perhaps I'm strange, but I like eggs hot *or* cold, so I usually make it in the morning and stick it in the fridge so lunch is ready when I get home from work. It's just as good hot, though, if that's your preference.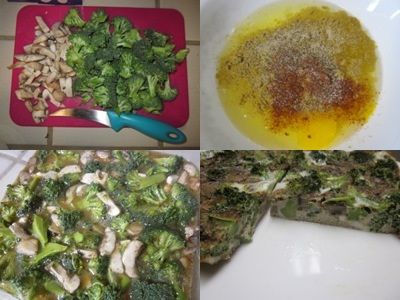 Preheat oven to 350º F. Take 2 cups of veggies and chop them up - I do 1/2 cup mushrooms, 1 1/2 cups raw broccoli. In a separate bowl, whisk together 2 eggs and 7 egg whites with whatever spices you would like - I like salt, black pepper, chili powder, and cumin. Mix it all together and pour into a 9x9" baking dish that has been sprayed with cooking spray. Bake for 25 minutes or until set.
The whole dish is under 350 calories with lots of protein. It could easily serve two people, but I typically have Greek yogurt and fruit for breakfast at 7 a.m., a handful of almonds for a snack at 11 a.m., and get home around 2 p.m. pretty hungry. I'm still readjusting to teaching in the morning (I taught evenings 5-6:50 p.m. for the Spring semester).
I think what I like best about this is that it's really versatile - mix up the veggies in a few different ways, add cheese or maybe some meat if you wanted, vary the spices. I can't wait to make this for Matt when I get back to Chicago - if you recall from
last summer
, he's a notorious veggie hater, and I think this might be a good way to get more veggies into our eating plans. He also doesn't cook anything more complicated than oatmeal; I've started a
board on Pinterest
of things we can try and cook together.
And speaking of Matt, I'm so proud of him - he's lost 65 pounds, and ran a 10 mile race this morning! He was a bit disappointed with his performance, but it was his first race longer than 10K, and long races are a whole different challenge. He's never ran with gels, for example - fueling mid-race is not necessarily tricky, but figuring out nutrient timing is very much a trial-and-error sort of experience. All things considered, I think he did a great job - just finishing is something to be proud of! We're both signed up to run a half marathon in July and he's a bit discouraged after this morning, but I still have faith he'll be able to do well at the half!
What about you?
Do you like cold eggs? What are your favorite recipes for converting veggie haters? What's your favorite racing distance?