Before I get to my race recap: I made a Facebook page for the blog to share links to recent posts, as well as interesting quotes, motivational/inspirational pictures, and news articles. If you're interested, please "like" me!
One thing I really enjoy about the school where I work is its commitment to health and wellness. Perhaps it's because we're one branch of a larger university system, but we (the faculty, staff, and students) have access to so many terrific resources for staying healthy, from on-campus Weight Watchers meetings to a walking contest (based on number of steps logged per department) to hiking/skiing/various active events at the university and in the surrounding area.

About a month ago, I found out about a 5K that was being held by the campus Recreation and Athletics department. I told my students that anyone who participated would get bonus points on an exam - they cheered, and I hoped that it was at the thought of running with me and not for the extra credit, which I am notoriously hesitant to give.
On Saturday morning, we ran.
Five of my students were there, which made me quite happy. The race only had about 60 runners - a far cry from the almost 35,000 people who finished the 8K race I did in Chicago on spring break! - so 5 is a decent percentage. Plus, I figured that getting even one kid out of bed and on campus early on a Saturday morning would be a success.
I ran without my iPod - I don't typically do this, but because it was a smaller event, I wanted to be more aware of my surroundings. And since my students were there, I wanted to cheer the kids on!
We ran a small loop from the campus rec center, down to the bike path, around a cone, and back. Not a bad loop, except that the first half was all downhill and the return was all uphill! There aren't many hills here in our town, but both of the races I've done here seem to have found all of them and included them on their courses.
I wore my Garmin and kept track of my pace throughout the race. I made sure I started slow on the downhills so as not to burn out early. I maintained a good pace, but at 2.25 miles, it hit me, and I slowed down to a crawl. It was the hills. Not only was I running up them now, but an hour earlier, I had biked 5.7 miles up them - the university shuttle doesn't run on weekend mornings, so I had to bike out to campus. Good calorie burn, but tiring before a race. I walked for 1/10 of a mile, then started running again, and finished in
29:24
.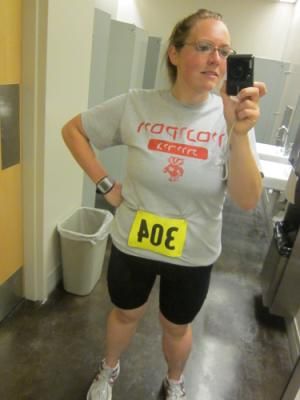 At first I was a little frustrated - if I hadn't walked, it might have been under 29. But I quickly snapped out of it, realizing that I absolutely needed that minute to let my legs get their strength back, and no matter what, this was my first "official" sub-30 5K (it was untimed, but it was my first sub-30 in a race setting). I had to walk in the last local race I did too, which I decided was necessary due to both biking to the event and running up hills. It sucks, but it will make me a better runner in the end. Think about it - if I'm biking to events here and running up hills, I'll do all the better at flat-course races when I don't have to ride 3-6 miles first!
After coming to my senses, I stood at the finish line and waited for my students to finish, cheering them on in French as they ran through it. We had water and bananas, and talked a little afterwards - I had told all my students a few weeks ago about my weight loss (the whole class stood and applauded, it was a wonderful moment), and two of the kids at the race opened up and said they'd lost 60-70 pounds each. I was so proud, and we talked about how different of a life it is. As always, it felt really good to talk to people who understand.
This event, and these kids, are part of the reason I'm so conflicted about whether I should stay here or leave this summer. I love teaching, and I enjoy the feeling of community at a smaller university - the school and the kids I work with are definitely growing on me. There are a ton of things about city life that I miss intensely, and if I could have this job in an area with more people my age/stuff to do and fewer farm animals, it would be heavenly.

*sigh* Some days, the choice seems easy: of course I want to leave. Other days, not so much.
I still have so much to consider.