Blogging hasn't been at the front of my mind for a few days - I've been busy, but nothing entirely update-worthy. So here's a random smattering of recent updates.
This has been a very busy week - most of my weekend was spent grading exams, and this week so far has been a lot of preparation for upcoming assignments. It's not difficult work, just time-consuming and time-sensitive.
The best part of the weekend was taking breaks from the piles of exams and riding my bike around in the absolutely gorgeous weather - sunny and 60º-70º every day, and it even hit 78º the other day! Though, the most important part of this update is the fact that I have a bike again, and I love him.
Ladies and gentlemen, this is Gus: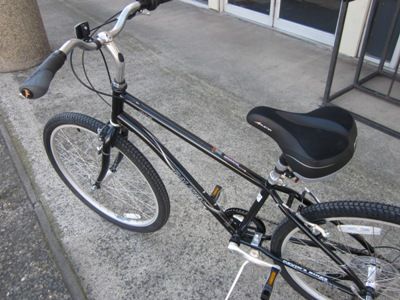 I do not know why I named him that, I don't know anyone named Gus (though
Tim
does, and his
Gus is pretty awesome
). But as I wheeled the bike out of the shop Friday morning, I looked down and the first thought in my mind was "your name is Gus."
From the bike shop, I rode out to the lake by the university, then home - a good ride, but not so much as to overdo it, since I haven't ridden in weeks. It felt so good to be back on wheels!
I found a local cycling club, as well as a century ride in a neighboring town in a few months, but both are not possible for me right now. The cycling club does group rides on Tuesdays, Thursdays, and Saturdays, but you need to be able to maintain 18-28 miles per hour for the ride (they're 20-60 mile rides, depending on the weather). The century ride, as well, asks that riders be comfortable with maintaining "a comfortable pace of 17-19 miles an hour on flats." My longest ride here has been about 35 miles, and I can do about 13-14 miles per hour, but figuring in a few hills, I tend to average around 12 miles per hour. Continuing to lose weight will help me with speed, for sure, so I have even more inspiration to keep focused with my eating.
In the meantime, it's just nice to be back riding.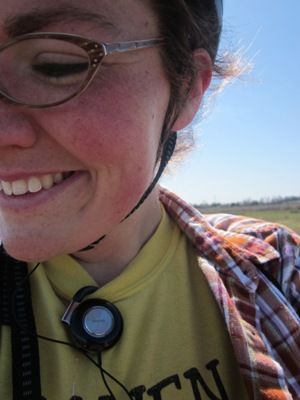 I've certainly missed how good it makes me feel. Other things that have made me feel really fantastic lately:
1. Getting my little garden ready - I have a little patio but no real backyard, so I'm a bit limited with what I can grow. I started some peppers, tomatoes, basil, and lavender ... might expand and add more, we'll see.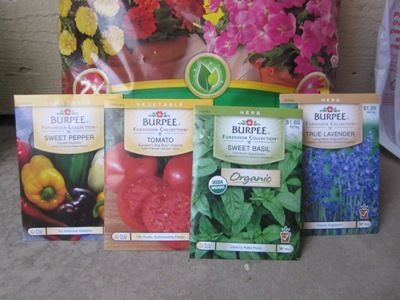 2. Having
incredible friends
who reach out and help me find my bearings when I feel lost and start to struggle.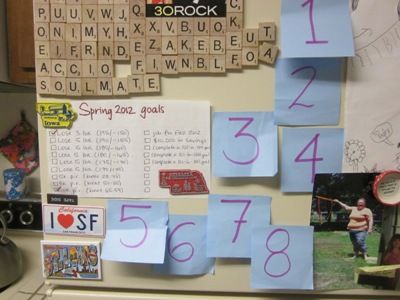 3. Expanding my local offline support system. I've been spending my Tuesday nights with a few university faculty/staff who want to practice their French - we meet up for coffee/tea and conversation, and it's a lot of fun. I decided not to make the same mistake that I did with
the book club
, and have openly discussed my weight loss from the beginning. Last night, one of the coffee group members was asking me for advice about training for a half marathon, and let me tell you, it is so, so wonderful to feel as if I am being taken seriously. Yes, I am big. Yes, I am a half marathoner. It's not so unbelievable.
4. And speaking of running, my university has an annual on-campus 5k race, and I told my students I'd offer bonus points on an exam if they participated. They cheered, and I'm going to let myself believe it was for the idea of running with me, and not for the promise of extra credit. I told them that "pretty much the only thing I love more than everything French is racing," and it's wonderful to know that it's a true statement.
5. Thinking about spring break and summer travel plans. I got my official job offer for teaching a summer course, which is great - I have already budgeted and saved enough to cover all my summer bills/living expenses, so the summer job means a whole nother paycheck I hadn't counted on. My friend Lorelei from back in Chicago and I have talked about going to France for a few weeks. I have a list on my desk of things I want to write whole blog posts about, and one of them is about weight loss and money; very short version, it's weird to finally have a job that pays well enough that I can travel. I'm still hesitant to make serious plans until I have an official job offer for the next full academic year, but it's been nice to daydream about going on an adventure. At the very least, I'll be in Chicago for part of spring break (including running the Shamrock Shuffle 8k again!), then a day in San Francisco on the way back.
So, things are quite good right now. I'm moving around, my eating is on point, and I'm staying busy with work.
What about you?
What little things are making you smile these days?