As a kid, my family always had St. Patrick's dinner at my maternal grandmother's house - she was Irish, and always made a full holiday spread. For the kids, we even got a few drops of green food coloring in with our milk! But yesterday was St. Patrick's Day, and for the second year in a row, I didn't have a single bite of corned beef and cabbage.
It's interesting, because I'm typically not really crazy about beef - I'll take poultry over beef any day. But corned beef is definitely an exception. I might have made some yesterday if I had a group to entertain, but with just myself, it was easier to just abstain entirely.
I still wanted to do something fun, though, so I decided to challenge myself a little: have something green with every meal/snack. Here's how my day went:
Breakfast: egg white omelette with spinach and ground turkey. First I browned the ground turkey with some garlic and dill (double green!). Then I finely chopped the spinach in the food processor, mixed it in with egg whites, cooked it up like a regular scramble, tossed in the turkey, and voilà! Very delicious and very filling for just under 300 calories.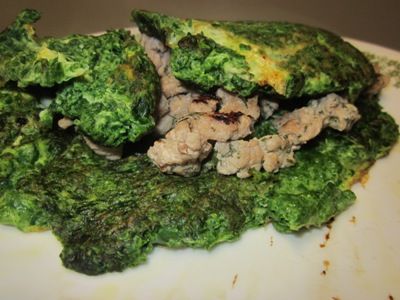 Snack: a D'Anjou pear. I have been loving pears lately. Semi-related, I loved them so much when I was a kid that my dad called me "Mairzy Pears," or sometimes "Pears in Light Syrup." My family is big into long, ridiculous nicknames, and I couldn't love it more.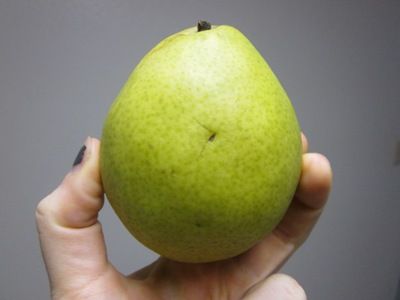 Lunch: a small banana, plus a whopping 100 calories for a giant tray of roasted asparagus (plus whatever calories are added with the spray). I lightly spray them with olive oil cooking spray, sprinkle them with whatever seasonings I am in the mood for, and roast them at 425º for 22 1/2 minutes. I usually just do a little salt and black pepper, but today I went with Greektown-inspired seasoning, one of my favorites from The Spice House. It's a bit lemon-y, with oregano and other goodness. I don't use it often because it's a lot of salt and not a lot of herbs, but a little pinch goes a long way.
Snack: cucumber slices and Greek yogurt mixed with dill. I usually grab a piece of fruit for a snack, but lately I've been paying closer attention to my nutrient breakdowns on MyFitnessPal, and even though it's sugar from fruit, my sugar has still been over the limit most (if not all) days. So, I've been looking for snack alternatives. It was a good sized cucumber for 36 calories, remarkably filling since it's mostly water (and because the dip I made used protein-packed Greek yogurt instead of sour cream!)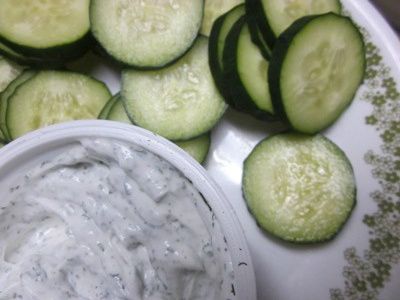 Dinner: what was left in a box of pasta (about 4/5 cup), a small chicken breast (about 4 oz.), and roasted broccoli (cooked the same as the asparagus - had some mixed in with the pasta, lots just eaten as-is!).

I had a lot of fun with this, and I think I might try and make it a semi-regular challenge. Pick a color, and stick with it all day. Red, green, yellow ... easy-ish. Blue? A bit more challenging. But it would certainly be interesting!
It was weird to not be in Chicago for St. Patrick's ... first time in a few years I haven't seen the green river!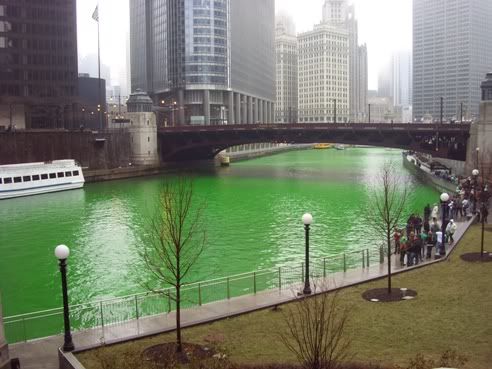 My picture from last year *sigh* It rained all day and was pretty cold (for central California, anyway) - I thought about ditching my daily run and ending my streak just as it was getting started. I dreaded it all day, but finally accepted that "you know, it's only cold out there when you stop running..." So I got out there and did it anyway - a mile in 9:31, then walked for a bit, then ran another 1/4 mile in 2:11, then walked the little bit home. Not much, but I'm glad I got at least a little workout in before the daylight disappeared ... and I'm glad my streak is still going strong!
I know I promised a write-up on Matt Fitzgerald's "Racing Weight" today, but since my idea for a recipe post turned a bit into a photo dump post, I'll be giving his book a whole separate post on Tuesday. It was such an important read, and my post will be fairly long ... so I didn't want all the great info to get lost among pictures of the things I ate yesterday.
What about you?
Did you partake in any St. Patrick's festivities?