Yesterday marked nine years since the death of Fred Rogers. Known to most as simply "Mister Rogers," Fred was a man who inspired innumerable people - children were his main audience, but it was hard for people of any age to not be inspired by this kind, soft-spoken man whose message was entirely about self-confidence and love.
When I graduated high school, I gave all my best friends copies of "The World According to Mister Rogers: Important Things to Remember." And a few months into my weight loss journey, I found a copy of "Life's Journeys According to Mister Rogers: Things to Remember Along the Way" at a thrift store, so I bought it immediately. The wisdom is unparalleled:
All I can say is, it's worth the struggle to discover who you really are and how you, in your own way, can put life together as something that means a lot to you.
From time to time, I find myself dipping into the book, a collection of short thoughts and anecdotes, for inspiration and motivation. And it absolutely never falls short of perfection.
Yesterday, one of my favorite magazines/websites,
MentalFloss
, shared this video of Mister Rogers accepting a Lifetime Achievement Emmy award:
Such a lovely person, no?
It had me thinking about you, reader. And about my family, and my friends. And all the people who have been there along the way as I have worked to create the person I am today. And how endlessly thankful I am to have such love and support.
So, I'm going to give away
two
packages: one copy each of these Mister Rogers books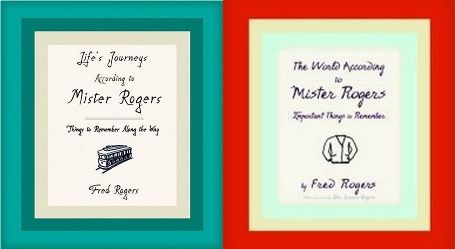 Plus 5 Larabars each (because, well, they're delicious.)
Here's how to enter:
1 - Post a comment here completing this sentence: "The person/place/thing I am most grateful for on my journey is..."

2 - Follow me on Twitter! @oh_mg (and post a comment here letting me know!)

3 - Post the following on Twitter: "I'm entered to win @oh_mg's Mister Rogers giveaway on asmallloss.com - you should be too!"
You have until midnight on Thursday, March 1, to enter; I will announce the winners in Friday's Roses and thorns. Good luck!