This first week of my February challenge has gone well! My eating has been on point, and I can tell that I've lost weight - my stomach feels looser and my winter coat fits better. It's amazing what difference a few pounds can make.
Part of my February challenge involves eating the way I did back when I first started to get healthy. I've made a few modifications to suit my current schedule, but otherwise, it's been going well. Here is an example of what I ate yesterday:
Breakfast was 32 oz. of water, a 6 oz. container of Fage plain 0% Greek yogurt, and some blueberries.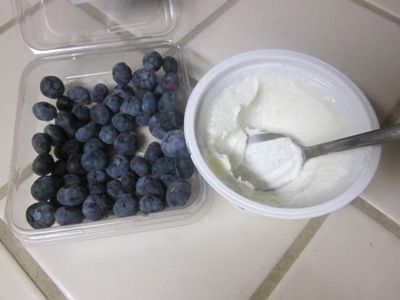 I used to have Yoplait Light yogurts, but the Fage has more protein for the same number of calories - not to mention no artificial sweeteners. I love most of the fruity Chobani yogurts, but I'm trying to eat as many whole foods as possible, so even though the calories work out to a few more by having a yogurt and fresh fruit, I feel better about it. Plus, I like the thicker consistency of the Fage yogurt!
I work out in the morning, then have 16-32 oz. of water and a Lean Cuisine or Weight Watchers meal for lunch. They're not the best choice, but they're convenient and help me prevent binges since I can have a reasonable portion of the things I crave (the chicken carbonara is pretty darn good, all things considered).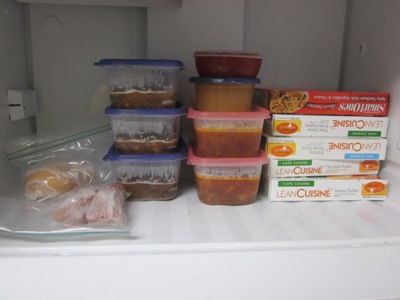 Dinner also usually comes from the freezer - a portion of a premade soup or chili that I portioned out for single-servings, or a piece of chicken. When I wake up, I move it from the freezer to the fridge so it's thawed and ready to cook/serve when I get home from work. Another 16-32 oz. of water, and I also usually make some veggies to go with my dinner to bulk it up - lately, my favorites have been broccoli, cauliflower, and Brussels sprouts.
After lunch, I have a piece of fruit for a snack. Yesterday it was a banana. Sometimes it's an apple or a pear. I also like fresh veggies - cucumber and raw mushrooms are favorites for snacking.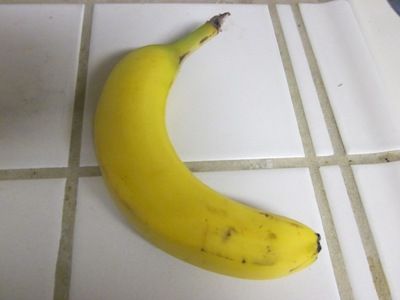 And my late afternoon snack to get me through office hours and teaching?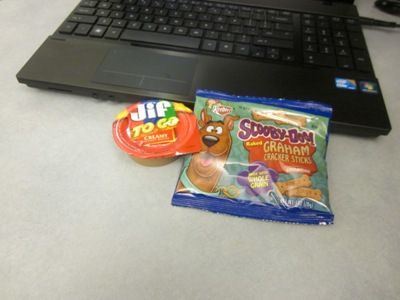 A single-serve packet of graham crackers (120 calories) and a single-serve container of peanut butter. Right now I have Scooby Doo crackers because Target was sold out of my usual choice, the 120 calorie pack of Teddy Grahams. These are good, but they look like dog bones, and even though they are delicious, I feel odd eating them. This was my snack every single day for nearly a year and I (a) never got bored and (b) never binged on peanut butter. Allowing myself a little of these things helps me not overdo it. I keep these at my office so there's no temptation - and if I still want it that badly ... well, to the office is a 5.5 mile bike ride, that burns quite a few calories, and I can't binge until I feel sick because there's another 5.5 miles on the bike to get me home. This set-up works well for me.
Adding the fruit with breakfast and lunch are changes from when I was in Chicago. Back then, I worked mornings and exercised at night, so my dinners were bigger. Now, I work out mornings and teach at night, so I try and spread the calories out more evenly. Total is usually between 1200-1300 calories, though I am perfectly okay with upping it to 1400-1500 when I work out harder.
This is what I ate yesterday; some days I mix it up, but most days are nearly identical. That kind of repetition might not work for everyone, but it's what I've found works best for me for weight loss. I like a routine!
What about you?
Do you usually eat the same things over and over, or do you try and change things up all the time?