My December workout chart is ... interesting.
On the one hand, I biked a lot, logged the most running miles per-month so far (63.83 miles - including my first [and second!] double-digit run), and finally used the Wii Fit again for the first time in what seems like forever. On the other hand, though, I had almost as many rest days as I did back in August when I moved to California. Overall, I'm torn. Pleased with the workouts, but disappointed in my eating when I was back in Connecticut.
I don't know why I am always surprised when being home overwhelms me - for some reason, I always want to think that
this time I'll be stronger, this time it will be manageable,
even though I know better than to expect perfection. It was better than Christmases past, but still a lot to handle, and I returned to the West Coast in my now-uncomfortably-snug winter coat, dreaming of routines and vegetables and lots and lots of water.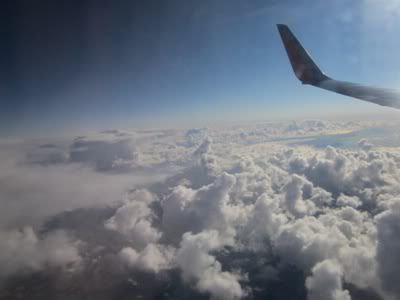 It's hard, in the aftermath of a trip back east, to see the big picture of my year and all its successes. Right now, I'm coming down off of a nearly two week relapse into old habits. I ran in Connecticut, but not enough. If there's one lesson I've learned the hard way this year, it's that you can't out-exercise poor eating.
All in all, I ran 451.99 miles and biked 1949.3 miles this year. I'm very happy - I met my 345-in-2011 goal, and I've fallen in love with biking. My goal for 2012, then, may be a little surprising - I want to log 2012 running/biking miles ... far less than I did this past year. I'll be doing a full 2012 goals post some time in the next couple of days, but basically, I am trying to live by the mantra
"do less, better."
There was a great post on
Scoutie Girl
on it a few weeks ago, and I'm in love with the idea. It's perfect for me right now. Don't try to master everything - think smaller, and focus your energies appropriately.
The past few days, I've been mulling over one of my all-time favorite Oprah quotes:
Cheers to a new year and another chance for us to get it right.
Such perfection. I had a lot of plans for 2011, and where I stand now, both literally and figuratively, is a place I certainly did not foresee a year ago.
As a teacher, I get a new year every few months or so - the beginning of the academic semesters - and I tend to set goals based on that calendar, rather than the traditional one. Still, right now I am feeling motivated and ready for the next 12 months. After a few hectic days of traveling, I'm still working on catching up on blog reading (about 350 down, 500+ to go), but so far, I've read dozens of lists - goals, resolutions, whatever you want to call them. They're so inspirational, and right now, that is exactly what I need.
What about you?
What is your favorite NSV from 2011? What are you looking forward to in 2012?