This has been a very strange week. Very heavy, very stressful, with small pockets of happiness that certainly sustained me. Reaching out to people via e-mail, Skype, telephone calls, text messages ... it's been an absolute lifesaver.
Work went well - my students are finally settling in and understanding exactly what I expect of them. A few lecturers and I got a pretty terrifying e-mail from my coordinator regarding employment for next semester, followed the next day by an e-mail from the school's Dean clarifying that the information we received was not entirely correct. So one of my projects for today is deciphering a document attached to the Dean's e-mail ... lots of legal terms, which are not my strong suit.
Also, my sleep patterns have been pretty messed up since I've been staying up very late, texting Matt while he works overnights. Some of it was just chit-chat, but some was related to a bit of a project we've been working on, so I justified it. Unfortunately, staying up late meant waking up late, and not having much of a day to get things done before heading to the university to teach. This week, I'm hoping to get back into a healthier pattern - in bed by midnight, up by 7.
Some of the chit-chat was related to things that have been going on with my dad, who was back in the hospital for most of last week due to more
"dietary indiscretion."
It's both frustrating and heartbreaking, and I stayed as tough as I could until Friday, when I spoke with my sister Lisa on the phone about it while at work. Riding my bike home, I nearly crashed into several cars because I was sobbing hysterically. Not good at all. I wrote him a long letter that night, expressing my thoughts and urging him to take better care of himself ... but not after raiding my cabinets.
One step forward, one step back.
Making peace with food is absolutely, one hundred percent, without a doubt, the hardest part of my weight loss journey. Using food to nourish myself instead of hurt myself is a truly difficult challenge, a battle I'll be fighting my entire life. It's easier than it used to be, but I'm by no means in the clear. If I've said it once, I've said it a million times:
I can't control how/if my dad chooses to take care of his body. But I can control how I take care of my own.
I'm going to repeat it, over and over, until it sticks. Until I finally realize that binge eating doesn't change him, only me, and that change is always negative.
Yesterday, I slept in a little, and because of the previous night's overeating, I wasn't terribly hungry until lunch, and even then, I ate light. I walked to the grocery store to get some ingredients for dinner, then went for a 4 mile run. I underestimated the distance at one point and ended up having to do a couple of circles around my apartment complex to get the last half mile in. It was great, though my legs felt very heavy towards the end - not sure if it was from not eating much, or from riding my bike over 35 miles the day before. Either way, it was physically tough, though my mind certainly wanted to keep going.
The ingredients I bought were to make
stuffed pepper soup
, a recipe I saw on SkinnyTaste a while ago but had mostly forgotten about until now. Before and after adding rice:

It was totally delicious! I eat beef very infrequently (I like chicken/ground turkey better than steaks/ground beef), but I really liked this. And I knew I wanted to make something with freezeable leftovers to make dinner easier for the nights when I teach, so this was perfect. I measured out slightly bigger portions than what she posted, ate one, put one in the fridge for lunch today, and froze three.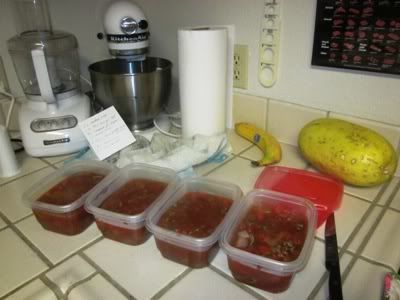 I accidentally forgot the garlic (I know ... how could I?!), so when I reheat the other portions, I will probably add garlic to the rice when I cook it for that little extra kick. I also altered her recipe to suit my own preferences, mostly in terms of reducing sodium. In an interesting coincidence, the sodium count for hers and for mine came out to the exact same number. Her portion, though, is 1/8 of the recipe, and mine is 1/5.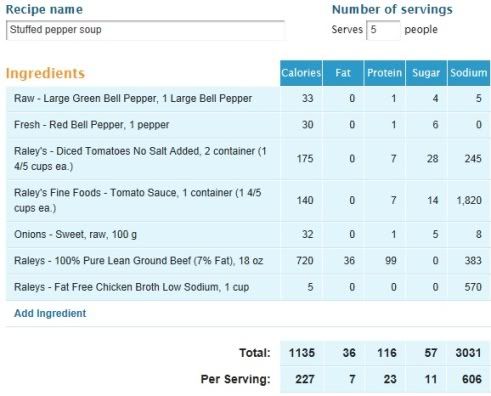 To reduce sodium, I used 2 cans of no salt added diced tomatoes. I also used 1 cup of low sodium chicken broth instead of 2, and used 1 cup of water to make up the liquid. The tomato sauce was not low/no sodium, so the soup was still plenty flavorful.
Not sure if her calorie count includes the rice - mine doesn't, since I didn't add it to the soup while cooking (don't want it to soak up too much liquid - made a serving for yesterday and one for today, and will make the others as I defrost the frozen containers). I had 1/4 cup (uncooked measurement) of brown rice for 170 calories. All in all, a very tasty and very satisfying meal!
What about you?
What meals do you like to pre-cook and keep in your freezer for busy nights?