Sometimes, I really miss baking. I used to always bake for my students and co-workers, not to mention for myself, family, and friends. My cake pops were incredible. Blueberry peach cobbler, divine. Red velvet whoopie pies, to die for. French macarons, perfection. And there is very little better than my from-scratch pear and ginger pie with a salty-and-sweet Gruyère crumble crust.
But ... I have given these things up, for now.
Not because I won't allow myself them in moderation - I am generally okay with desserts when out with friends or at work functions. But baking by myself at home is still a problem for me. I go through fits of being better with it - I'll make something, enjoy it in moderation, and feel very proud of myself for staying in control. But when I am not feeling my best, the baking ingredients in the house can be very difficult to avoid. For now, it's easier for me to abstain entirely.
But sometimes, I want something sweet. And I've been eating pears, apples, and bananas, and they're good, but not quite ... chocolate-y enough. A cheap chocolate bar isn't quite satisfying, and a higher quality chocolate bar is also usually higher in calories. So usually, I just abstain again.
Enter the SlimKatie brownies.

I couldn't think of a better name for these than one bearing the name of their creator,
Katie
. Calling them pumpkin brownies seems a bit deceiving, as the pumpkin flavor is not as pronounced as in, say, pumpkin pie or pumpkin bread. It's there, but subtly, and in addition to lending its flavor, also adds fiber and reduces the calories (as compared to following the box's baking instructions and using eggs and oil).
There isn't much of a recipe here, per se. Get a box of brownie mix, and combine the mix with a can of pumpkin puree. Follow the temperature and time for baking listed on the box. Easy peasy!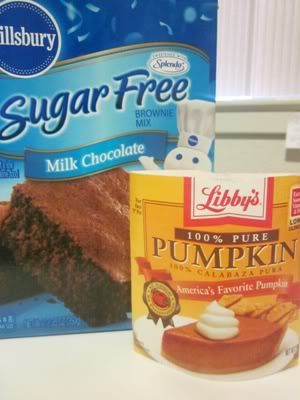 I made mine with sugar free Pillsbury brownie mix - I'm not typically a fan of artificial sweeteners (due to both taste and fake-ness) but got them since the calories were low and the servings-per-box was lower than regular mix. Next time, I'll go for the real deal - the Splenda taste was definitely present in these. But I managed to mask it a little by adding a pinch each of ginger and cinnamon to the batter before baking. Those are the two secret ingredients in my chocolate cake, I figured they'd work here too. Oh boy, did they! Thick, fudgy, a little spicy ... just what I wanted. And with my ingredients, the pan made 9 brownies at 136 calories each.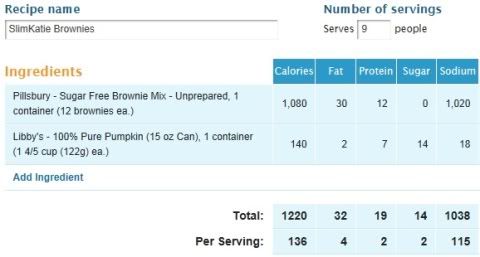 I ate one yesterday when I made them, another later that day, and put the rest in the freezer for future PMS-ing emergencies. Close inspection of the ingredients list has inspired me not binge on them.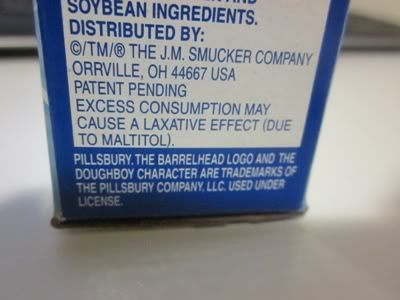 Yikes. Reason #3 why I'm not crazy about artificial sweeteners. Definitely don't want that!
What about you?
Are you able to enjoy certain foods in moderation, or do you abstain entirely from individual foods/food groups? What's your take on artificial sweeteners?