When we got to San Francisco, I had lost some of my Connecticut binge weight, but I was still over 200 pounds - the highest weight I'd been in six or seven months.
It's interesting, then, that looking at the pictures, I look really, genuinely happy. Not hiding my body. Not ashamed of the regain.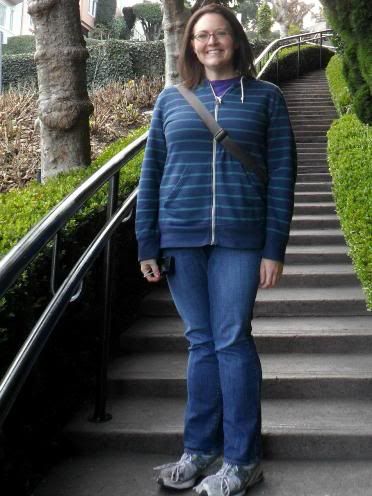 Walking up Lombard Street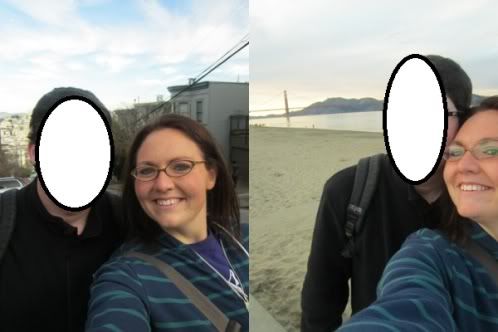 Lombard Street and Crissy Field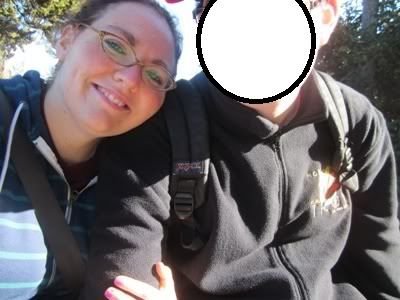 Coit Tower
I'm out there, actively enjoying a great city with someone who is incredibly supportive of my healthy living goals - and who reminds me that I am lovely and successful even when I see my body at its recent worst.
I've been thinking a lot about seeking peace since reading a post by
Mary
a few weeks ago:
It may not be my dream, but it is my life and I need to make peace so I can live a full life from where I am.
I know what I want long-term, and I know what I need to do to improve on where I am, but for now, I'm at peace with everything, and that is so completely important. Getting back to Geneen Roth and her ideas about not waiting for "someday" to be happy - when we reach our goals, she says, they will be in the Right Now. And we absolutely have to be mindful of that.
I'm still doing well - eating well, drinking lots of water, running and biking everywhere, and back in onederland as of yesterday morning. My weight is not ideal right now, but the conditions are right and motivation is high, and I am pushing forward in hopes of finally breaking the plateau, of getting to the 180s and then moving forward. It's not a formal resolution, but I know I'm capable of reaching my goal weight in 2012. I'm really looking forward to making progress on this and my other healthy living goals.
In the meantime, though, I'm happy. I've found a peace that has been largely absent since moving to California, and I'm finally feeling settled and ready to pick up where I left off back in August. The semester starts soon, but I'm no longer new here. It seems simple, but this one bit of consistency will help incredibly with getting back to the kinds of routines I had back in Chicago.
What about you?
How do *you* make peace with the "right now" - that is to say, how do you stay positive in the present while remaining optimistic about the future?