The day before I left Connecticut, I woke up at 4 a.m. to hear someone shouting my sister's name. It was my dad, and since my sister was deep asleep with her bedroom door closed, I ran out to see what was the matter.
... I need to go to the E.R.
I woke up my sister, threw on some clothes, and helped Dad to the car. A half an hour later, he was on a hospital bed, being tested, poked, prodded, and questioned.
Flashback to a few hours earlier. My father is diabetic, and has to regularly test his blood sugar levels. Whether you are diabetic or not, the things you eat and drink affect your blood sugar - but being diabetic means my father needs to be extra careful with what he consumes because his body simpldy does not make enough insulin to properly process glucose. In addition to the diabetes, my father has other health problems that have forced him to need to follow an exeptionally strict diet: he has to watch his sugar, sodium, protein, and liquid intake. The liquid is one of the biggest issues right now, as it is fairly new. Because of kidney failure, my father has to carefully restrict his liquid intake (even with watery foods - tomatoes, for example, count as liquids), and he has to go to dialysis a few times a week. My sister cooks on-plan meals for him and his brother drives him to the dialysis facility since he really can't drive himself anymore.
Since he's started going to dialysis, he's felt better, because he's been more careful about his diet. How he feels is directly related to what he eats. And the night before we headed to the emergency room, his blood sugar tested so high, his home test kit couldn't even register the number. I gave him a shot of insulin to help regulate it, then waited an hour to test again. Still too high - more insulin, another hour. Finally, we got a numeric readout - it was over 500. To put this in perspective, a healthy/normal range is typically between 65 and 105. We waited another hour, and then it was in the 400s. Then the 200s. And then he felt better ... until 4 a.m., when he woke us up because he hadn't slept, and because he'd been having trouble catching his breath all night.
We waited next to his bed as doctors and nurses filed in, one after the other, asking questions, drawing blood, checking his pulse and blood pressure. Finally, he fell asleep and the doctor said they would have him stay for observation now, but we could bring him to his scheduled dialysis later that day, and my sister and I could head home for a few hours to sleep.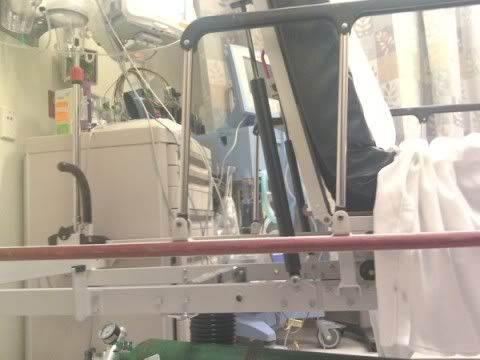 Upon returning, we found our father's bed missing from the E.R. The main doctor who had been caring for him said a bed had opened up and he was being dialysed on-site. Dad was wheeled back in shortly thereafter, and after a few talks with several different doctors, it was decided that he didn't need to be admitted to the hospital overnight, but he *would* need an extra trip to the dialysis unit the next day.
It was both a relief and a frustration. Good, because he was mostly fine and I could see him at home before I left. But tough at the same time, because the reason he ended up in the emergency room was, according to his doctor,
"dietary indiscretion over the holidays."
Dietary indiscretion.
It's something bloggers have all been talking about since before Halloween - worries and concerns about overdoing it with our holiday eating. For me, it's an important concern, but not life threatening. For my father, though, it's near fatal. He consumed way too many liquids, and his body simply couldn't handle it. It doesn't matter how much he enjoys something - his body has limits and he has no choice but to respect them. There cannot be such thing as an off-plan day for him.
One of the most stressful things about being home for me is seeing how my father takes care of his health - or, more honestly, how he doesn't. I laid out all his pills for him in his daily pill case, but he didn't always take them. He knew he can't be drinking so much, but he did anyway. It's incredibly tough not only to see someone you love deteriorate in front of you, but to know that there are things he could be doing to stay in his best possible condition, yet he chooses not to do them.
It really made me think a lot about my own eating habits. Like I mentioned on Friday with my weigh in, there are a lot of weight-related health problems that run in my family, so I need to control what I can control and do whatever I can to stay as healthy as possible.