This past Sunday, I ran my first half marathon. Something that struck me while I ran was that I've never referred to this as "a half marathon." It's always been "my first half marathon." It's as if I've always intended for this to be a beginning, the first of many.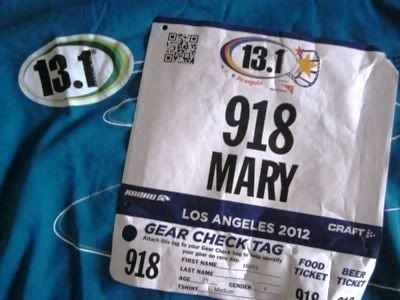 I finished in 2:20:35, a time I'm exceptionally proud of; despite having my carefully selected running playlist in my ears, it's still quite a long time out there on your own, and my mind wandered inward quite a bit. To the beginning, when I decided I had to get healthy before my health decided for me. And to now, in central California, long physical and figurative distances from July 2010 and the way things were at rock bottom.
When I finished grad school in May 2010, the commencement speaker said something that stood out to me very profoundly.
You are University of Illinois alumni. This is an incredible distinction that no one can ever take away from you.
Given my state of mental exhaustion after two years of teaching, taking classes, preparing (and then taking) my comprehensive exams, this bit of wisdom was exactly what I needed to hear. I worked incredibly hard and pushed myself intellectually, and the reward is that for the rest of my forever, I'll be a Master of Arts. No matter where I go or what I do with my life, I will always be able to look back and say
look what I did here - look at what I was able to accomplish with some hard work, sacrifice, and dedication.
I've been trying to keep the same mindset with my weight loss. Since relocating, I've had a lot of really great days. But there have also been many dark times, times when I am at my worst. Times when I feel the same as I did at 345 pounds - sad, alone, and worthless. Most of my stress and anxiety about the plateau originates from a few of the initial causes of my super obesity: fear of abandonment and feelings of inadequacy. My phone call to my mother telling her that I was moving to California went unanswered, my voicemail message received no reply. Then I decided to end a long-term friendship shortly after arriving, and my intended long-distance relationship failed quite miserably after only a short time.
And I regained a few pounds, and while I've been able to maintain, essentially, within ten pounds of my Chicago lowest weight, there's a bigger issue here for me: at 195, I'm able to say "I've lost 150 pounds." But for the most part, I've maintained 196-198. It's a seemingly small thing, but knowing what it feels like to be on the other side of the milestone, "I've lost 149 pounds" is a very tough place for me to be. It pains me incredibly. It feels like failure, which is a really terrible and backwards way to see things. The difference between 192 and 198 has caused me so much stress, when I should be focusing on the difference between 198 and 345. I get overwhelmed and frustrated by my lack of progress on the scale, when really, I need to be waving my banner and cheering myself on.
And yes, my mother is still radio silent, but her choices are out of my control. Things with her will work out eventually, I'm sure, and for now, I just need to accept what I *can* control. And yes, I ended one of the most meaningful friendships I've ever had, but with one-hundred-percent certainty, I can say it was the right decision. We learned a lot from one another over the years, but we got to a point where we couldn't grow together anymore. It was time for us to move on, and I have no regrets. And yes, my Chicago-to-California romance didn't work out the way I had hoped, but it was better to end things and move forward than continue to pursue something that neither party was entirely invested in; in doing so, I've been able to spend my time getting to know other people and learning more about what I really want in a relationship.
And as I crossed the finish line, my weight was absolutely the last thing on my mind. I've changed my life. I've saved myself from what I was certain to be an early death due to morbid obesity. I got up. I got moving. And I haven't stopped. I walked. Then I ran. And I've biked, and I've lifted. And every decision, good or bad, has brought me to this moment. Some nights I've gone to bed hungry, and some nights I've gone to bed a bit too full. But I've always woken up with the knowledge that today is a new day, and the only limits to what gets done are my own. My accomplishments are many, and no one can ever take them away from me.