One of my favorite French expressions is
vivre d'amour et d'eau fraîche
- I first discovered it through a vocabulary-based mailing list that described it as such:
Have you ever been truly, madly, deeply in love? Then the French expression vivre d'amour et d'eau fraîche or se nourrir d'amour et d'eau fraîche might describe how you felt, as if you didn't need food, friends, family, or anything else but your love and maybe a bit of water to survive.
Literally meaning "to live on love and clean water," it's most commonly translated as "to live a carefree existence, with no worries or responsibilities." You hear it sometimes used with a negative connotation, but that wasn't the one I had on my mind these past few days.
I canceled all my classes on Wednesday - attendance is usually so poor the day before Thanksgiving that it simply isn't worth it to hold class - but Justin still had to work all day, so around 5 that evening, we headed north for Shasta Lake, a small man-made waterway about five hours or so away.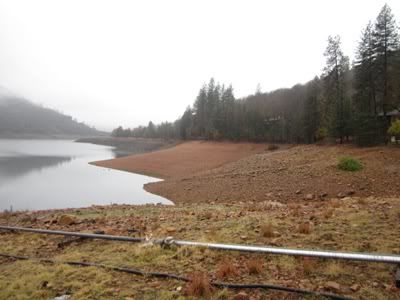 I spent all day Wednesday making CDs of music and audiobooks for us to listen to en route, but he failed to tell me that burned CDs very rarely work in his car's CD player. So we talked. And talked. And talked. And luckily, he had a few audiobooks in his car - a couple collections of Sherlock Holmes stories - so we'd listen to one, then talk some more.
We got to the cabin quite late - it was a long drive, and luckily we didn't hit any Thanksgiving traffic, but with a couple of pit stops (gas for the car, dinner for him - I anticipated road food and ate a big healthy lunch a few hours before we left), we ended up at our cabin around 11 p.m., and we fell asleep right away. (In separate beds, don't worry.)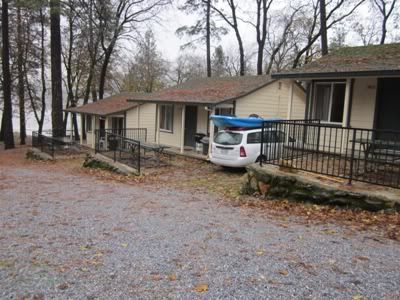 We slept in a little, and then I made breakfast - we brought eggs, bacon, and whole wheat bread - I don't eat bacon, but he does. I made The Pioneer Woman's
egg-in-a-hole
for both of us while he set to figure out how to roast the turkey breast we brought. (Since it was just the two of us, and we both prefer leftover sandwiches to the full holiday spread, it was perfect for us.) Having forgotten a roasting pan, and with only saucepans and frying pans in the cabin, we had to get a little inventive, but it worked. While it roasted, we played a little Scrabble, and I showed him no mercy.

When the meat was done cooking, we suited up and headed down to the lake. A few weeks ago, Justin bought a tandem sit-on-top kayak, and we brought it along with us. He wore a wetsuit; I wore his waders and fishing shoes over my thermal shirt and sweatpants.

It was an unbelievable experience, on several levels. First, because I was on a kayak at all - the weight limit is 400 pounds, and a year or so ago, this wouldn't have been physically possible. Second, even if the weight limit were higher, I wouldn't have done it, I would have been too afraid. (In fact, I probably wouldn't have come to the cabin at all, for fear of the embarrassment of being too big to do anything.) Third, Justin is a fit and healthy guy, and I was wearing his waders and his fleece jacket. Wearing anyone else's clothes is astonishing to me. I didn't think they would fit before I put them on, and he assured me they would - sure enough, they went on with no problem ... and room to spare.
As Justin is an avid fly fisher, and this lake is supposedly one of the best for fishing in California, we brought fishing poles and flies to troll for fish while we paddled around. The weather was overcast, which he said fish like (too much sun has them hiding, as they feel exposed to predators), but we still didn't catch anything. I was hoping to accomplish #92 from my 101-in-1001 list ("Catch a fish.") but we'll go out again soon, he promised.
I fished and he paddled, then we pulled over to the side of the lake and switched places in the kayak. After almost two hours of paddling around, he declared he was hungry and ready for some turkey sandwiches, so we quickly rowed back to shore. I took a quick shower while he prepared the sandwiches, and let me tell you, it was the most delicious turkey sandwich I'd ever eaten. I may have just been starving from the workout of all that paddling, but regardless, it was absolutely perfect.

Earlier that morning, Justin had asked what my family did on Thanksgiving, and I told him that we ate our meal, took a family nap, and then watched "It's a Wonderful Life," one of my dad's favorite movies. So after our sandwiches, we napped (again, separately), then he suggested we go to the nearest city (about 20 minutes away) to see a movie. We ventured out and saw "Hugo," which I was unsure about (the previews seemed interesting but not anything I felt overly compelled to see), but I'm so glad we saw it. It was absolutely marvelous. I loved it.
More sandwiches and Scrabble at home before retiring for the night. The next morning, more of the same. He slept in later than I did, so I walked down to the lake to explore and take some pictures. The skies were clearing up and the sun was coming out, which was really nice.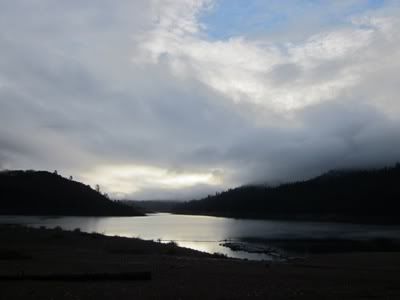 More talking, more eggs, more Scrabble, and then we packed up and headed out. Before making the trek back to our little town, though, we made a side journey to Lassen Volcanic National Park. The rain we had seen at Shasta Lake was snow there, so we couldn't go too far into the park. But we drove in as far as we could, then hiked around for an hour or so around Manzanita Lake.

We could see trout swimming in the lake, and immediately regretted leaving the fishing poles in the car. I did, however, still get to accomplish something on my 101-in-1001 list: #91, go hiking. It was so nice, being out in the woods and breathing the clean air. At one point, we found ourselves stuck with a stream between us and the continuation of our path, and we had to shimmy across this pipe - about six feet in the air. Justin did it without a problem, of course.
But I was shaking with nervousness.
I can't do this. Come back. Let's turn around.
I made my way across, balancing so delicately. I was convinced I would fall, but I kept my cool, took it slow, and I made it!
I told Justin after crossing about the issues with balance that I used to have when I first started losing weight - physical balance, where I would fall out of bed because I wasn't yet used to the reduced effort it now took to throw my body out of the bed. He laughed in a warm way - not in mockery, but more of surprise. There was a sense of understanding even though he couldn't relate with an experience of his own. He said what I have done is remarkable, not only because I am healthy now, but because I've had the chance to live two entirely different lives in my one short lifetime.
He's right, and I don't often think about it that way - I've made the connection, of course, but I try not to dwell on it. I've only seen the negative side of the comparison, that I have a new body and a new life that I've never known before, and this new way is scary and confusing. There are countless positives, though - good things to focus on, so much of the world that I can now see and experience that I wouldn't have been able to before (or that I would have denied myself because I didn't see my life as being one of value, one that ought to be filled with as many wonderful things as possible).